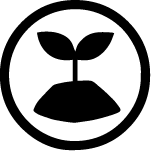 The Grounds department at Florida State University maintains the athletic fields, campus landscape, operates a nursery, and oversees the Solid Waste and Recycling program - all on 574 acres of land!
There is a concerted effort to ensure sustainable practices in the disposal of yard waste at FSU. Since 2004, FSU has been able to recycle all yard waste "in-house" by sending it to be used as compost or mulch at the FSU Nursery. This practice has eliminated the need to pay landfill costs for this type of waste, and enabled the university to reuse its own mulch.
Additionally, Grounds has recycled concrete from various construction projects around campus. By reusing concrete to create new paths and small retention walls, it has reduced the amount of concrete waste from being sent to the landfill.