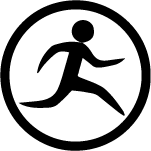 Beyond the science, programs and initiatives, sustainability is an inherently human issue. The conversation of sustainable behaviors cannot exist without considering the human element of the equation. By fostering our own well-being and relationship with our surroundings, we gain a deeper understanding and appreciation of the environmental issues that we seek to address. Here at Florida State, students are encouraged to get active on campus and in the great outdoors as well as make healthy choices for themselves and for the planet, benefiting not only the individual, but also the greater campus community and beyond.
Walking
Florida State's beautiful campus is perfect for walking. When you walk to and from class, you are improving your health, concentration, mood and benefiting the environment. Next time you have a gap between classes, consider walking instead of driving. You can not only save money on fuel and vehicle maintenance costs, but reduce your vehicle emissions (CO2) and associated environmental costs. Not to mention, you avoid crowded parking lots and garages. 
---
FSU Campus Rec
For all things fitness, recreation and outdoor adventures, visit FSU Campus Rec. Group fitness classes, a Couch to 5K program, sports clubs, backpacking trips, gear rental and more!
---
Stay Hydrated
Hydration station water fountains can be found all over campus. These stations make it easy and fast to refill your reusable water bottle. This also drastically cuts back on waste entering the landfill by avoiding the use of plastic bottles. 
---
Tobacco Free Campus
As of January 1, 2014, FSU became one of more than 750 universities around the country to ban the use of tobacco on any campus-owned property. This commitment was a proactive step toward creating a safe and healthy environment for all students, faculty, staff and visitors to live and work in. So far, our campus has seen a reduction of both air pollution and litter. 
title-inside title-centered
2