about the office supply reuse room
Surplus Office Supply Reuse Room is located off campus in the Surplus Warehouse. It facilitates the convenient reuse of office supplies within the Florida State University community. It is open to any FSU employee during regular business hours of the Surplus Warehouse.
---
how it works
The Reuse Room accepts office supplies that are no longer needed from offices who may be cleaning or relocating and makes those supplies available to other offices that may want them. All office supplies inside the Reuse Room are available for FSU employees to utilize in their offices. Shelves and storage containers in the Reuse Room are labeled to make it easy for employees to find what they need.
When using the Reuse Room, please be courteous and maintain the organization and cleanliness of the space. Please take only what you need and put items back where they belong. Be sure to sign in when you are dropping off donations and sign out when shopping. Lastly, please be mindful about only donating things that are on the acceptable list and properly discarding any waste yourself. The Reuse Room does not accept waste or items that need to be recycled.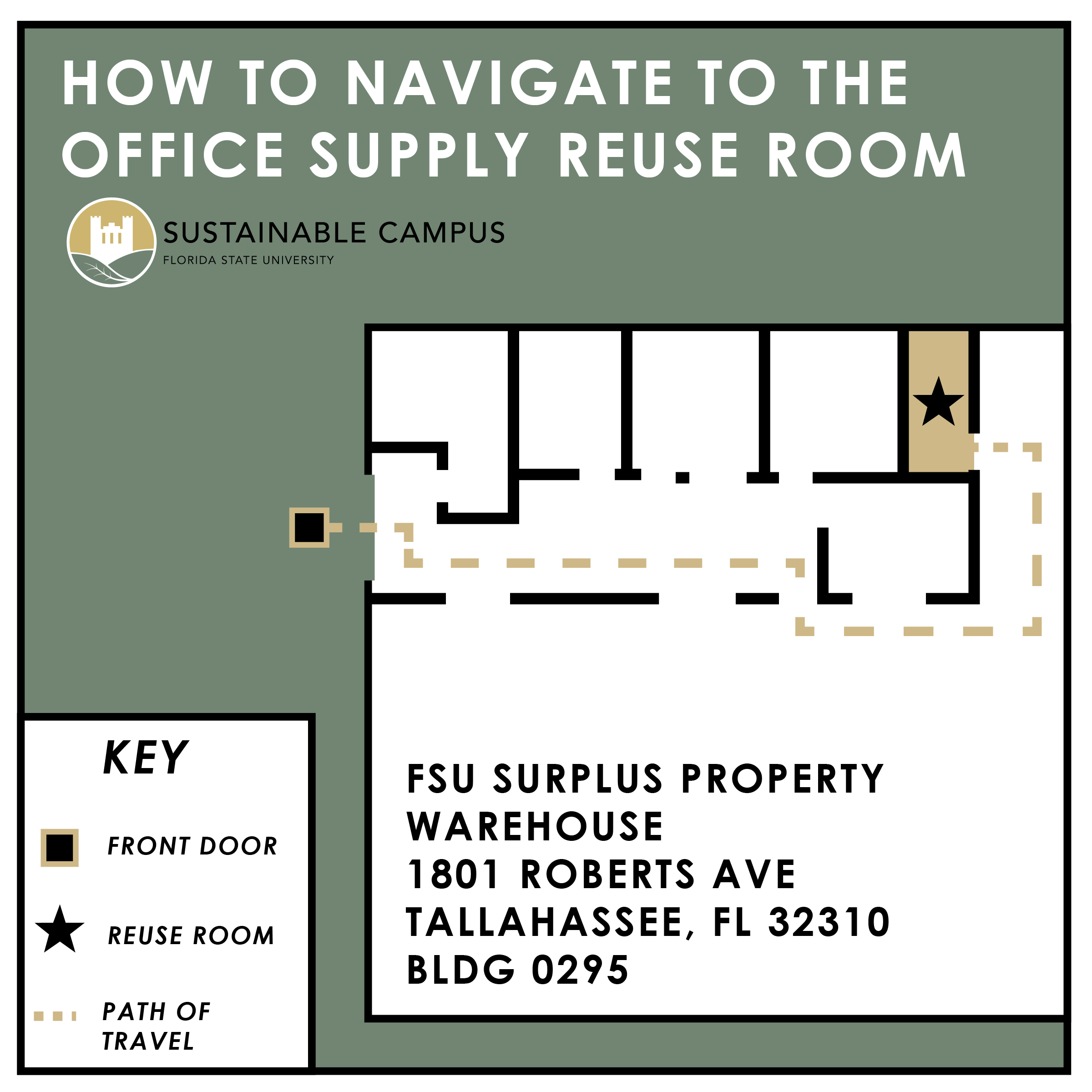 ​
---
How to donate
Drop supplies off directly to the Surplus warehouse at 1801 Roberts Ave. Tallahassee, FL, 32310 between the hours of 8:30 AM and 4:30 PM. Please check in at the front of the building prior to leaving your supplies to the left of the Reuse Room door outside the Reuse Room. Be sure to double check our acceptable items list before leaving any donations and sign in to document what you have donated and what department you are representing.
All donations must be in new, or like new, unused condition.
Items must be packed in boxes, not bags. Boxes must have a lid to accommodate safe and efficient stacking while waiting to be sorted and organized by staff.  
You must unload the boxes yourself from your car and place them in the proper donation area, they are not to be left at the front of the warehouse, or outside the warehouse. Please turn off your car while you are unloading. 
Donations of 5 or more boxes are accepted by appointment only. Email sustainablecampus@fsu.edu to schedule an appointment. 
Accepted Items
Pens, pencils, markers
Desk organizers and accessories 
Scissors
Glue, Glue Sticks
Clear Sheet Protectors 
Tape, Tape Dispenser
Notebooks - unused or like-new
Folders - unused/like-new (all kinds)
Binders - new only, no branding
Staplers/Staples
Paper Clips, Binder clips, Push Pins
Poster board - unused
Paper - unused, all kinds
Calculators (no adding machines)
Chalk
Rulers & Protractors
New Stickers & Labels - whole sheets or rolls
Pencil Sharpeners
Unused Envelopes
Items Not Accepted
Outdated calculators, phones, or technology of any kind 
Household chemicals or office cleaning supplies 
Batteries
Used file folders
Hanging file systems (used or unused)
Anything in poor or rough quality and not in a condition to be used again
title-inside title-centered
2