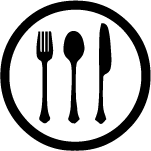 Farmers and consumers are rethinking the way we grow our food and how it gets to our plate. This break away from the traditional food system prioritizes local foods and practices that cater to the long term vitality of the earth and ourselves. Campus dining makes it a point to make low-impact, local, fresh foods a staple on campus plates.
Sustainable Dining
FSU Dining has made changes to create a more eco-conscious program, such as using green cleaning products, banning styrofoam in food services, and recycling paper and 100% of cooking oils. Trayless dining has been implemented in dining halls, a trend many universities are embracing, in order to discourage food waste, save energy, water and money. Diners who opt to take part in the reusable to-go program are given discounts on food and drink, and batch cooking and portion control are monitored to cut down on waste.
Sustainable Sourcing
In an effort to source as locally as possible, foods in dining halls and other eateries around campus are supplied by Fresh Point, which sources seasonal, local foods from South Georgia and North Florida whenever possible. Each year, Aramark works to increase the percentage of locally and community based foods (from a 250 mile radius) in all markets on campus. Seafood dishes served in dining halls comes from sustainably farmed and caught fish, considering the long-term well being of the ocean, and all eggs are cage free.
Academics
Living Green: Theory to Action, offered as part of the "Honors E Series" curriculum, is designed to highlight real-life applicability to pertinent human issues. Past students developed the eco-clamshells, which were then implemented in Suwannee Dining Hall. Students also ventured behind the counter to audit exact amounts or food waste, which resulted in the composting pilot program.