FSU installs a dozen solar panels on campus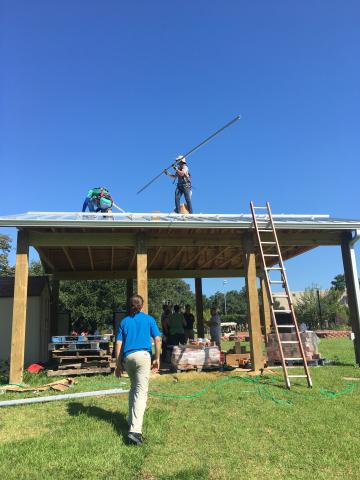 TALLAHASSEE, Fla. (WCTV) -- Florida State University is now harnessing the power of the sun.
FSU has added a dozen solar panels to its power resources. The panels were installed Friday on top a pavilion located at the Sustainability Hub, which is just behind the circus tent.
"This has been a really long effort full of ups and downs, and starts and stops, but we are really excited that it came together this way," said Elizabeth Swiman, director of FSU Sustainable Campus.
The project was made possible by three FSU alums- Scott Minos, Justin Vanderbroeck and Chris Diaz- who provided and installed the panels pro bono. All three work in the solar industry.
The panels will create 3.5 kilowatts of energy and will provide electricity for lighting and events that happen at the Sustainability Hub, which is also home to the campus's Seminole Organic Garden.
Swiman said she hopes it'll provide an educational opportunity for those passing by.
"They can learn to grow their own food, they can learn about reusable materials, they can learn how solar technology works. And so they can play with it, get comfortable with it and take this on in their lives. So this is a really great place on campus to have these panels so everyone can experience it," she said.
Swiman said they also plan to add educational signs around the area so people can read about how solar energy works.
The campus has had a few instances of solar technologies on campus, like solar umbrellas at picnic tables. However, this is the first time it's actually incorporated panels. Swiman said she hopes to see the idea grow throughout campus.
"It is so important for all of us individually to participate in the growth of solar in Florida," she said. "It is happening, it's a wave of the future. We can't deny that."