Florida State University receives "Gold" rating for the 2nd time on AASHE STARS Assessment
---
Florida State University receives "Gold" rating for the 2nd time on AASHE STARS Assessment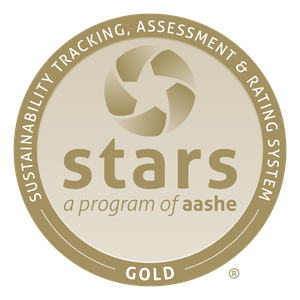 TALLAHASSEE, Fla. — FSU Sustainable Campus is extremely proud to announce that Florida State University has again received a "Gold" rating on our 2023 AASHE (Association for the Advancement of Sustainability in Higher Education) STARS (Sustainability Tracking, Assessment & Rating System™) assessment.  
The STARS system "is a transparent, self-reporting framework for colleges and universities to measure their sustainability performance" (AASHE). 2023 is the second consecutive report where FSU has received a "Gold" rating, increasing the University's score from the previous 2018 submission. During this reporting period, FSU saw improvements across several areas, including sustainability course tracking, public engagement, purchasing, and operations. 
"Our STARS Gold rating is a testament to FSU's campus-wide commitment to sustainability" says Elizabeth Swiman, Director of Sustainability. By voluntarily reporting this information, FSU has marked itself as a preeminent institution when it comes to making sustainable change on campus. Additionally, this updated 2023 report builds upon a baseline for continuous improvement, making sure to hold accountable the pursuit of long-term sustainability goals.