10 Things Not to Bring to College as Told by Gifs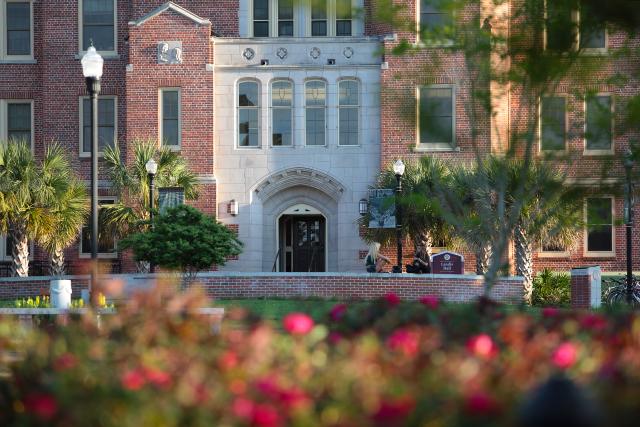 There's no shortage of checklists, sponsored videos, and ads out there all about "college essentials." Although some may make some good suggestions, at the end of the day, there are a lot of things on these lists that you just don't need. Our mission is to save your money, time, and the planet by dispelling some of the common myths about what you need to bring to FSU with you.
Over the past 11 years, we have run a program called Chuck It for Charity which gives students the opportunity to donate their unwanted goods from the residence halls to charity. This past year, we collected 17 tons (!!!) of stuff. That's a lot of stuff! We love giving back to our community through Chuck It for Charity, we also love reducing waste and saving the planet - You can help us do just that by being a more responsible consumer. We have put together an un-checklist for you as you embark on your journey to college to save you time and money and keep FSU sustainable! Note: the items mentioned on this list are allowed in residence halls at FSU, although many students find they don't need them!
1. Duplicate items
Tfw you both show up with the same stuff...
Communication is key. Your roommate's contact info is listed with your room assignment. Reach out to coordinate your move so you don't end up with duplicate items (such as microwaves, TVs, kitchen supplies, etc.) and wasted space. 
2. Appliances

Each residence hall has a kitchen on every floor (with a microwave) and lots of laundry machines. Save money and space by using your community's resources! 
3. Excessive decorations

We know you want to fix up your room to feel like home! Who doesn't?! There's bringing a few things to spruce up the place and then there is being a retail showroom. 😅  Keep your room clean and clutter free by bringing only the things that spark joy!
4. A printer

There are lots of locations to print all over campus. Plus, FSU's printers are reliable, maintenanced regularly, and always full of ink when you need them. Check out this link to find a printing location nearby. And did we mention this will save you money?? Because this will save you $$!
5. Iron and ironing board
When you think you're going to be ironing all of your clothes all the time...
An iron and ironing board may seem useful, but you may find that you rarely actually need it. If you need to get wrinkles out of your clothes, try the shower trick! Hang your clothes in the bathroom while you shower and the wrinkles will melt away! Way to be a good steward of precious resources like water and energy!
6. A brand new planner or desk calendar

Although the new planner, bullet journal, or white board may seem like it'll help you organize your life, if you don't use it, it does no good. If you're looking for a new way to keep yourself organized in college, give Google Calendar or iCal a try. That way, your calendar is always accessible and synced across all of your devices, doesn't contribute to paper waste in landfills, and can be easily color-coded and updated anywhere, any time. 
7. Toolkit

Residents are not permitted to affix, attach, or bolt any items to any wall in their residence hall rooms, so hammers and nails should not be brought with the intention of hanging shelving units, TVs, or decorations onto walls. If there are items you're planning on bringing that would require tools to assemble or disassemble, borrow what you can or rent tools from one of our local hardware stores. You will most likely not need to fix anything in your residence halls. If something isn't working, submit a maintenance request. 
8. Off-season clothes

Bulky winter coats won't do much good on a hundred degree day in August. Instead of having your whole wardrobe with you all year, try swapping seasonal clothes out over breaks. When you go home for winter break, bring your shorts and t-shirts home and swap them out for cold weather gear for January-March when Tallahassee gets the coldest. When you go home for spring break, bring your cold weather gear home and bring your shorts and t-shirts back to school with you. 
9. School supplies
You might be used to loading up on school supplies from high school, but in case you haven't already heard, college is a different ball game. You might find taking notes on your laptop easier than handwriting them! Wait until you're familiar with your syllabus for each class before buying supplies to avoid wasting money on supplies you don't need
10. Anything FSU already provides

If there's something you need, it's likely that it already exists in your residence hall or not far from it. FSU should feel like home, so settle in and explore all of the amazing things this campus has to offer. The Askew Student Life Center houses a free movie theater and gaming consoles for students. The Rez is a beautiful waterfront oasis for students where you can rent kayaks, stand up paddleboards, and canoes for free! The Leach and Fitness and Movement Clinic are both state of the art fitness facilities. Our reCycle bike program will rent you a bicycle so you don't have to bring your own. All of these resources save you from needing to bring your own TV or gaming console, outdoor recreation or fitness equipment, and more. If you need it, we probably have it! 
FSU Sustainable Campus seeks to have our campus serve as a living model of sustainability, providing learning experiences that students, faculty and staff may develop, apply and practice at FSU and in their extended communities. Stay up to date with FSU Sustainable Campus and the programs on Facebook, Twitter and Instagram. Sign up for the newsletter here.