5 Things You Might Not Know About Recycling On FSU Campus
Recycling at FSU can be easy. You just gotta know these five things, and let other people know these five things too. When FSU recycles, our campus community and the environment benefit. When we recycle, we reduce the amount of waste we send to the landfill. We conserve natural resources, prevent pollution, save energy, reduce greenhouse gas emissions that contribute to global climate change, and help sustain the environment for future Noles!
1. Paper is separate.

​
​You can usually find paper recycling bins inside most buildings. If you need to recycle cardboard boxes, break them down and place them next to recycling and landfills bins. Used paper towels and napkins cannot be recycled.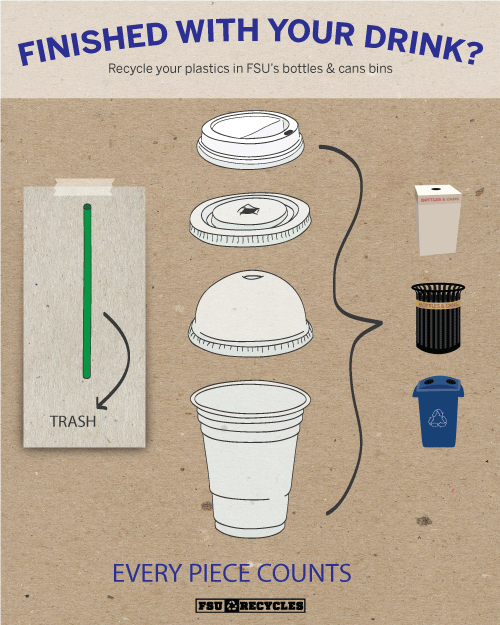 2. You can recycle more than bottles & cans in the "BOTTLES & CANS" bins.

​
These bins also love parts of your coffee/tea cups!
​

3. We have our own recycling facility!

​
FSU Solid Waste & Recycling is located less than a mile away and services the entire Florida State campus. They handle the campus landfill waste, and recycle paper, cardboard, cans and bottles, glass, metal, construction materials, electronics, ink and toner cartridges, and more. In 2016 alone, FSU has recycled 52+ tons of office paper, 77+ tons of cardboard, and 35+ tons of plastics, cans and bottles! The Sustainable Green Team at Innovation Park now recycles drink can rings. All details are here.
4. Straws are trash...
Straws cannot be recycled, so next time you get a drink, request "no straw" and save some plastic from entering the landfill.
5. You can recycle plastic bags, just not on campus.

​
Take your plastic bags with you to the grocery store! Most groceries have plastic bag recycling bins located either outside or toward the front of the store. You can ask for "no plastic bag, please" when you're getting food to-go. When grocery shopping, bring your reusable bag, you responsible eco-conscious citizen, you.
For more information
For more information, check out the Facilities Solid Waste & Recycling website and learn more about our Community Waste Stations below!
---