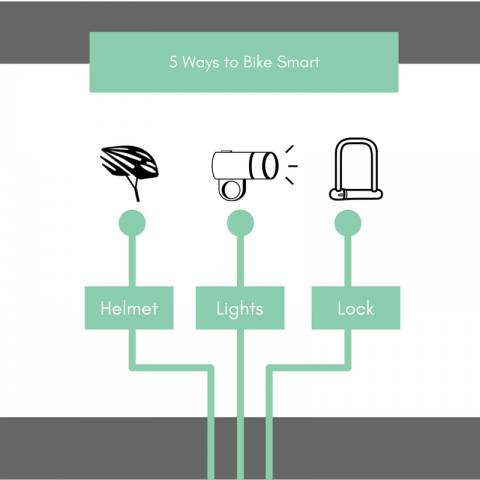 Over the next few months, Florida State University's campus will be filled with students walking, biking, skateboarding, and sometimes even roller skating to class. These sustainable transportation methods can get you where you need to go and fast, especially if you are using a bike. So, if you find yourself biking to and from campus on the daily (or biking anywhere else for that matter), these safety tips are worth the read!
Equip & Educate
During the Sustainable Campus reCycle Bike Distribution, everyone receives a helmet, bike lock, light, and light reflector. You should take these tools with you whenever you are commuting. Be sure to wear your helmet to protect your noggin' and shine bright with your bike light!
While traveling at night use your bike light and always keep the reflector attached to the rear of your bike. This way cars will see you and be aware of your presence on the road.
At the Bike Distribution, everyone is properly fitted for a bike helmet. Once the semester is over, bicyclists get to keep the helmet (donated by Florida Department of Transportation) and bike lights.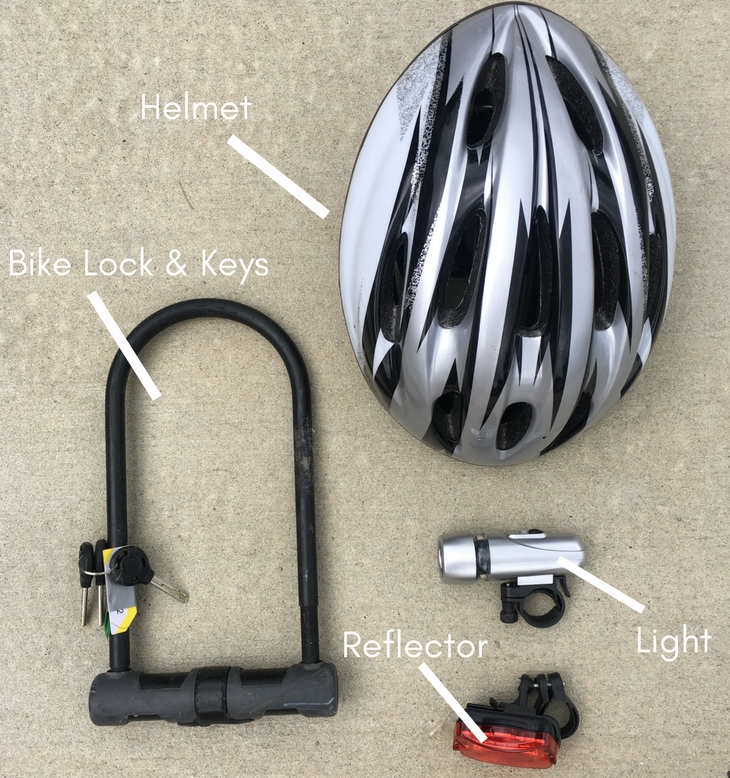 If you are riding on the sidewalk you must behave like a pedestrian, and are required by law to dismount your bike to use a crosswalk. Weaving between the road and the sidewalk is also discouraged by law, so pick one and stick to it! When you pass a pedestrian on the sidewalk make sure to say something so they know you're coming (like "on your left/right") and be sure to yield the right of way to them if it is difficult to squeeze by.
Educate yourself on Florida's bicycle laws and regulations: http://www.leg.state.fl.us/statutes/index.cfm?App_mode=Display_Statute&URL=0300-0399/0316/Sections/0316.2065.html
Communication is Key (Like Major)
Communicating with the cars around you is essential for a safe bike ride. Signal a left or right turn with your arms and use the arm that corresponds with the direction you are going. Left hand for left turns, right hand for right turns. To signal that you are slowing down or stopping, hold your palm out behind you. If you want to let the driver pass, wave to them. If you are trying to change lanes, make sure you glance back and use a bike mirror if possible.
Avoid the Hustle & Bustle
When you are traveling to campus or your home, stay on wider streets with low traffic patterns. Avoid commuting on busy roads by crossing them and finding a safer pathway. Examples of safer traveling routes include bike/pedestrian trails, neighborhoods, and tunnels. Be observant and cautious of your surroundings. Ride outside of the door zone of parked vehicles and avoid debris and potholes. Lastly, when approaching railroad tracks keep your wheel straight and facing forward as you cross.
Stay Seen & Be Bold
Never assume that a car can see you. Use your front light and red rear light so cars know to share the road, especially at night. When using your rear light make sure that it is solid, not blinking. Contrary to popular belief blinking lights make it more difficult for cars to see your position. You can also wear bright colors or reflective material on your clothing or backpack so you are more visible.
Go With the Flow
Ride with the flow of traffic, not against it. This makes you more predictable and visible to people driving.