Fashion & Sustainability Zine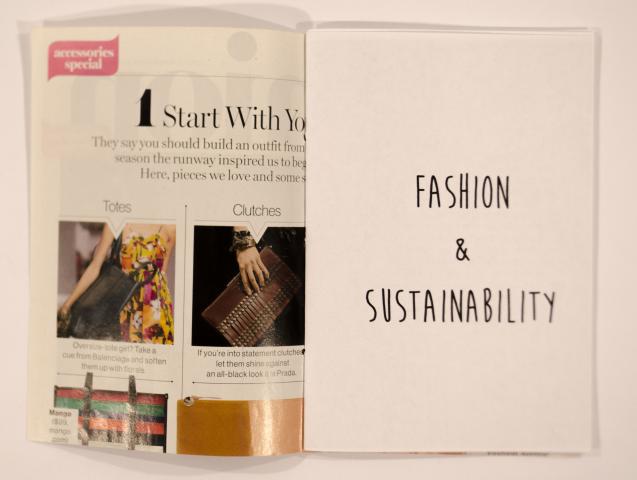 Florida State University art student and graphic designer for Sustainable Campus, Naira Diptee, recently created a zine on the topic of fashion and sustainability. Repurposing found fashion magazines into her work, she subverts the power of advertising in the fashion industry, calling the reader's attention to the concepts of "fast-fashion" and the capitalistic ideology that supports it. Her use of these found objects also allows her work to have an aesthetic appeal to give those who may not normally choose to learn about sustainability a reason to pick up the zine. The magazine pages also give individuality to each zine, allowing the reader to choose which one appeals to them the most, similar to how they would choose a piece of clothing. The zine is hand stitched with thread to emphasize the handiwork that goes into making the zine which parallels the human work that goes into creating the clothing sold by retailers. The contents of this zine include tips, written by the artist, to help people create a more sustainable wardrobe and be more aware of sustainability when looking for clothes in the future. These tips are useful for people at any level of knowledge on sustainability. There are also cut outs and fill in the blanks in order to add an aspect of interactivity to the zine, calling the readers to put into action the tips that they learn. Below is a copy of the tips she lays out. To get one of her zines, contact her on Instagram @naiddart, and look for them throughout the Tallahassee area.
Fashion & Sustainability
What is Sustainability?
This is a great question because the idea of sustainability can seem huge and often very confusing! Simply put, it's meeting the needs of the present without compromising the ability of future generations to meet their own needs. This goes farther than just the environment, its also how we can meet society's needs socially and economically. All three of these aspects work together, and effect each other in ways that can be seen in our everyday life!
Why Sustainable Fashion?
Why not? The clothes sold by most retailers are made cheaply on a mass-scale AKA fast fashion. This causes the clothing to be of low quality and negatively impacts the workers who make the clothes by putting them in poor working conditions with little pay. Not to mention, most of the clothes you purchase will end up in a landfill and can sit there for generations.
Avoid throwing away clothes you no longer want.
There are many better options for your old clothes than letting them go to a landfill!
- Repair! Learn how to do simple repairs or get a friend to help you.
- Re-gift! Consider giving it as an impromptu gift.
- Donate! If it's in good condition, there are many place where you can donate your clothes.
- Sell! There are many apps and sites that allow you to easily sell your clothes online.
- Recycle! Turn your old clothes into something you can use around the house.
Reduce the amount of clothes you own.
Making your wardrobe smaller will make room for the clothes you love.
- Separate the clothes you wear often.
- If there are clothes you don't wear often, think about why you don't-- is the zip broken? Is it too big? Is it no longer your style?
- Think of all the outfit options you can have with minimal wardrobe. With a bit of creativity the options are endless!
Thrift!
Hitting up a thrift store is a great way to shop for clothes & accessories without contributing to the demand for fast-fashion.
Find your own unique style for much less!
Favorite Thrift Stores in Tallahassee
- Plato's Closet
800 Ocala Rd
- Goodwill
2309 Apalachee Pkwy
2551 W Pensacola St
- The Otherside Vintage
607 Mc Donnell Dr
- Avant Garb
522 W Gaines St
Organize a Clothing Swap.
A clothing swap can be a great way to get new clothes, get rid of old clothes, and socialize all at once! What more could you ask for?
Only Buy Clothes That You Like 100%.
We've all fallen into the trap of only buying something because it's on sale, and then never actually wearing it. When you do decide to go shopping, only buy an item if you like it 100%.
Support Local Artists and Ethically Made Clothing Companies.
When you are out shopping for that perfect outfit, consider shopping from local artists and shops. Also, there are many online stores that work to sell clothes while supporting the people who make them and their communities.