Spring 2022 Sustainability Fellow: Shaifali Prajapati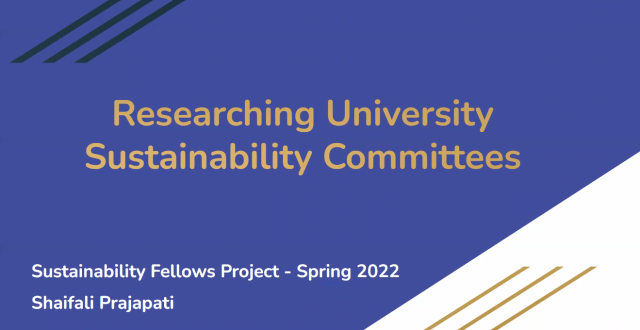 Partner: FSU Faculty Senate, Sustainability Standing Committee
Project: Defining the Student Role in the Sustainability Standing Committee of the FSU Faculty Senate
Student: Shaifali Prajapati, First Year Graduate Student in Geography
---
In Spring 2022, Shaifali worked with the FSU Faculty Senate to conduct research on the appropriate role of a student representative on the Sustainability Standing Committee.
Shaifali collaborated with Dr. Sarah Lester, Associate Professor in Geography, and other members of the committee, which includes nine faculty members, the Director of Sustainable Campus, and a student representative.
Over the course of the semester, Shaifali researched other faculty-led sustainability committees at peer universities, including Florida universities, US News & World Report Top 20 Public Universities, and Atlantic Coast Conference – SEC members.
Shaifali investigated a number of online sources, from Sustainability Office websites to meeting minutes, videos, strategic plans, and STARS reports. She also conducted interviews with UCLA, UW Madison, and Virginia Tech, asking them detailed questions about (1) capacity building, (2) the roles of faculty, staff, and students within committees, (3) communication pathways and meeting frequency, and (4) the role of sub-committees and working groups.
In addition, Shaifali contacted FSU student government and other student organizations with a sustainability focus, many of whom showed enthusiasm to learn more about and be involved with sustainability initiatives.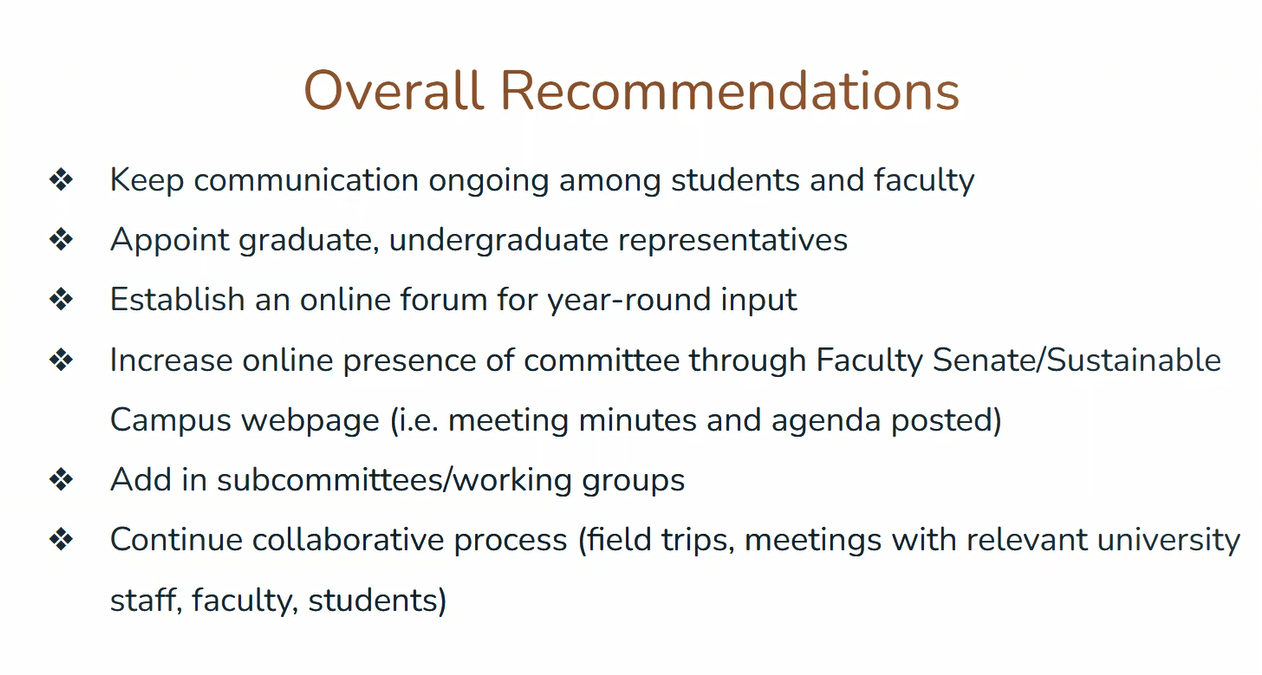 Based on her research, Shaifali recommended that the Sustainability Standing Committee:
Appoint graduate and undergraduate representatives
Establish an online forum for year-round input
Increase the online presence of the committee
Add in subcommittees/working groups
In addition, Shaifali suggested continuing to strengthen the communication among students and faculty and to continue collaborative processes such as field trips and meetings with relevant university departments and groups.
"I'm really interested in collaborative processes," said Shaifali. "You can take a class on them but working with the Committee helped me understand the nuances of these processes, which I can't get through class discussions or a textbook. My thesis project is on evaluating climate adaptation plans in public health departments, and those involve so many different levels of collaborative governance. I'm hoping to incorporate this project into my work going forward in some way."
Overall, Dr. Lester and Director of Sustainability Elizabeth Swiman were appreciative of Shaifali's research.
"Shaifali did a great job of listening and absorbing," said Dr. Lester.
Dr. Lester thought the recommendation to have both a graduate and an undergraduate student representative was an interesting suggestion and hopes to better learn from future student representatives as the committee moves forward.
---
To learn more about the Sustainability Fellows program, visit sustainablecampus.fsu.edu/sustainability-fellows.