Spring 2022 Sustainability Fellows: Dorothy Lane and Elisa Martinez Cancino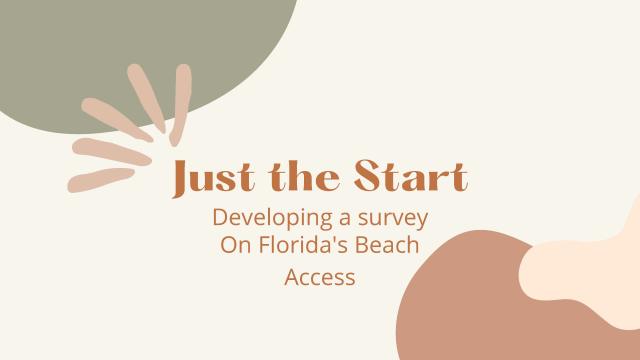 Partner: SportsAbility Alliance
Project: Florida Accessible Beach Access Research
Students: Dorothy Lane, First Year Graduate Student in Social Work and Public Administration & Elisa Martinez Cancino, First Year Graduate Student in Social Work and Criminology
---
In Spring 2022, Dorothy and Ely worked with the SportsAbility Alliance to create a survey instrument that measured the accessibility of Florida beaches.
Dorothy and Ely collaborated with David Jones, founder and past-president, and other members of the SportsAbility Alliance. SportsAbility Alliance is a nonprofit that aims to educate the public and share information about recreational areas, facilities, programs, and events that include persons with disabilities.
The main goals of Dorothy and Ely's project were to (1) develop an effective and sustainable survey that would gather descriptive information about access to Florida's beaches and (2) create a successful, useful, and easy to understand tool to manage the information.
Throughout the semester, Dorothy and Ely learned about beach accessibility in great detail. For their project, they defined "access" as "wheelchair accessible" because if beaches are accessible to those in wheelchairs, they are likely accessible to people with other mobility concerns.
Dorothy gained hands-on experience in the field through a visit to St. George Island. During her visit, Dorothy and David viewed accessibility features firsthand, such as beach access mats. Dorothy was also able to travel the beach in an EcoRover, which is an all-terrain tracked battery-powered chair designed for independent mobility over rough or uneven terrain.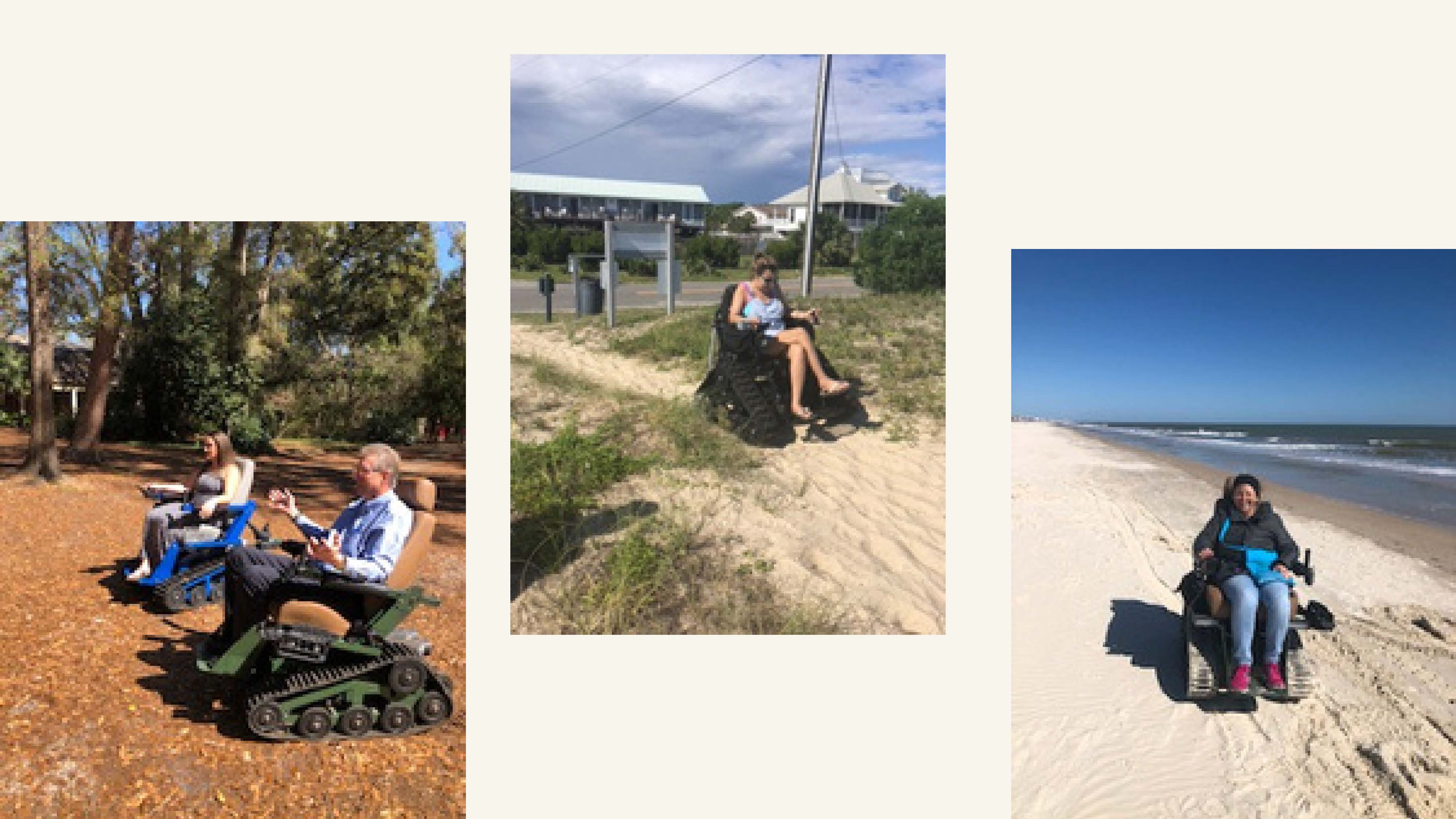 Images of people using an EcoRover
"You have to be an outgoing person if you're going to be using an EcoRover," said Dorothy. "The amount of times that David and I were stopped by people interested in an EcoRover blew my mind. There's a lot of really negative stigma associated with wheelchairs and disability. When using something like an EcoRover that looks like it's out of a science fiction movie, people had a really positive response. It took away a lot of those medical associations, and people didn't feel bad for us when we were riding around. That alone, I think, would dramatically enhance a trip to the beach."
After completing their research, Dorothy and Ely developed a survey instrument, which asked beach managers to identify the best recommended wheelchair beach access path at their destination and provide supplemental details to describe it. They also created an announcement to share the survey with other interested stakeholders, and they put together an Excel spreadsheet to organize the data internally before it was released to the public.
"This is a long-term, never-ending project," said David. "The students are starting something they'll never see the end of, but their work will continue and hopefully it'll be a legacy that they can identify with down the road. We're excited to have such a good start, and we hope to work with some other Sustainability Fellows as we move forward."
As a social worker, Dorothy believes this project helped strengthen her understanding of social justice and social work.
"My background in social work helped inform a basic understanding that people have a right to access things," said Dorothy. She plans to work with service providers in the future to build up their services to be more accessible.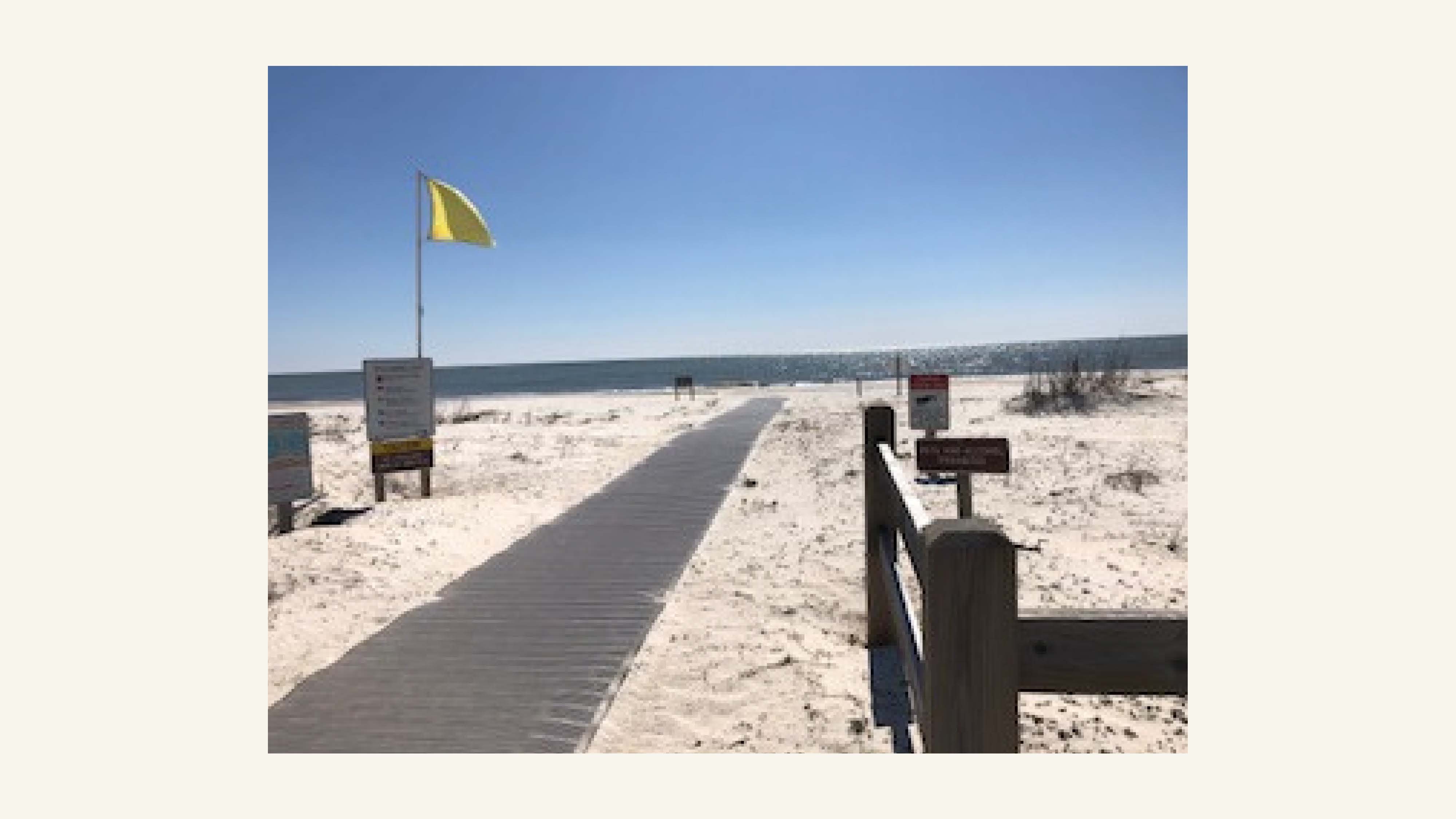 Image of a beach access mat at St. George Island
---
To learn more about the Sustainability Fellows program, visit sustainablecampus.fsu.edu/sustainability-fellows.