Student Marketing Campaigns Aim to Reduce Single Use Plastics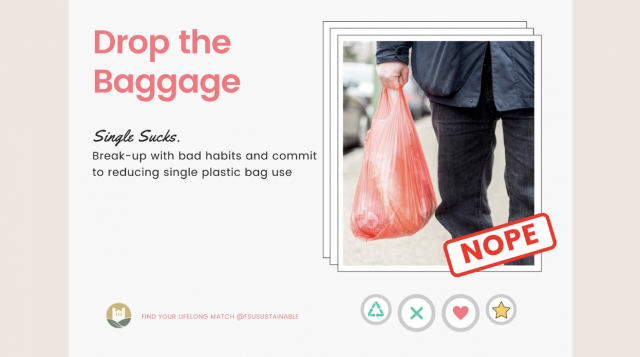 The Foundations of IMC course challenged students to utilize integrated strategies to encourage sustainable behavior change on the FSU campus.
Marketing is a powerful tool for behavior change, and students in the Spring 2020 ADV 5007 Foundations of IMC course put their skills to the test developing creative campaigns to reduce single use plastics on the FSU campus. 
Single use plastics are plastic products that are intended to be used only once before they are thrown away or recycled, and examples include plastic cutlery, shopping bags, water bottles, and straws. 
Led by Dr. Jaejin Lee, Associate Professor in the College of Communication & Information, the students collaborated with Sustainable Campus and worked in small groups to create four IMC strategies addressing different single use plastics. Groups utilized social media platforms such as Tik Tok to propose viral challenges while others focused on in-person forms of engagement. 
Students also had multiple opportunities to consult with Sustainable Campus representatives via Zoom as they developed their campaigns. Their final products included a written report and presentation explaining their chosen IMC strategy, both of which were shared virtually due to the COVID-19 situation. 
Despite the unexpected challenge of distance learning, Lee was satisfied with the students' work, praising their creativity. Lee also noted the value of collaborating with a client to provide students with a "real world" experience. 
Students in the course also viewed the project positively. 
"It gave us an opportunity to practice what we've learned in class," said one participating student. "It's important for students to understand theory in depth and to practice analysis methods in real life. This project definitely helped me understand and grasp the knowledge better." 
---
To learn more about the Campus as a Living Labs program, visit sustainablecampus.fsu.edu/academics-research/campus-living-laboratory.