Students Create Communication Plan to Promote Bike Safety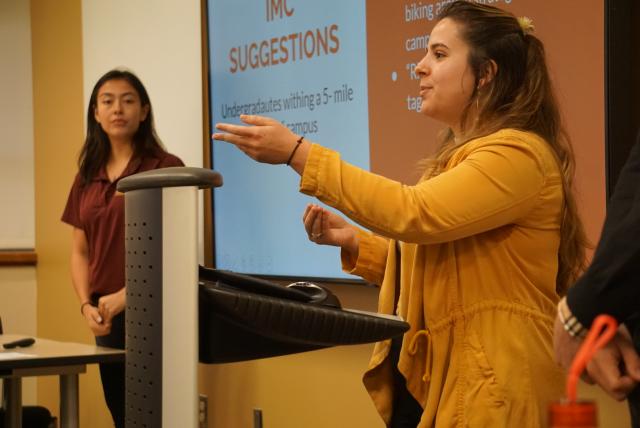 The Foundations of IMC Living Lab course challenged students to design an advertising campaign for CyclingSavvy
How could Sustainable Campus and Transportation and Parking Services (TAPS) encourage the Florida State community to think about bicycle safety? This was the question posed to a team of 16 graduate students in the ADV 5007 Foundations of IMC course at the beginning of the Fall 2019 semester as a part of the new Living Lab program.
Led by Dr. Jaejin Lee, Associate Professor in the College of Communication & Information, the course connected students with a real-world client to put students' knowledge and learning into practice.
With the increase in bike ridership across FSU, the University invested in providing free access to an online bicycle safety course, CyclingSavvy, for all students, faculty, and staff. Enrollment in the course helps new and continuing cyclists learn about their rights and responsibilities on the road to avoid accidents and injuries.
To encourage engagement in the course, Sustainable Campus and TAPS tasked students with creating a campus-wide communications strategy for Cycling Savvy. Students collaborated in small groups and conducted market research, collected primary data, and created marketing campaigns. They pitched their final strategies to representatives from Sustainable Campus and TAPS at the end of the semester.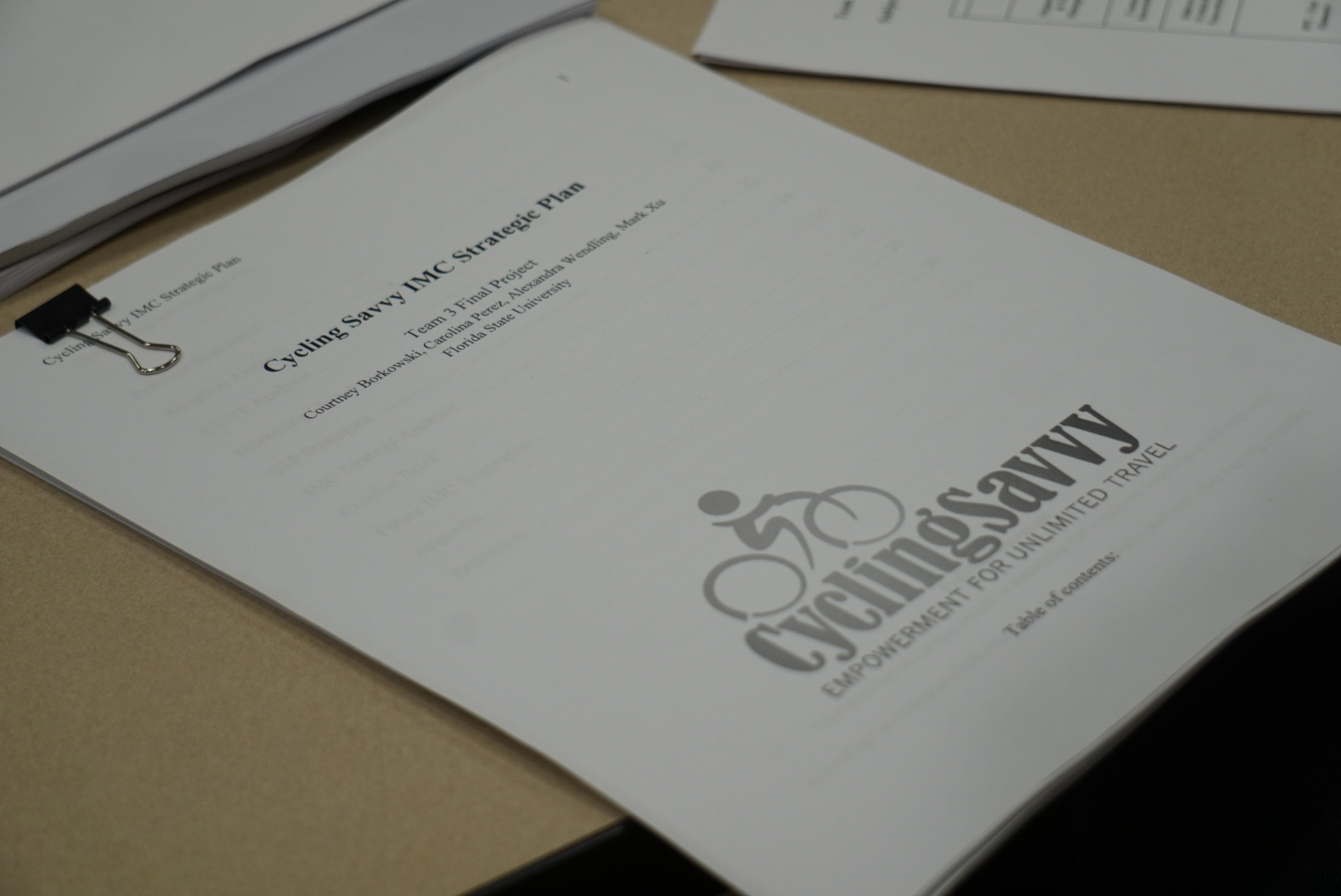 Student plan for CyclingSavvy campaign
"I really want to provide real-life experiences for my students," said Dr. Lee, "and I really enjoyed [the collaboration] we had this semester."
After the completion of their campaigns, the students expressed that the project was challenging but valuable. They believed it was helpful to see what clients are looking for in a real working environment and learned about the difficulties of marketing to different demographics.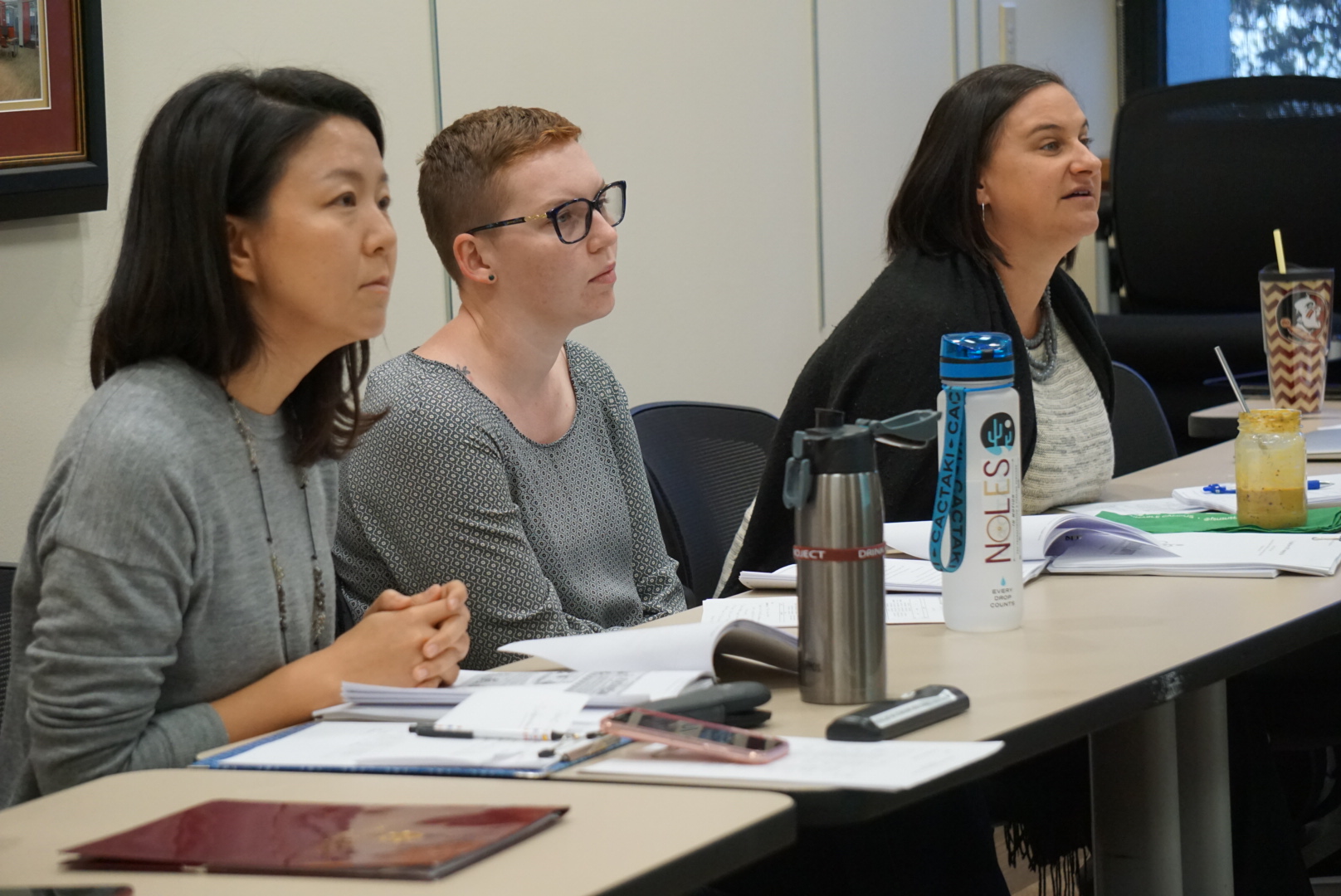 Dr. Lee and campus partners evaluate student presentations
"Working with a client isn't something most students get to do every day," a graduate student commented. "A lot of students only get this type of experience through an internship so to have this opportunity in a classroom setting is really special." 
---
To learn more about CyclingSavvy, visit sustainablecampus.fsu.edu/resources/cyclingsavvy. 
To learn more about the Campus as a Living Labs program, visit sustainablecampus.fsu.edu/academics-research/campus-living-laboratory.