Florida State University's Iron Man: The Sustainable Superhero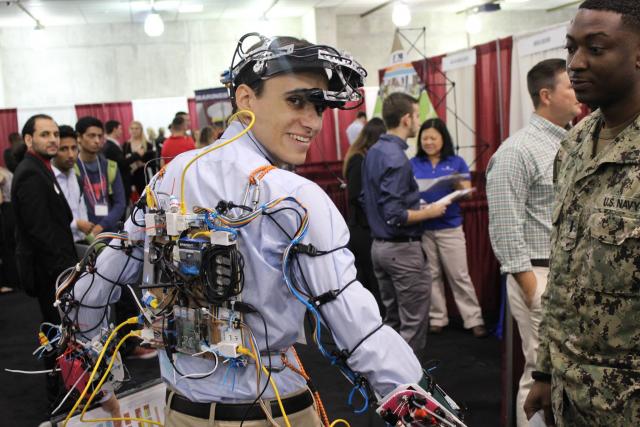 While Florida State University is well-known for its football team and academic research, few people know that we have our very own garnet and gold Iron Man. His name...Lucas von Hollen.
Lucas's adventure began when he first watched the Iron Man movie and told himself that he could recreate Tony Stark's super suit. Over the past three and a half years, Lucas has been on the search for the Robot Suit's working parts. However, he didn't purchase the parts at a Best Buy or RadioShack. Instead, Lucas and his sidekicks created a dumpster diving league where they would spend their Saturday nights rummaging through dumpsters in search of reusable tech parts. (Not recommended without parental supervision.)
Lucas collected metal scraps and wiring from items, such as used coffee machines, old bop-it toys, gift card plastic, and corrugated plastic signs, which would have otherwise gone to the landfill or ended up in the ocean. Typically, plastic and metal materials would take years and years to decompose, but Lucas gives these materials a second life.
"People say one man's trash is another man's treasure, but to me it's all treasure" said Lucas.
So, what can this suit actually do? The Robot Suit is designed to imitate the human form by using flexible parts that move easily with the person wearing it. The suit's headset display can interface with Lucas's cellphone on the arm control pad and with other devices, so he can use the headset to see through his phone camera or play videogames with his roommates. It also shoots fire. I repeat, it shoots fire.
Lucas recently obtained his Masters in Information Technology and has never taken an engineering course. He was determined to build this Robot Suit because he wanted to prove that you don't need to be an expert in a field to create something innovative.
"There was a lot of trial and error (and a lot of shocking)," he said. But, that allowed him to expand upon the suit's functions and learn a great deal in the process.
You may be wondering, how did a student without an engineering background create such a device? The answer is simple: Google.
"The internet is a superpower," said Lucas. By asking Google questions that would then lead to more and more questions, he figured out what types of materials he would need and where to find them. Eventually, the Robot Suit's design was officially completed and Lucas entered it in the Florida State University DigiTech Competition where his invention won the Campus Choice award. In the future, Lucas would like to expand his invention by adding more parts with diverse functions.
Lucas von Hollen's Robot Suit demonstrates how sustainability isn't always pursued with the environment in mind. In this case, Lucas was focused more on financials and used reclaimed dumpster parts because he lacked the funding.
"Technology is outdated, but that doesn't mean it no longer works or functions and that the uses can't be repurposed," he explained. "Why buy something new, when you can use what already exists and save tons of money?"
Even though sustainability was not Lucas' main intent, the Robot Suit exemplifies how sustainable practices sometimes just come naturally to us.