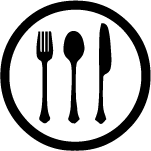 Florida State University is committed to providing students with local foods and practices that cater to the long term vitality of the environment. By rethinking how we grow our food and how it reaches our plate, we are challenging traditional food systems and striving to reframe the way our campus community perceives food consumption habits. Campus dining makes it a point to make low-impact, local, fresh foods a staple in the dining halls. Fuel yourself sustainably with FSU's variety of healthy dining options.
Sustainable dining
Seminole Dining has made changes to create a more eco-conscious program, such as using green cleaning products, banning styrofoam in food services, and recycling paper and 100% of cooking oils. Trayless dining has been implemented in dining halls, a trend many universities are embracing, in order to discourage food waste, save energy, water and money. Diners who opt to take part in the reusable to-go program are given discounts on food and drink, and batch cooking and portion control are monitored to cut down on waste.
---
Sourcing is defined as the process of finding suppliers of goods and sources. While this general definition is useful, sourcing can also be viewed from a sustainable perspective. By looking beyond economic aspects of where our food originates, we begin to reveal the environmental, ethical, and social factors that affect the food on our plate
---
FSU Vegan & Vegetarian Guide
Learn what dining options are vegan and vegetarian on campus through Seminole Dining's Guide.
title-inside title-centered
2