FSU Alumni Give Back: Solar at The Sustainability Hub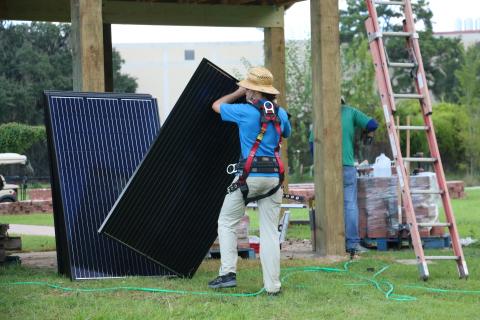 In August 2017, three Florida State University Alumni came together to give back to the university they once called home. Next to the FSU Seminole Organic Garden sits the Sustainability Hub ornamented with newly installed solar panels. The three alumni, Scott Minos, Justin Vandenbroeck, and Chris Diaz, all provided support for the project.
In the beginning, Scott Minos, a former supervisor of the U.S. Department of Energy, proposed the solar panel project to FSU Sustainable Campus Director Elizabeth Swiman. Once that idea was planted, Minos reached out to Justin Vandenbroeck at the ESARenewables solar company who was excited about the project idea. However, since the project was completed in kind by Vandenbroeck's solar company, it still needed the funding. Vandenbroeck was attending a solar conference with Chris Diaz in San Diego, California and that was when he pitched the project to Diaz. Diaz was immediately in support and pleased to provide a financial contribution to cover the majority of the costs associated with the project.  
Here's what they have to say about the contribution to Florida State University: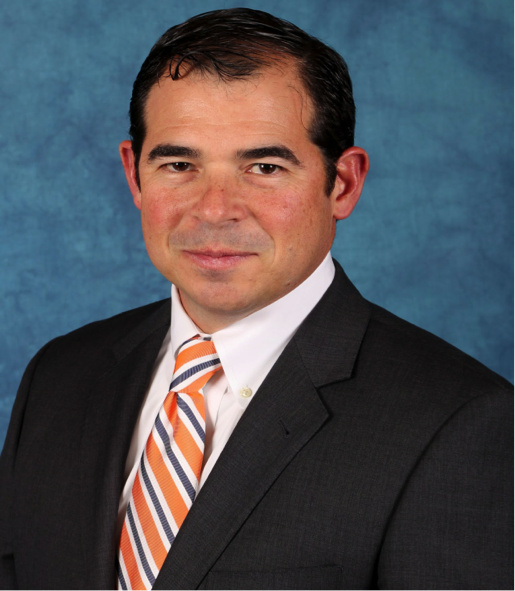 CHRIS DIAZ
What does it mean to install solar panels at your alma mater?
I had a great experience at FSU during my time there in the late 80's and I always wanted to be able to give back something no matter how small. The college experience is very important in shaping the minds of students and our future leaders, as someone said during my daughter's orientation at FSU "college is an internship for life". Exposing young minds to infinite possibilities and various opportunities will enrich the student experience at FSU, as well as hopefully have a positive impact on our world in the future.
Why is it important to bring renewable energy to college campuses?
Education is Power. Renewable Energy will continue to be an important part of our daily lives. Exposing people to the simplicity of solar and the tremendous resource it can be will fit perfectly with FSU's Sustainability Hub's mandate. This will be a great venue to teach and learn about renewables.
What do you hope this project will accomplish at Florida State University?
My biggest hope is that this solar installation will inspire students to pursue careers in renewable energy.  This project can be a mind opening experience which encourages students to explore the economic as well as environmental benefits that renewable energy produces.
SCOTT MINOS
Over the past 32 years that I have worked in the clean energy field both energy technologies and FSU's beautiful campus have changed dramatically.  Back when I graduated from FSU in 1984 renewable energy was still a fledgling industry in many respects. As an example, back then solar was not nearly as efficient, powerful, and cost effective as it is today.  I am proud to say much of the reason for this advancement is heavy investment into research and development of solar technologies by the U.S. Department of Energy.  Solar is now on target to follow wind energy in achieving grid parity within the next several years.  The world, this country included, is in the middle of an irreversible transition to a clean energy economy.  I am so excited to see FSU embrace the future.  It makes me proud to be a Seminole, and hope to see much larger and bolder clean energy projects across the campus in the near future.
Justin Vandenbroeck
Could you give us a rundown of the project?
This project is a 3.5 kW photovoltaic (PV) solar energy system. We designed it using (12) 295 W solar panels manufactured by Mission Solar Energy in San Antonio, Texas. In general, the electricity produced from this system will help off-set FSU's electricity demands for outdoor lighting at the hub, Marching Chief's Practice Field, and surrounding areas. For comparison, this system will produce enough electricity annually to offset the typical consumption of a small Tallahassee bungalow home.
What does it mean to install solar panels at your alma mater?
I'm humbled by the opportunity to return back to Tallahassee for the first time since graduation and come with a purpose that aligns with my passion. I cannot tell you how many times I walked through campus dreaming of an opportunity to install  solar panels on various buildings. I'm proud that the leadership at FSU recognizes the value that an educational project can provide for the students, faculty and staff.
What do you hope this project will accomplish at Florida State University?
At the end of the day, my biggest wish is that this project sparks curiosity. I hope that students will ask themselves how this this get installed, why solar, where are the materials from, how were they made, and how can I be a part of the solar industry. For the administration, I hope it will serve as a proof of concept to increase the level of comfort that FSU has with the deployment of solar technology on-campus and in turn it influences their decision to invest in a significant amount of on-campus solar.