Fall 2020 Sustainability Fellows: Mahyar Ghorbanzadeh & Sajeeb Kirtonia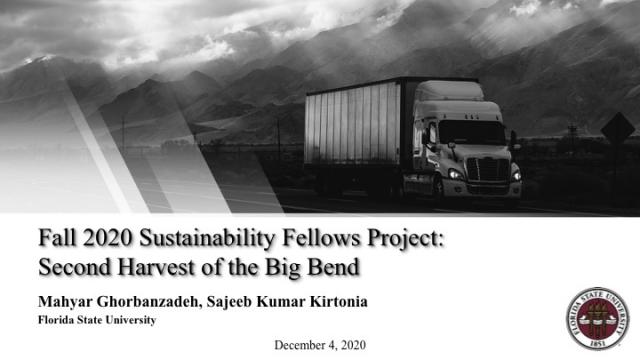 Project: Evaluate Efficient Routes for Food Bank Deliveries
Partner: Second Harvest of the Big Bend
Students: Mahyar Ghorbanzadeh, Ph.D. candidate in Civil and Environmental Engineering; Sajeeb Kirtonia, Ph.D. candidate in Industrial and Manufacturing Engineering
---
In Fall 2020, Mahyar and Sajeeb worked as a team to evaluate efficient routes for Second Harvest of the Big Bend.
As a Ph.D. candidate, Mahyar's research is related to Traffic and Transportation Engineering. The overlap between the goals of the Sustainability Fellows project and his research areas made him very passionate to work on this project. Sajeeb is also completing a PhD and working as a research assistant. His research is primarily focused on improving the efficiency of the transportation sector.
Second Harvest food bank delivers resources to seventeen Big Bend counties, however the cost of fuel and truck maintenance is expensive. Mahyar and Sajeeb were originally tasked with critically assessing current routes and providing recommendations for alternative routes that maximize delivery efficiency.
"When you're working as a Ph.D. student, you're mainly working on different topics, papers, and academia," said Mahyar. "But this was a real project. We could visit a site and see what is going on. We were able to really apply our information, knowledge, and skills to solve a problem."
Instead of providing solutions for a single moment in time, the team utilized open source software to create a sustainable route planning solution for the Second Harvest team for years to come. During their final presentation, Mahyar and Sajeeb presented their preliminary programming of the Open Door Logistics Studio software, which provides analysis of customer locations, territory design and mapping, and vehicle fleet routing and scheduling.
"Initially we tried to make the whole thing by coding ourselves," said Sajeeb. "So we shifted to a new plan because this software has all the capabilities needed for Second Harvest and can better meet our client's changing schedules."
Mahyar and Sajeeb plan to visit the Second Harvest team to provide training on the new software. Second Harvest staff members greatly appreciated the open-source software and are excited to hit the ground running.
"This has been an amazing opportunity for us," said Shari Hubbard, Director of Communications for Second Harvest of the Big Bend. "This was a wonderful research project with great results, and it really does give us a real, tangible benefit. Mahyar and Sajeeb absolutely exceeded our expectations in every way."
---
To learn more about Second Harvest of the Big Bend, visit fightinghunger.org. 
To learn more about the Sustainability Fellows program, visit sustainablecampus.fsu.edu/sustainability-fellows. 
---
A visual map representation of the Open Door Logistics Studio output