Fall 2020 Sustainability Fellows: Sarah Galt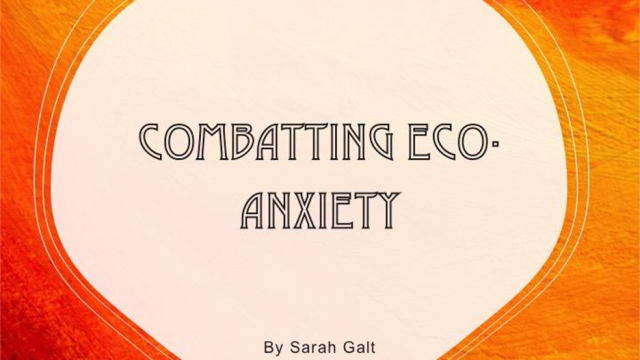 Project: Develop an Eco-Anxiety Guide for Students
Partner: Sustainable Campus
Program: Fourth Year Undergraduate in Environment and Society
---
Sarah is a senior at FSU interested in pursuing a career that furthers environmental awareness and education, which goes hand-in-hand with sustainability. When Sarah's original project was unable to come to fruition at the beginning of the semester, Sarah demonstrated flexibility by creating her own project with Sustainable Campus that aligned with her interests and values.
Collaborating with the Sustainable Campus team, Sarah created a guide that helps students manage their eco-anxiety. The American Psychiatric Association describes eco-anxiety as an ongoing fear of environmental disaster. People experiencing eco-anxiety feel helplessness and frustration due to their inability to feel like they are making a difference in stopping climate change.
Sarah's Eco-Anxiety Guide makes it easier for those struggling with eco-anxiety to find empowering outlets meant to combat feelings of stress related to the deteriorating environment. Sarah's guide provides activities in three different categories:
Individual Action
Grounding Techniques/Daily Activities
Community Involvement
Individual action activities include adopting a more sustainable diet and shopping for second hand items. Daily practices include breathing exercises and eco-art/poetry. Finally, Sarah's community involvement recommendations include voting and attending community meetings.
"This project challenged me to be more adaptable," said Sarah. "It was also nice to be able to work with other people - especially during these COVID times. I really liked bouncing ideas off the Sustainable Campus team, and I also learned how to combat my own eco-anxiety!"
The Sustainable Campus team plans to take many elements of Sarah's guide and use them as the foundation for events, social media campaigns, and other outreach activities.
"Sarah took a smart approach by providing a low barrier to entry," said Elizabeth Swiman, Sustainable Campus Director. "She set up her guide so that it's easy to access the information and actually give her activities a try."
---
Read Sarah's blog post 'Build Eco-Optimism and Resiliency Through Art' at sustainablecampus.fsu.edu/blog.  
View the full Eco-Wellness Guide at sustainablecampus.fsu.edu/resources.
To learn more about the Sustainability Fellows program, visit sustainablecampus.fsu.edu/sustainability-fellows. 
---
Sarah's recommendations for individual methods of change
Sarah's recommendations for daily grounding activities
Sarah's recommendations for community involvement