Fall 2020 Sustainability Fellows: Tyler Osha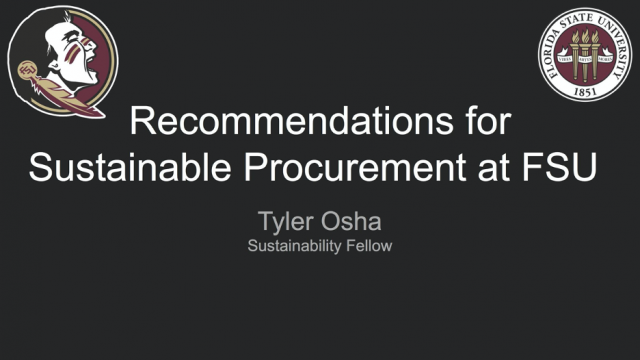 Project: Provide Recommendations for a Sustainable Supply Chain
Partner: FSU Facilities, Procurement
Program: Fourth Year Undergraduate in Environmental Science and Policy
---
Tyler is a senior studying Environmental Science and Policy. He has a passion for protecting the environment and is interested in the intersection of business and sustainability. After graduation, he plans to work in the corporate sustainability field.
As a Fall 2020 Sustainability Fellow, Tyler worked with the FSU Facilities Procurement team. Universities have a lot of purchasing power and require a myriad of goods and services to run successful institutions. During his semester as a Fellow, Tyler investigated Higher Education Institutions to examine how sustainable procurement policies are addressing social responsibility effectively and recommend best practices that can be implemented at Florida State.
Tyler conducted informational interviews with innovative university procurement offices across the United States, spoke with product representatives, and completed a deep-dive examination of current FSU procurement practices.
Concluding his semester as a Fellow, Tyler presented a series of recommendations, resource guides, and examples of sustainable procurement policies to the FSU Facilities Procurement team.
Tyler recommended that the university:
Implement sustainable contract language in ITBs and ITNs
Implement a Lab Share Day
Implement a Sustainable Purchasing Checklist
Implement Sustainable Purchasing Guidelines
Implement outreach programs for vendors and FSU departments
Tyler created draft versions of the Sustainable Purchasing Checklist and Sustainable Purchasing Guidelines, which members of the Procurement team expect to pilot and implement soon. The project also opens up new opportunities for collaboration between the Procurement team and the Green Office program.
"At the beginning of the semester, I would never have known that sustainable procurement touches so many aspects of university management," said Tyler. "It was really fun to dig in and learn more."
"The recommendations that Tyler provided are feasible and doable," said Elizabeth Swiman, Sustainable Campus Director. "He kept his eye on the ball in terms of what aligns with FSU's mission and goals."
---
To view Tyler's Sustainable Purchasing Checklist, visit sustainablecampus.fsu.edu/resources/green-purchasing-guide.
To view Tyler's sustainable contract language, visit sustainablecampus.fsu.edu/sites/g/files.
To learn more about FSU Procurement, visit procurement.fsu.edu. 
To learn more about the Sustainability Fellows program, visit sustainablecampus.fsu.edu/sustainability-fellows. 
---
Tyler's proposed Sustainable Purchasing Checklist embedded onto the Spearmart website
Tyler's proposed Sustainable Purchasing Checklist