Spring 2020 Sustainability Fellows: Dani Proffitt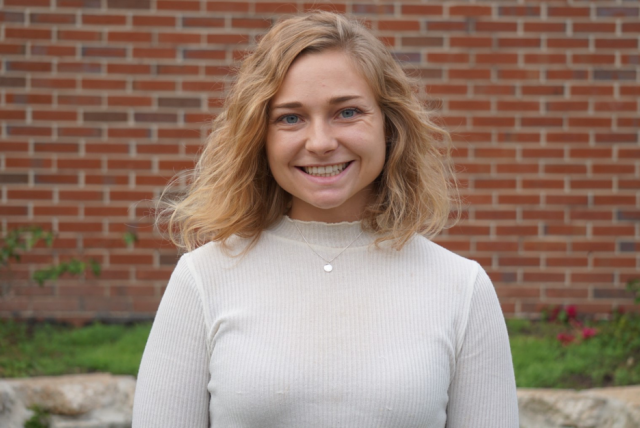 Project: How can Leon County better educate community members about sustainability?
Partner: Leon County Office of Sustainability
Program: Fourth Year Undergraduate in Advertising and Studio Art
---
Dani is a double major in Advertising and Studio Art focusing on creative, social, and business issues alike. She has a growing passion for the environment that she wanted to apply to her current professional life as well as further grow her knowledge in the field of sustainability. She saw a post on social media about the Fellows program and it seemed like the perfect fit!
As a Spring 2020 Sustainability Fellow, Dani worked with the Leon County Office of Sustainability to develop a new Sustainability Ambassadors program.
The Leon County Office of Sustainability works to enhance environmental, economic, and social resilience by promoting adoption of sustainability practices within the community, and the purpose of the Sustainability Ambassadors Program is to educate a diverse range of stakeholders about sustainability.
In collaboration with Fellow David Krijgsman, Dani worked to complete market research, identify key target groups, and create curriculum for sustainability education in the Leon County area. Dani used her design skills to create a logo for the new program and develop a Sustainability Ambassadors proposal that summarizes the team's work throughout the past semester. Dani also synthesized meeting notes and key takeaways and integrated them into the final report.
Dani's project partners describe her as "unbelievably organized," and noted that she's comfortable applying her diverse skill set in marketing and graphic design to real-world challenges. Dani also expanded her sustainability knowledge through participation in the 2020 Sustainable Campus Sustainability Summit.
As a Sustainability Fellow, Dani enjoyed exploring new opportunities outside her marketing coursework in a field that she cares about. She learned new marketing techniques that are specific to sustainability communications through researching best practices and working with her project partners.
"The Sustainability Fellows program gave me skills that I would have never learned in the classroom by working on a real community project with real county employees," Dani said. "I was able to learn so much more about program development, which is now an area of interest I would like to pursue one day. I hope to go into the non-profit or sustainability field one day, and I believe this experience gave me the footing to do that."
---
For more information about the project and ongoing Leon County sustainability initiatives, visit the Leon County Office of Sustainability website at http://cms.leoncountyfl.gov/growinggreen/. 
To learn more about the Sustainability Fellows program, visit sustainablecampus.fsu.edu/sustainability-fellows.