Spring 2021 Sustainability Fellow: Alyssa Love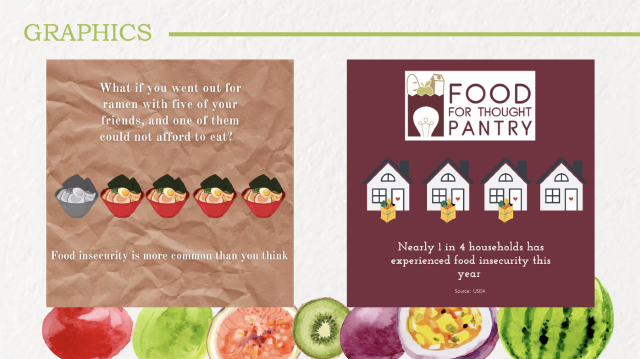 Partner: FSU Food for Thought Pantry
Project: Local Food Resources Inventory
Student: Alyssa Love, first year graduate student in Public Interest Media and Communication
---
In Spring 2021, Alyssa worked to create social media content to raise awareness of the FSU Food for Thought Pantry and educate the university community about food insecurity. Alyssa was excited to work with the pantry to create a campaign that could reach as many students as possible.
The FSU Food for Thought Pantry fulfills unmet student needs and provides access to supplemental food resources. Since the Pantry began collecting data on referrals in Spring 2019, just over 18% of respondents reported that they first heard about the Pantry through social media channels. Alyssa was tasked with expanding the audience of the Pantry's social media outlets and creating new educational content.
"I really appreciated how reiterative our approach was," said Haley. "I would have an agenda, we would talk about something, she'd bring in something, we'd talk about it, and she'd send it back. I know that that can be a frustrating model of engagement, but I think it's very true to partnerships, and Alyssa adapted to that model very well."
Throughout the semester, Alyssa gained hands-on experience in the creative process and social media management creating graphics for Instagram and videos for the Pantry's new TikTok account. After posting Alyssa's content, the Pantry's Instagram followers increased by 2%, and one of her TikTok videos gained 600 views in three days.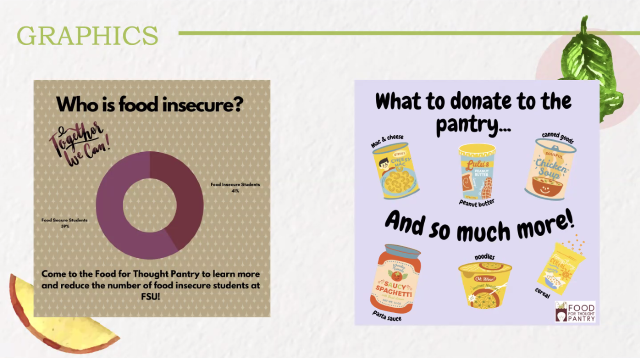 Alyssa's Instagram infographics
"Audience matters," said Haley. "When we operate on Facebook, we're not meeting students where they are – we're meeting their parents where they are! So adapting to TikTok and being more present on Instagram are really important components to connecting."
During her Fellowship, Alyssa learned how to communicate professionally and organize her time. Because it was her first experience doing social media work in a professional setting, she gained new insights into graphic design and visual communication.
Alyssa also deepened her understanding of social sustainability and food insecurity.
"I knew about environmental sustainability because my minor was Environment and Society, but I learned that social sustainability is about creating programs and structures that can help people and keep going for generations," said Alyssa. "Also, before working with the Food for Thought Pantry, I didn't know much about food insecurity. I just thought it was hunger, but there's layers to it and it's a much more complex issue. In the future, I hope that I get a chance to work on many different social programs!"
---
To learn more about the FSU Food for Thought Pantry, visit dsst.fsu.edu. 
View Alyssa's "Where is FSU's Food for Thought Pantry located?" video here. 
View Alyssa's Food for Thought Pantry Stock video here.
To learn more about the Sustainability Fellows program, visit sustainablecampus.fsu.edu/sustainability-fellows. 
---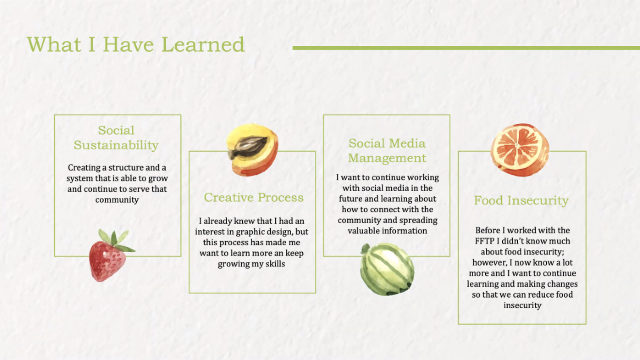 Alyssa's summary of what she learned throughout the semester