Spring 2021 Sustainability Fellow: Rachel Tullius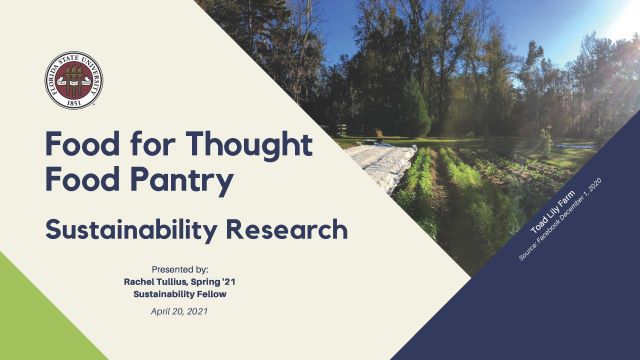 Partner: FSU Food for Thought Pantry
Project: Local Food Resources Inventory
Student: Rachel Tullius, first year graduate student in Social Work
---
In Spring 2021, Rachel conducted research on local food providers for the FSU Food for Thought Pantry. Rachel's interest in the Sustainability Fellows program came from her dedication to helping others and her passion for locally sourced food.
Rachel worked with Haley Gentile, case manager for the Department of Student Support and Transitions and coordinator of the Food for Thought Pantry. The pantry supplements the basic needs of FSU students facing food insecurity, and Rachel was tasked with finding new ways to expand produce supply while integrating principles of sustainability.
"There are a lot of things that the Food Pantry is seeking in terms of expansion and increasing our sustainability," said Haley. "But there are also a lot of restrictions under which we operate, including our capacity."   
Rachel's research on Tallahassee growing seasons
Mindful of the pantry's limited resources, Rachel conducted research on local growing seasons and area farms. She specifically highlighted operations that were run by minorities, women, or other marginalized populations. At the end of the semester, she provided a final recommendation based on her research, suggesting that the pantry subscribe to the Red Hills Small Farm Alliance.
"I really appreciated how Rachel had an eye for DEI as we think about how we spend our Foundation funds," said Haley. "Being a good steward of our FSU Foundation funds doesn't just mean getting the most bang for our buck? We have to consider our relationship to the community and who are we supporting. Rachel, in large part because of her social work perspective, was very attuned to those things."
The FSU Food for Thought Pantry aims to develop a routinized plan for the 2021-2022 school year that integrates more fresh and local produce, and Rachel's research laid the groundwork on the creation of that plan.
"This summer I'm actually interning at Elder Care Services," said Rachel, "and they also have a food pantry that I didn't know about! I'm excited to bring the knowledge that I gained to my next semester of work, and I'd love to keep in this lane of food security and food sustainability intersectionality."
---
To learn more about the FSU Food for Thought Pantry, visit dsst.fsu.edu. 
To learn more about the Sustainability Fellows program, visit sustainablecampus.fsu.edu/sustainability-fellows. 
---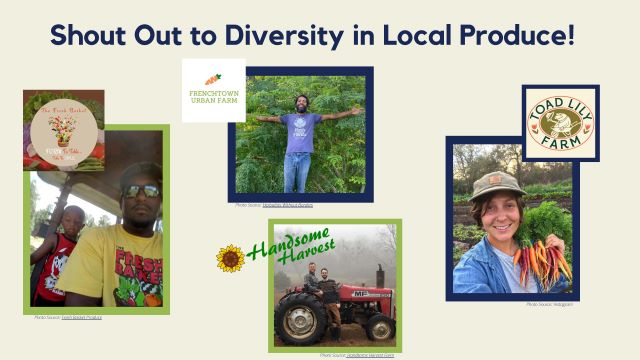 Rachel's research on diverse local producers