Spring 2021 Sustainability Fellows: Dasha Kosheleva & Tyler Osha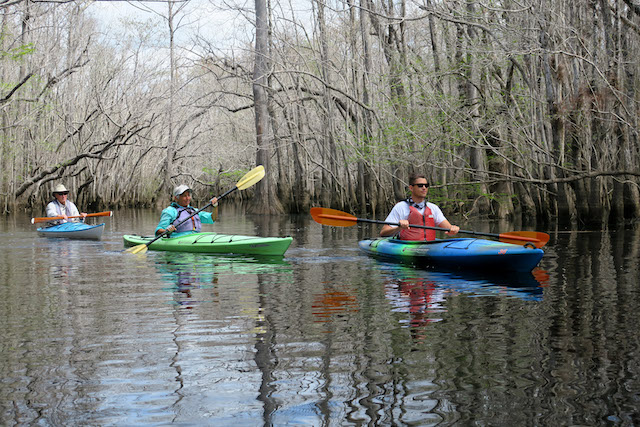 Project: ArcGIS Story Map for Apalachicola Basin Trails
Partner: Apalachicola Riverkeeper 
Students: Dasha Kosheleva, second year graduate student in Urban and Regional Planning; Tyler Osha, fourth year undergraduate in Environmental Science and Policy 
---
In Spring 2021, Dasha and Tyler worked as a team to compile 11 recreational trails into a single ArcGIS Story Map for Apalachicola Riverkeeper. 
As a master's student studying Urban and Regional Planning, Dasha joined the project because she wanted to combine her GIS skills with her passion for sustainable design. Returning Fellow Tyler Osha was excited to help community partners around Tallahassee and learn more about land and species conservation. 
Dasha and Tyler worked with Doug Alderson, Outreach & Advocacy Director, and other members of the Apalachicola Riverkeeper team. Apalachicola Riverkeeper is an organization dedicated to the protection, restoration, and stewardship of the Apalachicola River and Apalachicola Bay. Many of the paddling and hiking trails in the Apalachicola Basin are scenic and unique, but they are also remote and unfamiliar to the majority of people. To address this problem, Dasha and Tyler were tasked with creating a visual guide to the Basin to help visitors feel less intimidated to explore new trails. 
"If you don't really get out there and see [the Basin] for yourself, it's hard to appreciate and speak up for it if it's in trouble," said Doug. "But if you've been there yourself and really kind of explored it, you become more of an advocate." 
Over the course of the semester, Dasha and Tyler worked together to map trails, compile data, and present it in a unique format using ArcGIS Story Map software. Tyler visited both hiking and paddling trails in the Apalachicola Basin in accordance with COVID-19 safety guidelines, documenting wayfinding points and pinpointing interesting features of the trails using GPS software. Dasha worked remotely across time zones, collecting Tyler's data and inputting it into the Story Map. 
"I had a great time going and exploring because I'd never heard of half these trails before, so it was nice to go and explore them for myself!" said Tyler.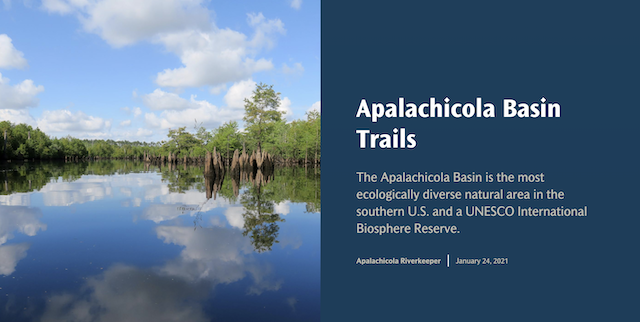 ​
The introductory screen of Dasha and Tyler's ArcGIS Story Map
During their final presentation, Dasha and Tyler presented their completed Story Map, which provides detailed information about 11 hiking and paddling trails in the Apalachicola Basin in a user-friendly and interactive format. Apalachicola Riverkeeper plans to integrate the students' map in the organization's online trail guide. 
"It's one more way people can really check out the trail before they explore it and get a feel for it," said Doug. "The photos, the maps, and the interactive quality of it will give them a better feel than just a plain description. That's why I wanted to do this project, and it came out just as I wanted it to! I think it'll draw more people out to the basin and to explore and appreciate the Basin." 
Both students enjoyed their experience and felt they had great teamwork. Despite the difficulties of working around COVID-19 restrictions and across time zones, the team had great communication and flexibility. 
"For me, it was one of the greatest experiences and opportunities I've had to use my skills for mapping," said Dasha. 
---
To view Dasha and Tyler's Story Map, visit storymaps.arcgis.com. 
To learn more about Apalachicola Riverkeeper and their conservation efforts, visit apalachicolariverkeeper.org.
To read a Tallahassee Democrat article about the project, visit Tallahassee.com.
To learn more about the Sustainability Fellows program, visit sustainablecampus.fsu.edu/sustainability-fellows. 
---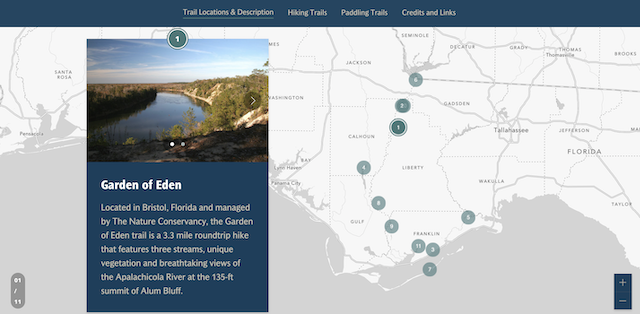 A summary view of the trails on Dasha and Tyler's ArcGIS Story Map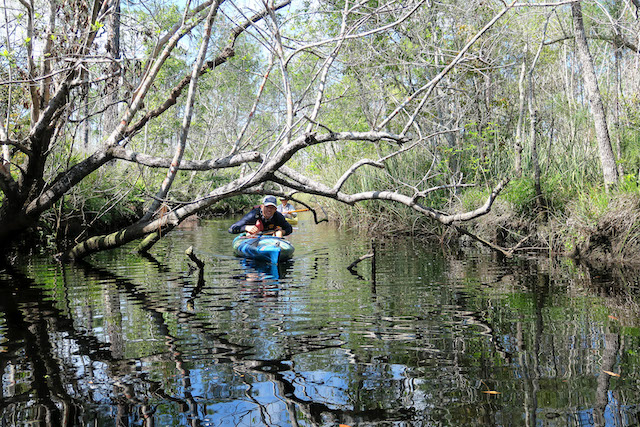 Tyler Osha ducking under branch along High Bluff Creek, by Doug Alderson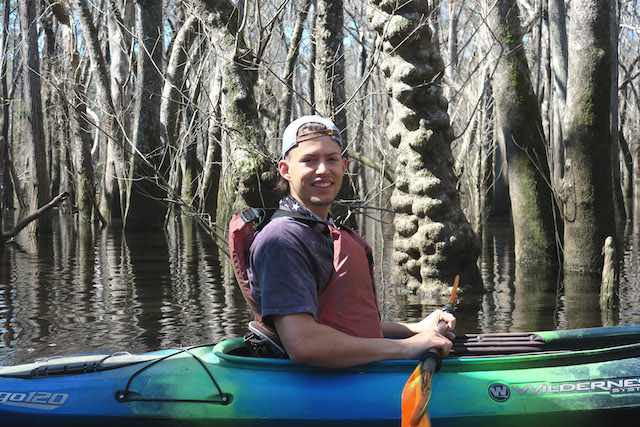 Tyler Osha on  Kennedy Creek, by Doug Alderson