Spring 2021 Sustainability Fellows: Delaney Wicker-Miller & Nicolas Fields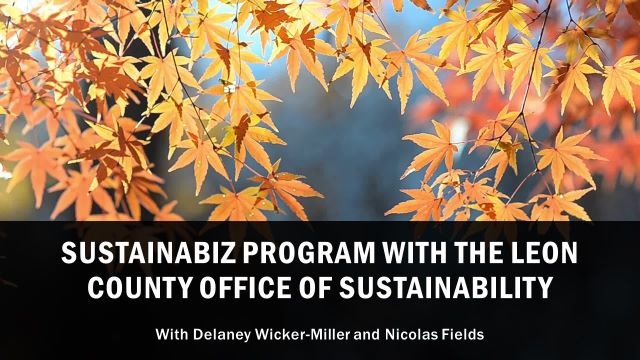 Project: Sustainable Business Recognition Program
Partner: Leon County Office of Sustainability
Students: Delaney Wicker-Miller, third year undergraduate in Management; Nicolas Fields, fourth year undergraduate in Finance
---
In Spring 2021, Delaney and Nicolas worked with the Leon County Office of Sustainability to conduct research and create materials for the new sustainable business recognition program's April launch.
Delaney chose this project because she was interested in exploring her passion for sustainable business and implementing the skills she'd gained in her studies. The Fellows program interested Nicolas because it gave him an opportunity to gain professional business experience while helping the community.
Delaney and Nicolas collaborated with Tobias Raether, Sustainability Programs Coordinator, and other members of the Office of Sustainability Team as they prepared to launch SustainaBiz, the County's sustainable business recognition program. The goal of the program is to highlight businesses who are implementing sustainable practices and provide consulting services for businesses to further adopt these practices.
Over the course of the semester, Delaney and Nicolas created a marketing and communication plan and conducted research of other programs. Delaney worked with Excel to create a customer database, and Nicolas learned to use Canva and experimented with logo design.
"Delaney and Nicolas gave us a ton of content that we're going to be able to utilize in the coming months as we roll out the program," said Tobias. "They created resources and ideas for promoting the program that have really laid the groundwork for success."
Delaney felt that the Fellowship confirmed her interest in sustainability.
"I flew home for an interview for a marketing company within sustainability, and I got the job!" Delaney shared during the Fellows' final presentation. "This Fellowship definitely helped me with that, and I'm really thankful for having this opportunity."
Nicolas is also interested in making his future workplace more sustainable.
"Before this, I was looking at sustainable businesses specifically within green technology," said Nicolas, "but I learned that you don't have to be in a sustainability business to be a sustainable company."
---
To learn more about the Leon County Office of Sustainability and their green business efforts, visit cms.leoncountyfl.gov.
To learn more about the Sustainability Fellows program, visit sustainablecampus.fsu.edu/sustainability-fellows.