Spring 2021 Sustainability Fellows: Mackenzie Hayes and John Massa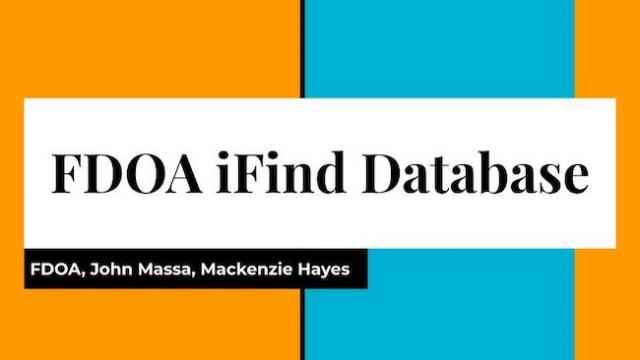 Project: iFind Recreation Resource Database
Partner: Florida Disabled Outdoors Association (FDOA) 
Students: Mackenzie Hayes, fourth year undergraduate in Environmental Science; John Massa, third year undergraduate in Sociology and Biology 
---
In Spring 2021, Mackenzie and John worked as a team to research beach accessibility features in Florida state parks for the Florida Disabled Outdoors Association (FDOA). 
Mackenzie was excited to start the project because she enjoys staying up to date on the latest social justice issues and hopes to have a career in outdoor recreation. John joined the Fellows program because he felt that the goals of the projects were in line with what the community really needs. 
Mackenzie and John worked with David Jones, founder, Laurie LoRe-Gussak, Executive Director, and other members of the FDOA team. FDOA is an organization that is working to enrich lives through accessible inclusive recreation. People with disabilities need a convenient method to find barrier-free access to physical activity and recreation. To this end, Mackenzie and John were tasked with obtaining as much information as possible about current accessible inclusive recreation resources. 
"The number one question we get from around the world is, 'I'm going to Florida on vacation! I love the beach. I use a wheelchair. Where can I go?' said David. "If people know where they want to go and what to expect when they get there, they can plan a more successful and enjoyable trip."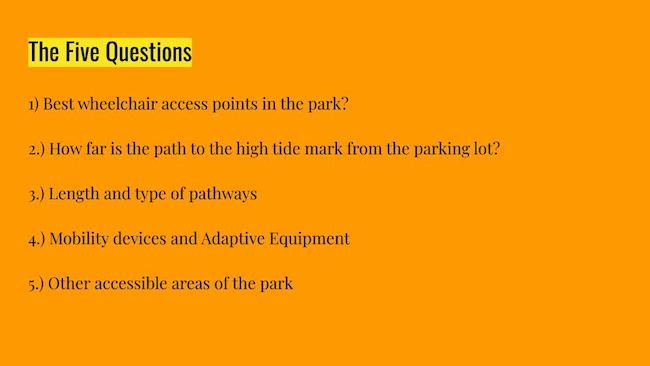 Mackenzie and John's five interview topic areas 
Over the course of the semester, Mackenzie and John worked together to contact state park officials, create an interview protocol, and collect their findings using Google Maps. When they began their project, both Mackenzie and John realized they had a lot to learn about accessibility issues. They conducted extensive research and met with ADA coordinators, representatives from state parks, and staff members from the Florida Department of Environmental Protection to gain a deeper understanding of inclusivity in recreational spaces.  
"When I first began research, I'd never even dipped my feet in issues concerning accessibility, "said Mackenzie. "I never would have thought to include questions about distance to the high tide mark or distance to the beach. But these issues are faced by a large part of our population, and inclusivity is extremely important, especially when it comes to our outdoor recreational spaces." 
During their final presentation, Mackenzie and John presented a visualization of their research, which showed locations of state parks and included detailed information about their accessibility features. The FDOA plans to continue the students' work and hopes to collect information from other types of beaches, both public and private, in the future.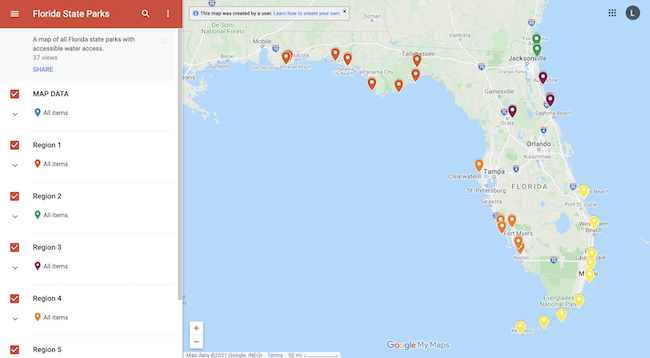 Google Map visualization of Florida state parks and their accessibility resources 
"This project really focused on figuring out what questions to ask and finding the right people to ask questions to," said David. "This is a project that we're not just going to put on the shelf. It's something that's going to reach and touch the lives of people for many, many years to come. I'm excited about this project, and it's what I would call a great start!" 
Both students felt that a lot was learned, and in the process of completing the project, they enjoyed being able to work with a variety of stakeholders. 
"My favorite part of the project was seeing a lot of different groups come together," said John. "There were more people involved in the issue of accessibility than I thought at first. It was nice to see so many people engaged, despite the fact that we're in a pandemic." 
---
To learn more about the FDOA, visit fdoa.org.
To learn more about the Sustainability Fellows program, visit sustainablecampus.fsu.edu/sustainability-fellows. 
---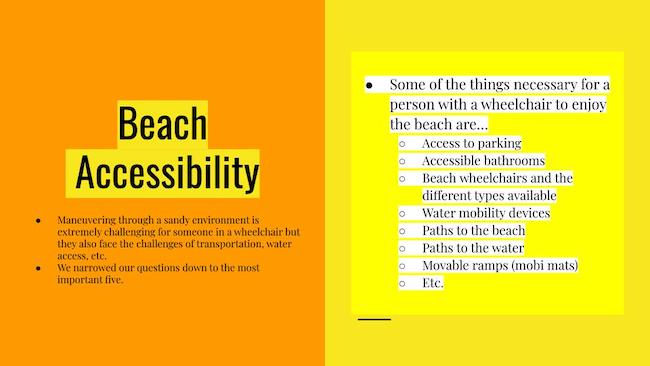 Mackenzie and John's presentation slide detailing features of beach accessibility