Summer 2021 Sustainability Fellow: Michael Walsh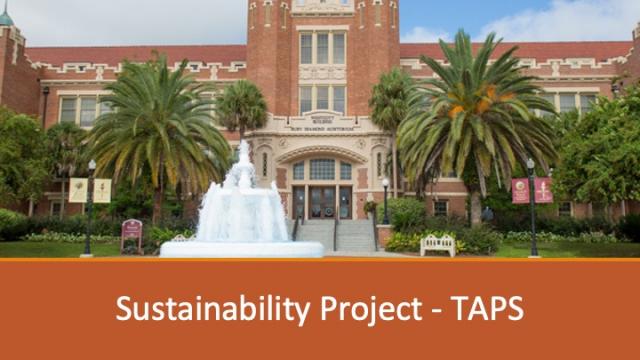 Partner: FSU Transportation and Parking Services (TAPS)
Project: TAPS Sustainable Transportation Marketing
Student: Michael Walsh, Second Year Graduate Student in Integrated Marketing Communication
---
In Summer 2021, Michael worked with FSU Transportation and Parking Services (TAPS) to create a social media marketing plan for the upcoming Fall semester. Michael joined the Sustainability Fellows program because he was interested in making a positive impact on the FSU community before graduation. 
Michael worked with Antira Akins-Farmer, TAPS Assistant Director, and other members of the TAPS team to reduce vehicle demand on campus and increase student usage of campus transportation alternatives, including buses, bicycles, Rideshare, and SAFE connection. Michael was tasked with creating a marketing framework that the TAPS team could implement in the coming semester as students returned to campus. 
Over the course of the summer, Michael created several marketing and communications products to address specific challenges, which included: 
Lack of awareness of campus transportation options;
Negative image of public transportation options;
Association of TAPS with parking rather than transportation.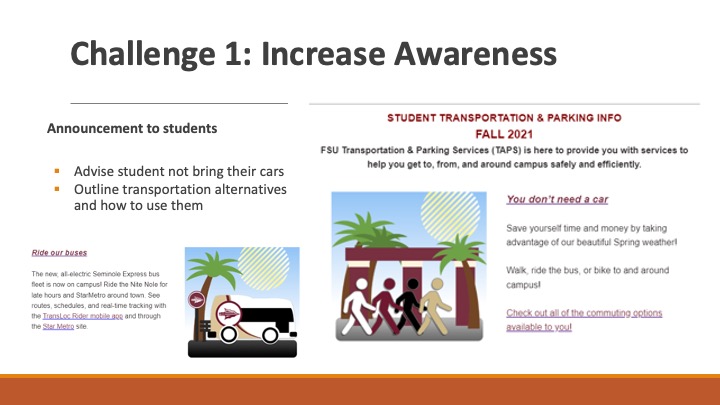 "As a student, I never drove," said Michael, "so I didn't know anything about TAPS as a group. Getting to work with the team was great, and I loved getting to learn more about the behind-the-scenes things at FSU. I didn't know we had electric buses, and I didn't know we had all these options for students to get around campus when they don't want to take their cars." 
To address these challenges, Michael created an email announcement for students, provided recommendations for social media engagement, and suggested improvements for TAPS branding and face-to-face interactions. Michael also provided several ideas for future marketing campaigns and ways the department could assess their impact using analytics. 
The TAPS team believes that Michael helped set the department up for success by creating a plan that can take them into the future. They plan on utilizing many of the elements Michael provided and integrating them into their Fall communications. 
"Working with Michael was awesome," said Anitra. "He was very independent, and he collaborated well with the other team members on the project. I'd offer him a position in transportation if it was available, and overall, I think he was outstanding."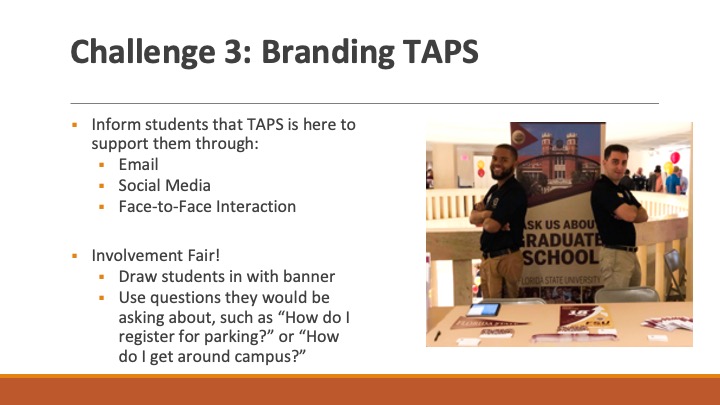 ---
To learn more about TAPS, visit transportation.fsu.edu
To learn more about the Sustainability Fellows program, visit sustainablecampus.fsu.edu/sustainability-fellows.