Summer 2021 Sustainability Fellows: Michelle Evangelista and Catarina Fernandez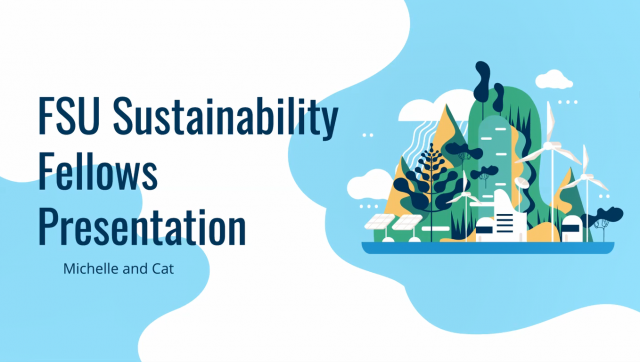 Partner: Miami Climate Alliance
Project: Social Justice Community Engagement/Marketing
Students: Michelle Evangelista, Third Year Undergraduate in International Affairs and Environment and Society; Catarina Fernandez, Third Year Undergraduate in Environment and Society
---
In Summer 2021, Michelle and Cat worked with the Miami Climate Alliance (MCA) to create community engagement and marketing tools for an energy burden campaign. Michelle was interested in the Sustainability Fellows program because she wanted to use her skills to benefit others. Cat joined the program because she hopes to pursue a degree in Urban Planning and wanted to connect with her community.
The MCA works to achieve justice for all of Miami's communities in the face of climate change and its effects. Michelle and Cat worked with Jeanette Ruiz and other members of the MCA team on the FPL (Florida Power & Light) Rate Case Campaign. The campaign was an effort to encourage community members to voice their opinions on a proposed FPL rate increase through hearings and public comment.
Throughout the semester, Cat worked to create a more cohesive look for MCA's social media, create educational graphics informing residents about rate raises, and encourage people to enroll to speak at the Public Service Committee hearings in late July.
Cat's social media post debunking FPL myths was the organization's best performing post and one of the highest liked photo sets on MCA's Instagram with 85 likes. Furthermore, Cat helped provide transparency to the hearing process by listing out hearing dates and times, streamlining registration, specifying the process of submitting comments, and providing information that could be used in the hearings.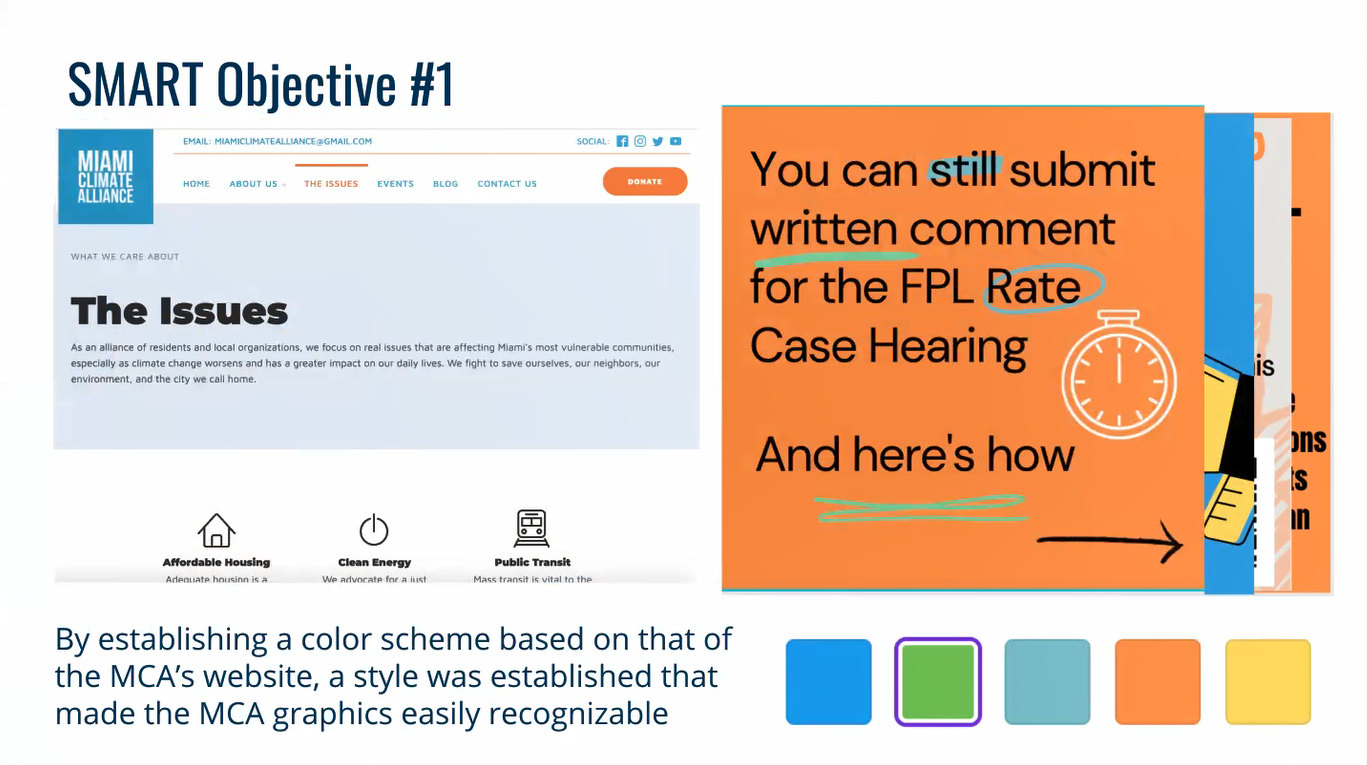 ​
During the semester, Cat realized that climate change is very much a people problem.
"There are real stakes to this fight," said Cat. "Many people don't draw the connection that energy burden is related to climate change. But the hotter it gets in Miami, the more people have to turn on their air conditioning, and that's a luxury a lot of people can't afford. It's really upsetting to me that a lot of families will not turn on their air conditioning because they don't want to run their energy bill up."
During the summer, Michelle worked to make content more accessible through changes in color palette selection, fonts, and other design elements. To achieve her goals, Michelle researched Web Content Accessibility Guidelines (WCAG), which helps make web content more accessible to people with disabilities. She self-evaluated each graphic she created to improve accessibility in subsequent posts.
Michelle also made content easier to access through tools such as Link Tree so that people would be more motivated to interact with resources. Finally, Michelle created content focusing on concepts such as energy burden. Together, Michelle and Cat used Sprout Social to track social media metrics across platforms to evaluate the performance of their posts and customize content for their users.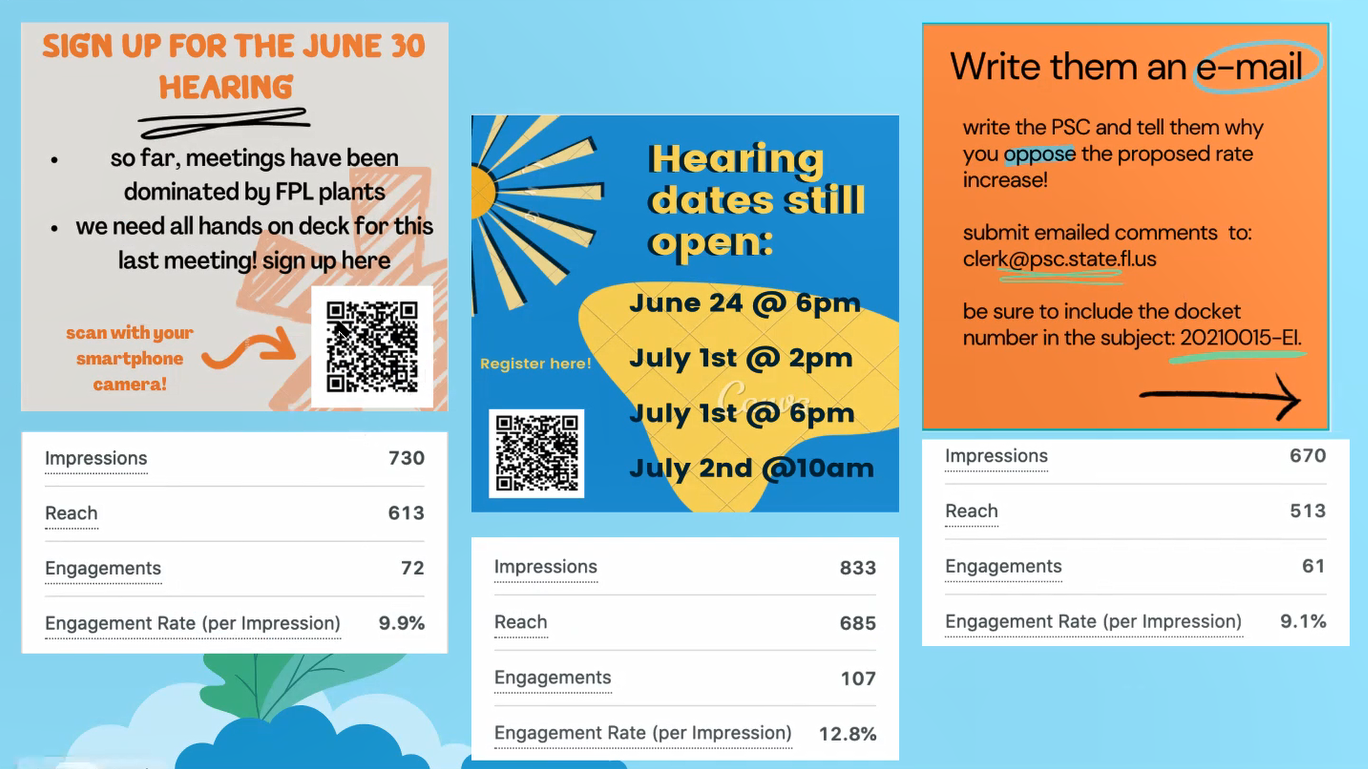 ​
Michelle and Cat's successes over the course of the semester included:
56 total clicks on Link Tree links
15.6% increase in social media impressions
38.8% increase in engagements with content, including 91 saves
71 new followers since the beginning of their Fellowship
Throughout the semester, the students faced challenges such as restricted customization of the Link Tree app, powerful opposition from FPL and its parent company NextEra, and low accessibility of the hearings themselves. However, Michelle and Cat overcame many obstacles by reaching out to industry contacts and discovering new information.
"It's hard when you're a small organization to bring people up to speed with the work you're doing and have them contribute," said Jeanette, "but Michelle and Cat are rock stars. They joined the team seamlessly and beautifully, and they had such fresh ideas. This whole experience has been so great, and I only have positive things to say."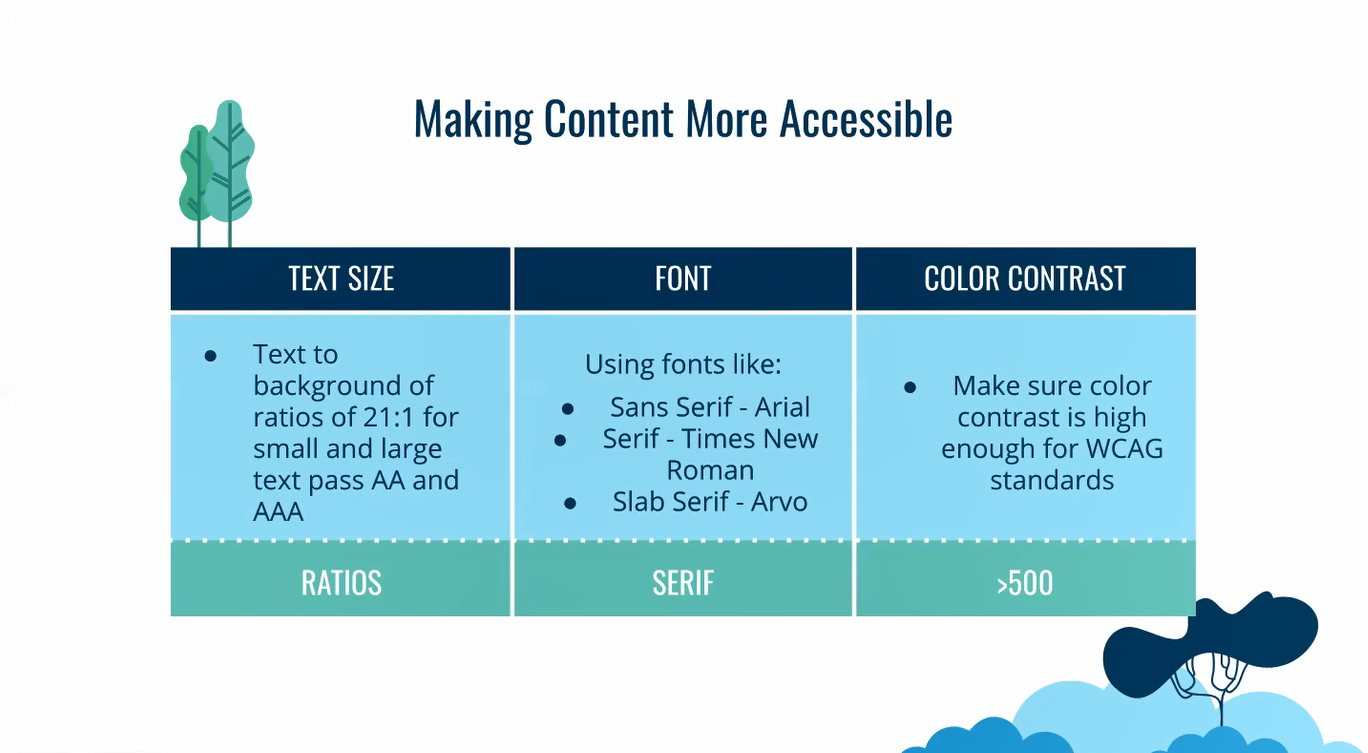 ​
Michelle felt that the Fellowship helped highlight the importance of intersectionality in environmental work.
"Considering intersectionality and not immediately blaming people is important," said Michelle. "For example, many people who have motor issues need plastic straws. We need to consider these different characteristics and traits of other people because when you force your idea of justice onto other people, it's not justice anymore."
For Cat, working the MCA helped her to realize that environmental organizations need to help give people tools and guidance to tell their own stories.
"We're so quick to reach to the scientists and the policy experts," said Cat, "but at the end of the day, what we can relate most to is the struggle of the people, and that's really the community I want to be rooted in when I'm doing this work."
Moving forward, the MCA team hopes to use similar tactics to tackle myths related to the Public Service Commission and their problematic history with the FPL.
---
To learn more about the Miami Climate Alliance, visit miamiclimatealliance.org.
To learn more about the Sustainability Fellows program, visit sustainablecampus.fsu.edu/sustainability-fellows.