Summer 2022 Sustainability Fellow: Vi Rogers-Rivera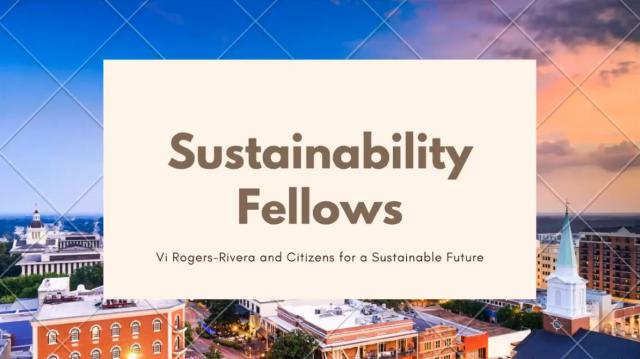 Partner: Citizens for a Sustainable Future
Project: Environmental Justice Citizen Response Training Camp
Student: Vi Rogers-Rivera, Third Year Undergraduate in Political Science/International Affairs
---
In Summer 2022, Vi worked with Citizens for a Sustainable Future (C4SF) to hold a listening session on environmental justice in Tallahassee. Vi joined the Fellows program to learn more about community organizing and environmental justice issues.
Vi collaborated with C4SF's Johana-Marie Williams, Operations Director, and Bruce Strouble, Co-Founder. The mission of the organization is to facilitate and promote sustainable living in African American communities by using research driven solutions that improve the ability of African Americans to pursue environmental justice for present and future generations.
Over the course of the semester, Vi helped C4SF complete qualitative research to support the development of an Environmental Justice Citizen Response Training Camp, which aims to train and educate Leon County community members on how to collect data on air quality and use that information to advocate for their needs. Before creating training materials for the camp, C4SF wanted to speak with community members so the program would adhere to the needs of the most impacted stakeholders.
To accomplish their goals, Vi worked with C4SF to brainstorm how the team was going to advertise, engage, and gather information from Tallahassee stakeholders. The team set a date for an in-person listening session and contacted neighborhood associations, local businesses, and stakeholders at the Frenchtown Famer's Market. At the Farmer's Market events, Vi engaged directly with visitors, sharing information about the listening session.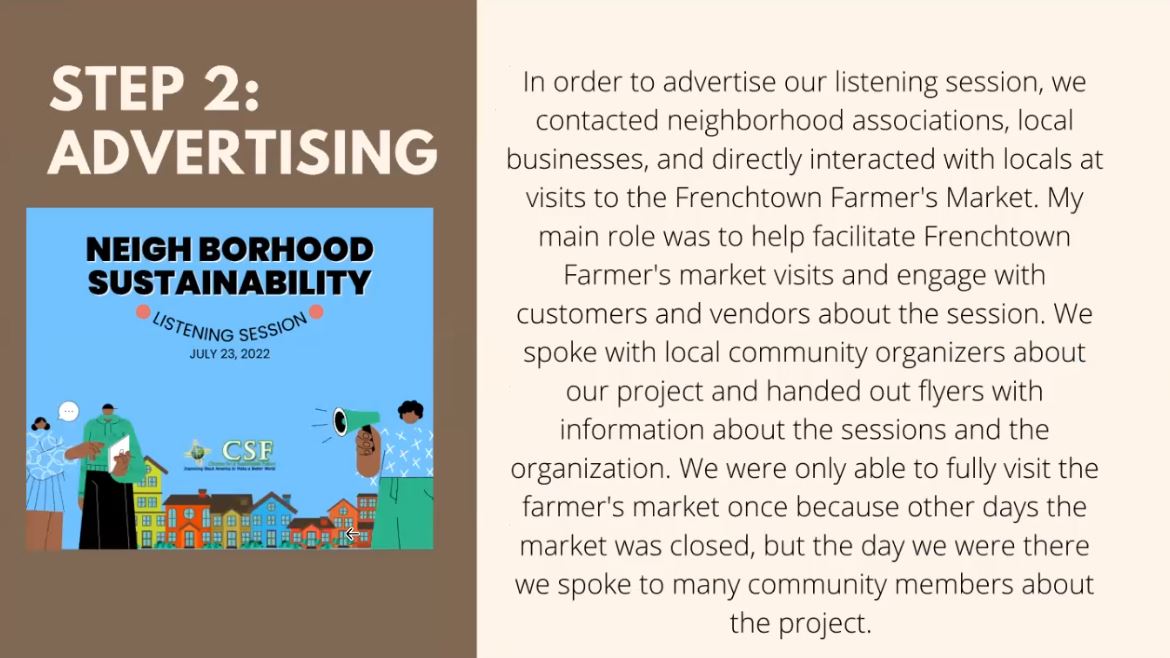 The listening session was held on Tuesday, July 23 at 6:30pm in the Lawrence Greggory Community Center. Two stakeholders were in attendance, and both reacted positively to the presentation about environmental justice and seemed passionate about addressing these issues within their community. Based on the listening session and conversations with stakeholders at the Famer's Market, the team learned that issue education is a key point in addressing community problems and information about issues should be more accessible.
"[C4SF] had a lot of external stuff going on, so we had to allow Vi to kind of lead the project a lot more than we originally anticipated," said Bruce. "Vi really rose to the occasion, and we're really happy with their work. Vi was able to chart their own path and make the project meaningful, and it was a learning experience for us, as well. We got great feedback on how to improve this process as we do it again, and it will be impactful."
In the future, C4SF plans to hold another listening session to gather more feedback from the community. Overall, the team felt that the July 23rd session provided insight into how the target communities view environmental justice issues, which will be applied when creating future training materials.
"This project taught me a lot about community engagement and how to organize people around an issue," said Vi. "There's really no one-size-fits-all solution. I learned that organizing a program for a specific community must have input from those within that community to be successful."
---
To learn more about the Sustainability Fellows program, visit sustainablecampus.fsu.edu/sustainability-fellows.