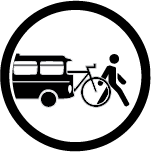 Through sustainable transportation, FSU can create a connected campus community. Students living on and off campus can use more sustainable transportation by renting bikes through a Sustainable Campus program or ride FSU's public transportation system. Sustainable transportation provides a variety of benefits, such as saving money, conserving energy, living a healthy and active lifestyle, and reducing carbon emissions. Walking, bicycling, skateboarding, carpooling, and taking the bus are all viable options for commuting around campus and Tallahassee.
Bike at FSU
FSU reCycle Bike Program: FSU's bike rental program rents out bikes to students for a semester or an entire academic year for a low price!
Bike in Tallahassee
Love to Ride: This iPhone app can be used to track how far you bike each day. The program also awards prizes to those who use the app and bike regularly.
public transportation resources
Seminole Express Routes: Provides transportation to, around, and from campus to the surrounding Tallahassee areas for faculty, staff, students and visitors.  Take the Garnet, Tomahawk, Osceola, Heritage, Innovation or Gold routes to campus.  Ride the Renegade, Garnet, Gold or Heritage routes to move around campus. 
Nite Nole: The Nite Nole bus route is an extension of the Seminole Express bus service. It's a night bus that runs Monday through Saturday during the Fall and Spring semesters from 8:00PM to 3:00AM. Buses do not run when classes are not in session.
StarMetro: StarMetro city routes are on myFSU Mobile app (Seminole Express) and the Starmetro Transloc app. All students, faculty and staff can ride any StarMetro bus throughout the City of Tallahassee for free by swiping a valid FSUCard. You can even bring your bike with you!
ZipCar Carpooling: Carpool using ZipCar when you need to go grocery shopping or want to take a day trip with friends!
Other Services
FSU Transportation Options: Transportation and Parking Services at FSU is more than just on-campus transportation. Discover the many services we offer to travel around town and all over the state of Florida!
Commuter Services of North Florida: Improving mobility for work and student commuters through the use of transportation demand management strategies such as carpooling, vanpooling, public transit, biking, walking, telework, and flexible work scheduling. Such options broaden transportation choices for commuters, facilitate individual cost savings, reduce fuel consumption, and mitigate both air pollution and traffic congestion.
Emergency Ride Home Program: Getting to work by carpool, vanpool, bus, cycling, or walking can save you hundreds of dollars each year. Still, when you must work late or leave early for an emergency, you need a quick and reliable way home. The Emergency Ride Home Program has you covered. This program is free to qualified commuters and gives you peace of mind knowing that if an emergency does arise, you're home free — literally.
Related
[BLOG] 5 Ways to Bike Smart