About Chuck It for Charity
Chuck It for Charity is an annual partnership between Sustainable Campus and University Housing to collect all the "stuff" that is usually left behind during student move-out after the Spring semester. The material is weighed, sorted, and redistributed to Tallahassee community agencies in support of their work and the people they help. 
Chuck It for Charity 2022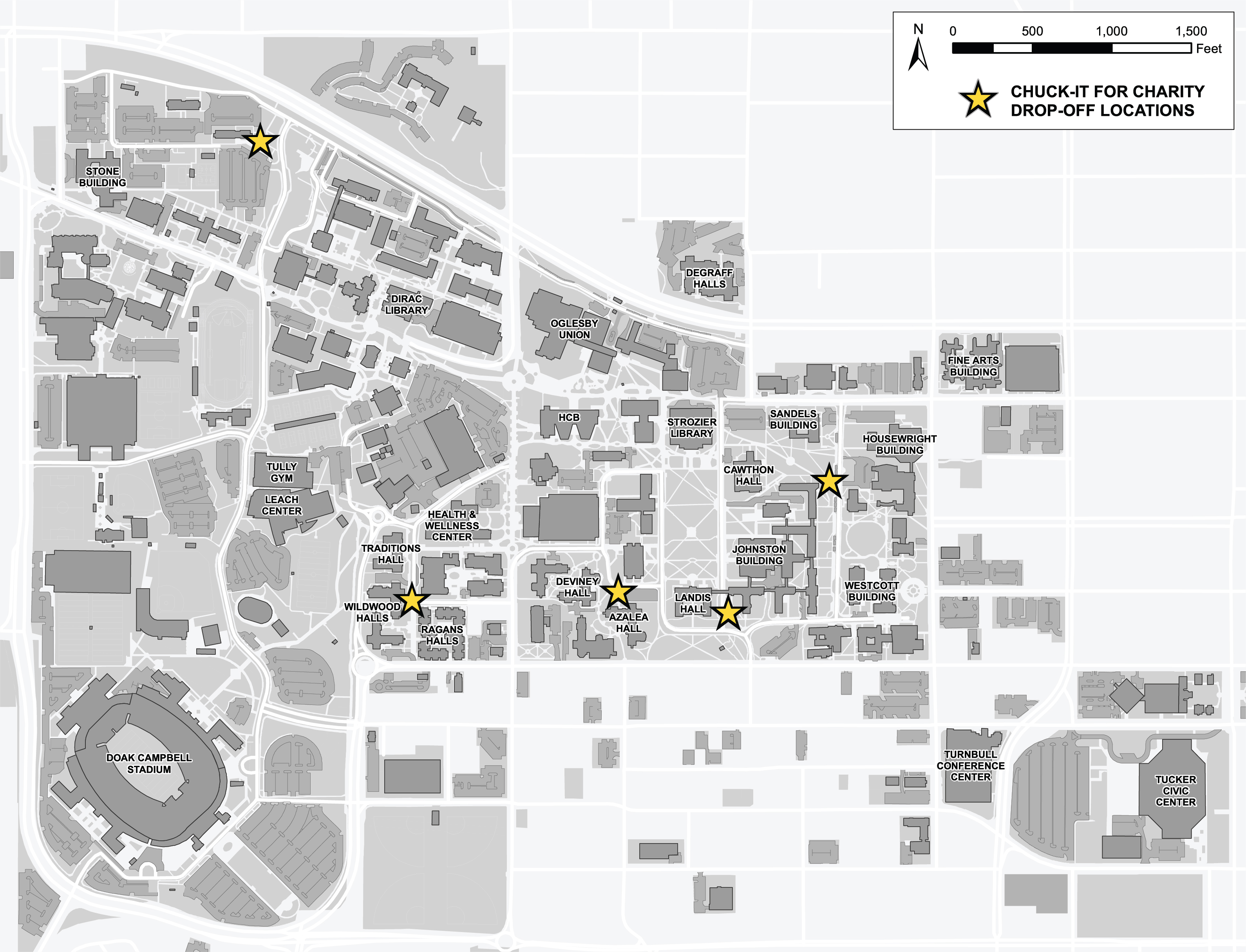 This year, Chuck It for Charity will be accepting donations at convenient locations around FSU's campus. Give your unwanted items a second life by dropping them off to Sustainable Campus staff and volunteers at the Chuck It for Charity tents! Please be sure to check the list of accepted items below to make sure we'll be able to accept your donation. 
2022 drop offs will occur at the locations highlighted on the map on April 27-29 from 10am-3pm and April 30 from 9am-12pm. To view a larger version of the map visit this link. 
Where can I donate?
Blue collection bins: Located in convenient drop-off locations around campus! View their locations here. 
I live off campus -  where can I drop off my donations?
What can be donated?
Category
Items that can be donated!
Books
Textbooks, novels, magazines
Clothes

Clothing, shoes (tie or tape them together), costumes, bags, hangers.
NO undergarments.

Toiletries
UNOPENED shampoo, conditioner, toothpaste, deodorant, soap/body wash, lotion, tissues, toilet paper.
School supplies
Paper, pens/pencils/markers, folders/binders, lab supplies, poster boards, art supplies, cork/dry erase boards.  
Cleaning supplies
OK if opened - Mops, brooms, vacuums, cleaning solutions, wipes, paper towels, sponges.
Bedding

Sheets, pillows, towels.

NO egg crates

Food
UNOPENED food, canned goods, bottled water, paper/plastic products, utensils.
Electronics
Printers, alarm clocks, batteries, radios, light bulbs
Room decor
Small appliances, plastic storage bins, rugs, desk/floor lamps, mirrors, baskets, shelves/bookcases, frames.
Bicycles / bicycle gear
Please email us at sustainablecampus@fsu.edu to donate.
title-inside title-centered
2