One Person's Trash Is Another Person's Bright Future
---
One Person's Trash Is Another Person's Bright Future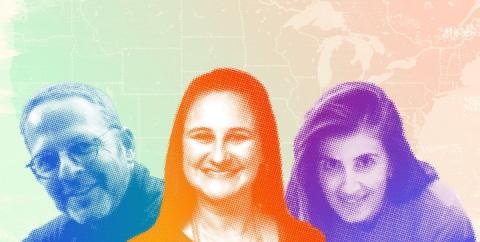 Most of us try our hands at saving the planet when we can. We're getting on board with the anti-straw movement, we opt out of getting cutlery with our food delivery orders when possible and we try to remember to bring canvas bags with us to the grocery store. But some people take reduce, reuse, recycle to a whole new level, taking what's right in front of them and repurposing it to address the often dire needs of people in their communities.
One hundred individuals are being honored as part of the TIAA Difference Maker 100 program for the amazing work they do, many of them for their vital roles in preserving our planet. We have teamed up with TIAA to highlight three of those individuals: Elizabeth Swiman of Sustainable Campus, Sheila Morovati of Crayon Collection and Rick Nahmias of Food Forward, along with some of their colleagues without whose help their work wouldn't be possible.
Whether it's collecting leftover crayons from restaurants to give to classrooms, or rescuing perfectly good fruits and vegetables before they go bad to feed those who need it most, these difference makers are thinking globally and acting in their very own backyards — sometimes literally — and their actions are going a long way. Read on to learn their stories.
Elizabeth Swiman
Florida State University's Sustainable Campus, Tallahassee, FL
ReCycle Bike, which allows students to rent bikes that were left behind and refurbished, a semester at a time, is just one of many programs Sustainable Campus runs. The organization directly affects hundreds of students every semester through its many programs. There's the Seminole Organic Garden, where students can come and learn how to grow and cook their own food for almost no cost. There's also its game-day recycling program, Garnet and Gold Goes Green, or G4 for short. And there's Take Back the Tap, its water advocacy campaign, which promotes tap water over bottled. "In our programming, we get to help students engage with sustainability behavior that hopefully gets incorporated into their everyday lives," Elizabeth Swiman, the organization's director, said.
Sustainable Campus has had a significant impact at FSU. In the 2016 to 2017 school year alone, 106 students rented bikes through reCycle Bike, 512 people pledged to not buy bottled water and more than 15 tons of stuff otherwise headed for the dump was collected and donated to the community through Chuck it for Charity, the organization's student move-out program. As of 2017, G4 volunteers had recycled over 200 tons of plastic, aluminum and glass over the prior 12 football seasons.
When Swiman joined FSU in 2007, she took a leadership role in the group that would officially become Sustainable Campus in 2010. "Together," she said referring to the faculty and staff who formed Sustainable Campus, "we were persistent in our outreach efforts and taking every opportunity we could find to highlight the importance of sustainability, and the importance of FSU taking a lead in addressing our role in the community impact," said Swiman. Since then, the group has expanded to include a small staff, graduate assistants, student coordinators and interns.
The university's strategic plan and list of priorities included sustainability for the first time this year, a large feat. "I think working the strategic plan is exactly where we need to be right now," said Swiman, "because that sets us up for another 10 years. These are the guiding priorities of the institution for the foreseeable future, and as long as we get to be a part of that conversation, I feel pretty good." Diptee added her hope for the future, too. "I definitely see sustainability being more at the forefront of people's minds in everyday things," she said. "Whether it's our classrooms or offices here at FSU, or just the different departments, really thinking more about sustainability."