Assessing Sustainable Campus Engage 100 Learning Outcomes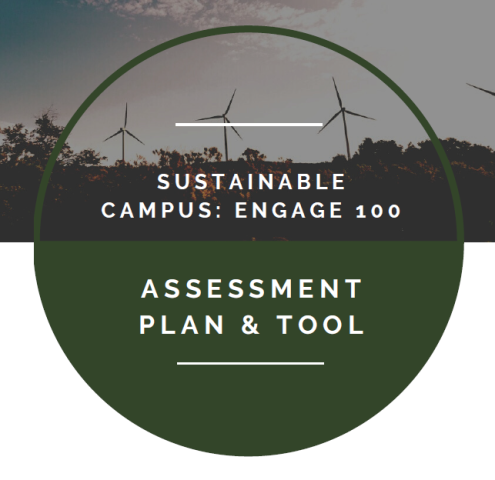 Four graduate students in the Spring 2022 EDH 5078: Outcomes Assessment in Higher Education I: Study Design course created measurement instruments for Sustainable Campus' Engage 100 course.
Dr. Jillian Volpe White, Program Director of Strategic Planning & Assessment, paired a group of students with Sustainable Campus to gain real-world experience in assessing student learning outcomes.
Every fall, Sustainable Campus offers an Engage 100 course, IDS1107 A Student's Guide to Sustainability, which introduces incoming first year students to sustainability programs, services, and resources at FSU. The four graduate students were challenged to help Sustainable Campus determine what first year students were learning in the Engage 100 course and judge the overall effectiveness of the lessons.
Sustainable Campus staff members provided the students with the course syllabus, lesson plans, and teaching materials. The students worked as a group to analyze the course content and create an evaluation framework and survey design that would meet the needs of Sustainable Campus.
The students developed a survey series conducted in three parts:
A survey given to students on the first day of class to determine their base level understanding of the content
A more detailed survey given to students on the last day of class to determine what they have learned throughout the course
A short survey given to students in the spring semester after the course to determine how the knowledge they gained has informed their view of sustainability and the world around them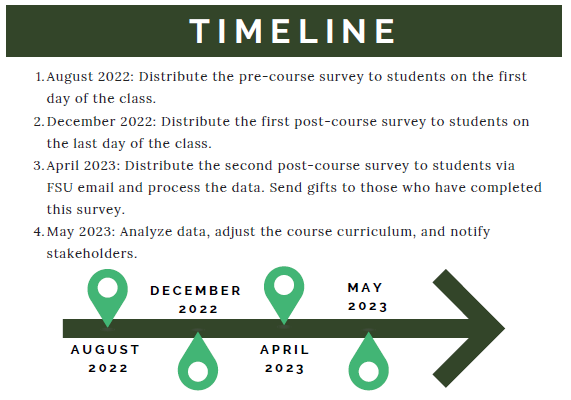 The students also followed Dr. Rishi Sriram's "5 Things Not to do in Developing Surveys for Assessments in Student Affairs." As a result, they (1) kept course learning outcomes in mind for all questions, (2) asked questions that allowed for measurable answers, (3) utilized a standard survey format, (4) ensured the questions were measuring what Sustainable Campus wanted to know, and (5) asked questions that would garner reliable responses.  
The Director of Sustainable Campus, Elizabeth Swiman, was especially impressed by the students' suggestion to implement a post-post- survey in the spring semester, as it showed that the students understood Sustainable Campus' need to develop cohorts and continually assess how much students have retained knowledge over time.
Overall, the students felt that they learned more about sustainability through working on the project. For example, students noted that they had gained knowledge of the UN Sustainable Development Goals and the Green New Deal through the project. Specifically, one student noted that she viewed issues like waste reduction through a different lens.
"When you study it, you notice it a lot more!" said the student. "After doing this project, I think that FSU is geared towards being a sustainable campus more than other universities."
---
To learn more about the Campus as a Living Labs program, visit sustainablecampus.fsu.edu/academics-research/campus-living-laboratory.