Fall 2021 Sustainability Fellow: Zachary Wigodner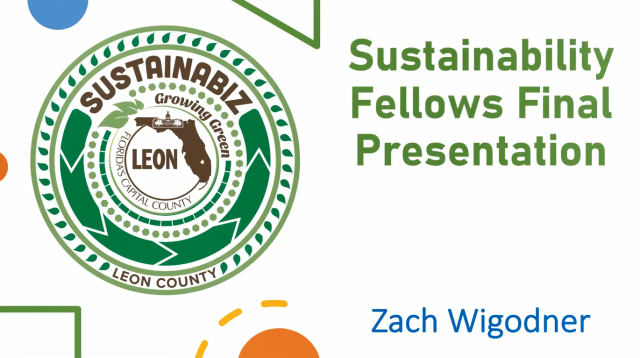 Partner: Leon County Office of Sustainability and Resource Stewardship
Project: Sustainable Business Recognition Program Implementation Specialist
Student: Zachary Wigodner, Third Year Undergraduate in Commercial Entrepreneurship
---
In Fall 2021, Zachary worked with the Leon County Office of Sustainability and Resource Stewardship to implement SustainaBiz, the county's sustainable business recognition program, which aims to recognize local businesses for their sustainability efforts.
Zachary worked with Cyndel Brunell, Sustainability Manager, and other members of the Leon County team. Over the course of the semester, Zach reached out to dozens of local businesses to help connect with the program.
"One business had a charging initiative to encourage their employees and customers to drive electric cars, which I thought was cool, creative, and out of the box," said Zach. "So, I thought I could really be creative with this rather than just going to small businesses and asking them to implement paper straws."
During his time as a Fellow, Zach researched sustainability value propositions, which he used to market the program to prospective participants. Specifically, Zach argued that joining the SustainaBiz program would add brand value, increase efficiency, attract motivated talent, and create new opportunities. Zach also targeted specific businesses using social media, LinkedIn, and business websites, gaining project management skills through his direct communications with business partners.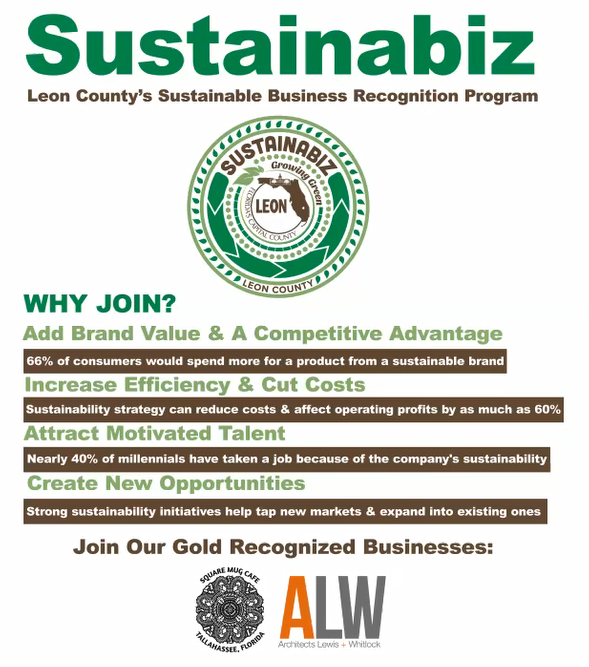 ​
Specifically, Zach helped the team onboard a local coffee shop into the SustainaBiz program. The coffee shop had developed an apiary and honey house and aimed at creating a self-sustaining honey operation. Zach also helped a local brewery begin the certification process, which is ongoing. Zach plans to utilize his new skills to enter into a sustainability case competition, which will focus on making recycling more accessible.
"I think a huge strength that Zach has is his entrepreneurial mind," said Brunell. "He's very creative and sees a lot of different opportunities in things. So, he can look at something and see, 'Here's a way this can be expanded,' or, 'We can change this to better incorporate other businesses in the future.'"
The Leon County team believes Zach has helped shape the way they view the program, and they are hoping to expand SustainaBiz into a thriving network of sustainable businesses. The team also plans to expand the program and add new categories for hospitality businesses, food trucks, and businesses without a traditional brick and mortar location.
"The Leon County team was part of a community that I was excited to learn about in terms of social impact and sustainability," said Zach. "Coming from the Entrepreneurship program, I came in with a lot of ideas. [Cyndel Brunell] and [Chloe McCrary] were there to help me hone them in and make them more realistic. Being part of the team was by far the coolest part of this process."
---
To learn more about the Leon County Office of Sustainability and their SustainaBiz efforts, visit cms.leoncountyfl.gov.
To learn more about the Sustainability Fellows program, visit sustainablecampus.fsu.edu/sustainability-fellows.