New Year, New Sustainable You: A Guide to Making Green New Years Resolutions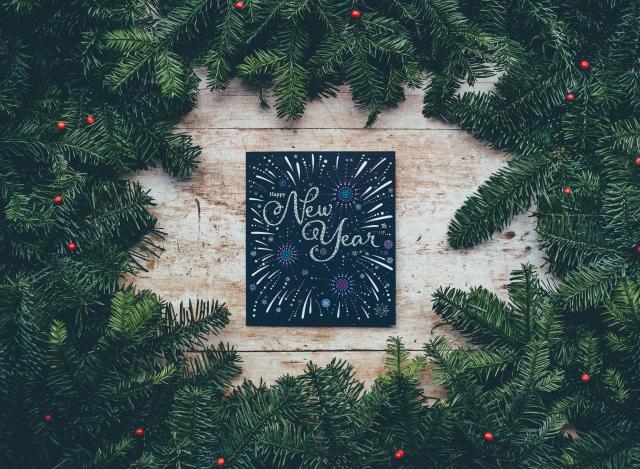 A Google search for "Green New Years Resolution" yields over 47,000,000 results, reflecting the rising trend toward living sustainably and intentionally. Whether your favorite vsco cousin has been begging you to ditch plastic straws or you've been curious about the environmental justice posts you've seen on your social media feeds, the appeal to transition into green living for 2021 is quite convincing. 
Before we delve into all our best suggestions for Green New Years Resolutions, here are the steps to a positive relationship with your new 2021 goals:
Don't expect a complete transformation overnight. Many of us will be reconditioning ourselves to beat old habits we have acquired since childhood. This takes time. 

Forgive yourself if you make a mistake. You want to have a loving relationship with the sustainable resolution, not a resentful one.   

Acknowledge your frustration and disappointment, but do not dwell on these feelings. Eco anxiety is as high now as it has ever been. With your new sustainable resolution,  let your mind flicker through images that inspired you to make these changes. 

Feel excitement over the smallest victories in reaching your new goal. 
Having a realistic and positive outlook going into making sustainable resolutions will make you that much most successful. In addition to setting specific sustainable goals, it's also worth noting that any new years resolution can be made green, even if the resolution itself is not inherently about becoming more sustainable. So you want to get fit? To eat better? Have more life experiences? Great! Here's some tips on how you put a sustainable twist on the most common New Year's resolutions:  
In setting a 2021 goal for a healthier diet, be conscious about your consumption of animal products, especially red meat and poultry. A heavier plant-based diet will lower your carbon footprint and still allow you to reach and even surpass your health resolutions for the year.
One of the most common New Year's Resolutions is to save money. Almost nothing is more sustainable than not buying items destined for landfills. Purchases that are not well thought out or for long term use are a waste of your valuable financial resources as well as lots of energy used to produce those items. This is especially true for industries like fast fashion, which have a business model based on the short term use of cheap and poorly made clothing in mass production. Avoid impulse buying in stores and online, especially when you wouldn't want the product if it wasn't already 40% of the original price. Remember, the best deal on a product is simply not buying the product at all! 
Another common New Year's Resolution is the vow to enjoy life and make memories. To greenify this goal, we recommend choosing waste-free experiences over ones that incur waste. This is as simple as choosing to spend time adventuring outdoors at local and state parks, beaches, or your own backyard, instead of more consumptive activities like shopping. Also try avoiding activities like arts & crafts if the final product is inevitably thrown away. Instead, try your hand at digital graphic design or photography! When traveling, take digital photos instead of buying souvenirs. Resolving to gift experiences over tangible objects to our loved ones is another way to fulfil this Green New Year's Resolution. 
In addition to greenifying your existing resolutions, we also encourage you to make specific sustainability goals. Here are some of our top 2021 Green New Year's Resolutions: 
When traveling your daily commute to work or school, make public transit, biking, and walking your go to means of transportation. Not only could this help you with your goal to be more fit, but could also save you money when comparing the cost of car maintenance and gas to biking or walking. Not to mention the environmental cost of carbon emissions from driving day to day. 
Although we've touched on this before, sustainable shopping is one of the most valuable Green New Year's Resolutions anyone can make. According to the Environmental Protection Agency, Americans produced 15.1 million tons of textile waste in the year 2013 alone. Second hand clothing and purchases are your best investment. In 2021, vow to find all gifts for friends, family, and holidays second hand. Local thrift stores, antique shops, artisans, and apps like Poshmark and Depop make the second hand shopping experience more affordable and enjoyable. 
If you are already living a highly sustainable lifestyle and want to kick it up a notch (or are an adventurous beginner) joining the Zero Waste movement may be your new 2021 green resolution. The philosophy of zero wasters is to avoid activities, products, and consumption of materials that contribute to the trash epidemic. You do not necessarily need to do a complete conversion but small changes are possible for anyone over time. Zero waste may look like replacing plastic bottled soap with bars of soap, using the bulk section of grocery stores where you can fill up your own reusable jars and containers, kindly rejecting any plastic ware handed to you, and avoiding all plastic bags by bringing your reusable ones. Although, don't throw away all of your current plastic tupperware and reusable bottles because they are not a fancy set of matching glass containers. Trashing these would be counterproductive and contribute to the waste. 
This brings us to our final 2021 Green New Years Resolution: Use everything to its full life span! The greenest goal to set in 2021 is simply to buy, use, and toss less. You don't have to go zero waste to make a difference - by simply being more conscientious of the things you use, you can live your best green life!
FSU Sustainable Campus seeks to have our campus serve as a living model of sustainability, providing learning experiences that students, faculty and staff may develop, apply and practice at FSU and in their extended communities. Stay up to date with FSU Sustainable Campus and the programs on Facebook, Twitter and Instagram. Sign up for the newsletter here.