Pantry-Friendly Plant Based Meals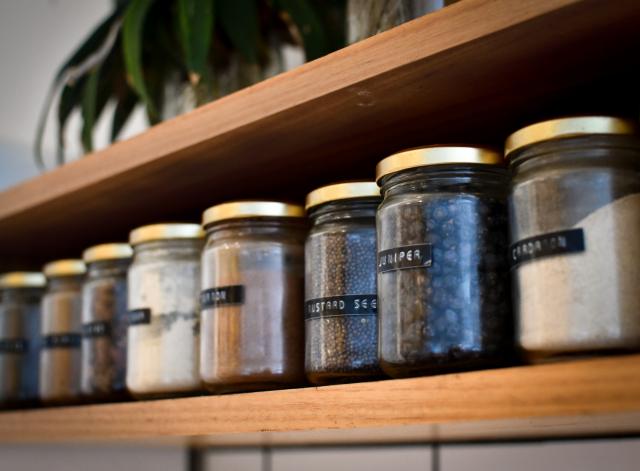 Thanks to COVID-19, most of us are stuck inside right now. I know we all understand how important it is to practice social distancing, so we're not really going out much. Still, it can be challenging to cook if we're only going to the grocery store every two weeks and even then, the store might not have everything in stock. But no worries! I'll share with you some of my favorite recipes that can easily be made pantry & freezer friendly. Not to mention they're delicious, nutritious, and dare I say a bit adventurous! First, let's go over some great essentials to have on hand right now:
Great items to have on hand:
Dried lentils

Dried fruits (raisins, cranberries, dates, etc.)

Nuts

Seeds

Grains (rice, quinoa, buckwheat, etc.)

Rolled oats

Flour

Canned beans

Canned tomatoes

Canned coconut milk

Pasta

Marinara sauce

Frozen vegetables

Frozen fruit

Frozen bread

Frozen leftovers

Dried herbs (or frozen fresh herbs)

Spices

Oil (extra virgin olive, coconut, avocado, etc.)

Vinegar
Produce that lasts a while:
Potatoes

Sweet potatoes/yams

Onions

Garlic

Winter squashes

Carrots

Beets

Cabbage

Apples
In order for food to last, make sure it's stored correctly! Here are some great resources on how to do so: 
Now onto the recipes!
Pancakes (or Waffles)
The Only Pancake Recipe You'll Ever Need 
I make these almost every day. They are delicious, easy, and healthy! Yes I'm still talking about pancakes. This recipe only requires two simple ingredients: oats and bananas. I know bananas aren't listed as a "pantry-friendly food" but this recipe can easily be done with frozen bananas! Just microwave the banana until soft then use as normal.
½ cup rolled oats
1 banana
½ cup water
Blend all the ingredients together. Let the batter sit for 5 minutes. Heat up a pan on medium heat. Once hot, add on a little oil. When the oil is hot, add the batter. Wait until the edges are firm, then flip. Cook for another minute or two. Oil the pan again for additional pancakes. Also works great as waffles!
You can also add any add-ins you would like such as cinnamon, ground flaxseed, chia seeds, protein powder, nuts, nut butter, coconut, chocolate chips, frozen fruit, etc.
Recipe by Taylor Mogavero
Pictured pancakes include chocolate chips, ground flaxseed, and cinnamon as add-ins and are topped with peanut butter.
Sweet Potato Pancakes 
½ cup rolled oats
½ large sweet potato, cooked & peeled
1 tbsp ground flaxseed
½ tsp baking powder
½ tsp cinnamon
¾ cup water
Optional: chocolate chips
Blend all the ingredients together. Let the batter sit for 5 minutes. Heat up a pan on medium heat. Once hot, add on a little oil. When the oil is hot, add the batter. Wait until the edges are firm, then flip. Cook for another minute or two. Oil the pan again for additional pancakes. Also works great as waffles!
Recipe by Taylor Mogavero
More pancake recipes!
The Best Vegetable Curry
Vegetables of choice (you can use frozen vegetables!)
1 can full fat coconut milk
1 cup red lentils
28 oz diced tomatoes*
2-3 tbsp curry paste**
3-4 cloves of garlic
1 tsp turmeric
1 tsp ground ginger
Black pepper
2-3 cups of water
*Can also use fresh tomatoes, tomato paste, or tomato sauce and adjust the amount of liquid by adding water
**Can also use curry powder or other spices such as cumin, cinnamon, ginger and turmeric
Chop vegetables. Add to a pot on medium-high heat and cook until slightly tender. Add lentils, coconut milk, tomatoes, curry paste, garlic and spices. Add water until desired consistency, about 2-3 cups. Bring the pot to a boil then reduce heat to a simmer. Cover and let cook until vegetables are tender and lentils are cooked, about 15-20 minutes.
Recipe by Taylor Mogavero
​
​​
Pictured curry uses cauliflower, sweet potato and mushrooms for the vegetables. 
Lentil Sloppy Joe 
1 cup of green or brown lentils, soaked
2 cups water
1/4 cup tomato paste
1 tsp cumin
3-4 chopped garlic cloves
2 tbsps soy sauce (or tamari, coconut aminos, liquid aminos)
1 tsp apple cider vinegar
Soak the lentils overnight or for at least 4 hours. Drain and rinse lentils. Add into a pot on low-medium heat with 2 cups of water. Cook the lentils halfway (about 5 min) then add all the ingredients in and cook until tender (about another 5-10 min). Serve with a bun, over a grain or with veggies.
Recipe by Taylor Mogavero
​
​​
Pictured sloppy joe is served with roasted broccoli, portobello mushrooms, and butternut squash. 
Homemade Tortillas for Tacos 
2 cups flour of choice
1/2 teaspoon salt
3/4 cup water
3 tablespoons olive oil
In a large bowl, combine flour and salt. Stir in water and oil. Mix together until all the flour is combined then knead a smooth dough is achieved. Let rest for 10 minutes. Divide dough into 8 portions. On a lightly floured surface, roll each portion into a circle (or as close as you can to a circle). In an ungreased skillet, cook tortillas over medium heat until they start to bubble and then flip. Cook for another 30 seconds then remove from heat. Best enjoyed fresh but they also freeze very well!
Recipe by Taylor Mogavero
​
​​
Pictured tortillas are made with whole wheat flour
Loaded Sweet Potato Nachos
An interesting twist to a favorite meal! Of course you could also make this on tortilla chips or wrap it up in a homemade tortilla for a taco or burrito! This recipe is really up to you to customize! Once you make the roasted sweet potato "chips", just top with your favorite foods. I like to top mine with vegan cheese (or sub nutritional yeast), quinoa, sautéed black beans & kale, tomato, avocado, and lots of lime juice. Use whatever veggies you have on hand! Tomatoes can easily be switched for salsa and any frozen vegetable can be sautéd then added.
Sweet potato "chips": Thinly cut a sweet potato and lightly coat them in extra virgin olive oil. Bake at 425°F for 20 minutes. Flip and bake for another 10 minutes. Broil for 2-4 minutes until crispy.
Sautéed black beans: Sauté 1 can of black beans, handful of kale, half a can of tomato paste, lots of lime (or lemon) juice, cumin, garlic powder, black pepper and cilantro (or spices of choice).
Recipe by Taylor Mogavero
​
​​
Koshari
Heard of Koshari before? It's an amazing Egyptian meal that I love and it just so happens to be pantry-friendly!! Here's the super easy recipe → https://www.themediterraneandish.com/egyptian-koshari-recipe/#cookbook-recipe-9799 
The crispy onion topping is a must, but personally I don't add coriander and I play around with what spices I use. Embrace intuitive cooking and add what you like, not just what the recipe says!
Videos of more pantry-friendly recipes!