Raising Awareness for the FSU Food for Thought Pantry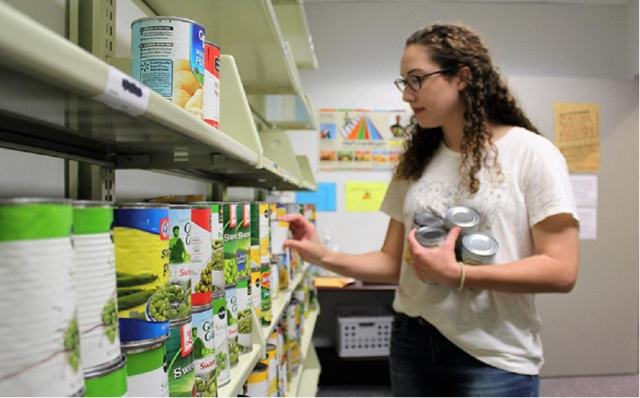 Students in the Fall 2020 Foundations of IMC Living Lab course reimagine marketing for an important campus resource.
The FSU Food for Thought Pantry provides students in need with free food and essentials. Due to staffing limitations, the Pantry faces challenges marketing its services and raising awareness across campus.
In Fall 2020, Dr. Jaejin Lee, Associate Professor in the College of Communication and Information, challenged her students to create an integrated marketing communications plan for the Pantry. Due to the ongoing COVID-19 crisis, the 33 graduate students in the ADV 5007 Foundations of IMC course collaborated remotely in small teams, each acting as an advertising agency and learning about their client's needs.
"Dr. Lee provided explicit guidance on how our collaboration fit within her classroom learning objectives and identified opportunities to directly engage with students while being mindful of our organization's needs and time constraints," said Haley Gentile, Case Manager for the Department of Student Support and Transitions and the Food for Thought Pantry Coordinator.
An example of a refreshed marketing aesthetic and logo
Throughout the semester, students conducted market research, collected primary data, and developed creative strategies for stakeholder engagement. Their final suggestions ranged from TikTok viral videos to live cooking demonstrations, new logos, and a complete rebranding of the Food for Thought Pantry identity.
Gentile believes that the students' work demonstrates a deeper understanding of social sustainability and the underlying issue of equity.
"Students were able to execute higher order learning by applying course material and the Pantry gained access to student innovation and burgeoning expertise, supplementing our existing resources without additional cost," said Gentile. "I look forward to incorporating the student output from the Campus as Living Lab collaboration from Fall 2020 into the campaign my Sustainability Fellow will develop and refine during Spring 2021!"
Dr. Lee was also grateful for the opportunity to provide students with a hands-on learning experience that allowed them to contribute to the greater campus community. Despite the limitations of the COVID-19 learning environment, the students rose to the challenge to create original and fresh marketing solutions that will raise awareness of an important campus resource.
---
To learn more about the Food for Thought Pantry, visit dsst.fsu.edu/resources/food-for-thought-pantry.
To learn more about the Campus as a Living Labs program, visit sustainablecampus.fsu.edu/academics-research/campus-living-laboratory.
---
Examples of new recipe templates for social media