Students Design Social Media Strategies for Leon County Sustainability Initatives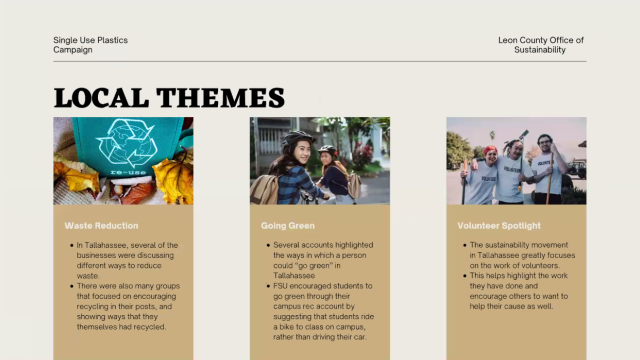 Graduate students in the Spring 2021 COM 5565 Social Media Campaigns course developed social media strategies to help promote sustainability initiatives in Leon County.
Led by Dr. Katherine Dale, Assistant Professor in the College of Communication & Information, the students collaborated with the Leon County Office of Sustainability and other members of the County's communications team to conduct research into best social media practices and create content for the Office's social media pages.
The Leon County Office of Sustainability aims to enhance the community's environmental, economic, and social resilience by promoting the adoption of sustainability practices. Students were tasked with researching and promoting initiatives including the County's Sustainabiz program, reducing single use plastics, composting, and community beautification.
"The Leon County Office of Sustainability had wonderful feedback and questions for students during the final presentation," said Dr. Dale. "I appreciated their commitment to this project and their help as we navigated using a client for the first time with this class."
The Leon County team was also appreciative of the students' work throughout the semester. They noted that many of the students' ideas may be implemented, which is a unique experience to take away from a class. They also appreciated that the students approached the project with a focus on diverse audiences and diverse content.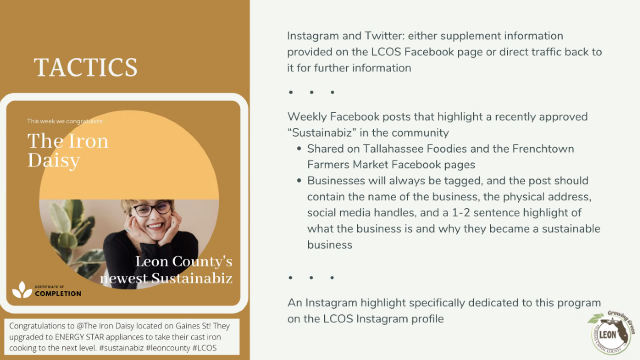 Students' suggestions for Sustainabiz program promotion
"We really enjoyed getting to be a part of a Campus as Living Lab project partnerships this semester and hope to participate again in the future," said Tobias Raether, Sustainability Programs Coordinator for the Leon County Office of Sustainability. "We were very impressed with all the group projects, and all the groups were able to provide helpful insight and campaign ideas to their respective initiatives."
Students in the class shared that they liked knowing that what they were learning was applicable and potentially going to help with a real campaign.
"I have never done anything like this before," said one student, "and I feel as though I have learned more in this class than in any of my other courses because we got to work one-on-one with Leon County."
Another student said that they felt more motivation in the course because they were working for more than just a grade.
"It wasn't just theoretical," said a student. "We got to learn about interacting with real customers and how social media really operates. We do a lot of reading in classes but getting that experiential learning from a real client is a different ball game altogether. I think it was a lot of fun, and I really enjoyed it!"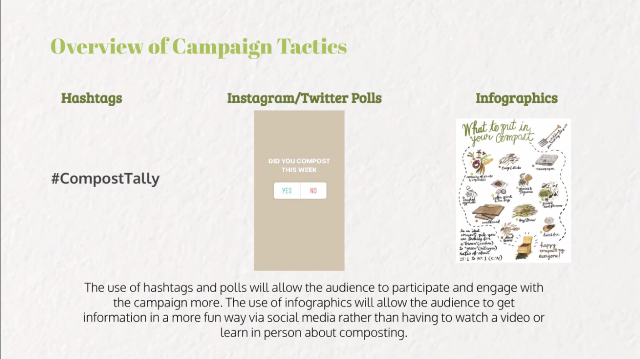 Students' recommendations for promoting community composting
---
To learn more about the Leon County Office of Sustainability, visit cms.leoncountyfl.gov/growinggreen.
To learn more about the Campus as a Living Labs program, visit sustainablecampus.fsu.edu/academics-research/campus-living-laboratory.