Students Develop Communications Campaigns for Sustainable Campus Dining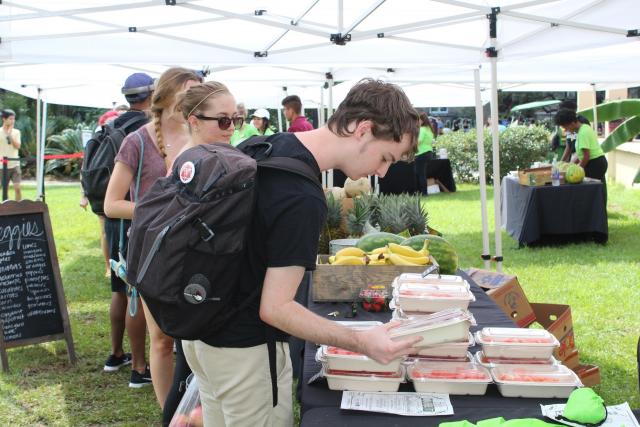 Sodexo tasked the Foundations of IMC Living Lab course to create communications strategies focused on reducing waste.
In Spring 2019, Seminole Dining provider Sodexo challenged graduate students in ADV 5007 Foundations of IMC to raise awareness for two sustainability areas of focus on campus: The reduction of straw use on campus and the recycling of plastic bags using TREX containers.
Plastic straws are too lightweight for recycling and many end up as ocean litter. On campus, dining establishments offer straws for customers, and the challenge in reducing straw waste is to change the behavior of needing a straw to drink a beverage or convince dining locations to provide an alternative option.
Plastic bags are made from non-renewable resources, and because they take a long time to break down, they can pollute the land and water and are harmful to wildlife. To mitigate plastic bag waste, TREX containers were installed across campus. However, they are not widely used, and awareness of plastic bag recycling is low. 
Guided by Dr. Jaejin Lee, Associate Professor in the College of Communication & Information, the course paired the class with a real-world client and tasked the students with creating awareness campaigns for the FSU community. Half of the students worked on the straw reduction communication plan while the other half took on the challenge of plastic bag recycling awareness.
By the end of the semester, the students completed market research, collected primary data, and created targeted communications strategies addressing both sustainability concerns. Representatives from Sustainable Campus and Sodexo attended final presentations where students pitched their ideas in a professional setting.
---
To learn more about the Campus as a Living Labs program, visit sustainablecampus.fsu.edu/academics-research/campus-living-laboratory.