Sustainable Campus Staff Picks: 10 Sustainability Blogs We're Loving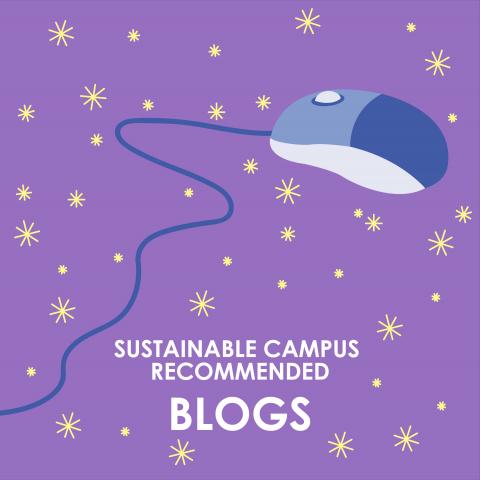 Here at Sustainable Campus, we love to share our sustainability knowledge with the Florida State University community. Our office is often about resources that others can use to learn more about ways to take action to help the planet. With the ease of access and quick readability blogs provide, we've scoured the internet for some of our favorites on sustainability topics. So, if you're looking to expand your understanding of sustainability and find some new favorite blogs, you've come to the right place. 
Mind Body Green started in 2009 by husband and wife Jason and Colleen. They started the blog out of passion for complete wellness after eating organically, finding passion in yoga, and wanting a more full bodied approach to healing injuries. They describe their approach as "a 360 degree approach to wellness that incorporates mental, physical, spiritual, emotional, and environmental well-being—because we believe these pillars of wellness are vital and interconnected. Hence mindbodygreen (one word, not three)."
Dana started blogging in 2010 and formed minimalist baker as a way to share healthy diet free from labels. She is the author of numerous books including: Minimalist Baker's Everyday Cooking, and co-creator of Food Photography School, Food Video School, and the Essentials of Building a Great Food Blog Course. Dana's blog "celebrates simple cooking by sharing recipes that require 10 ingredients or less, 1 bowl, or 30 minute or less to prepare. All eaters are welcome."
Kathryn is a professional music theatre performer who started her blog after discovering she had benign breast cancer. She learned that what she put on, in, or near her body had an effect on her health and the health of the planet. Through her blog, she hopes to "help others improve their personal health, improve the health of the planet, and most importantly I wanted everyone to know their choices matter. Big or small, the changes you make add up to a huge positive impact."
Megean lives in Kansas City and over the past three years has committed herself to becoming as zero waste as possible. The blog takes you through Megean's journey and shares her tips and tricks she's gained along the way. Megean writes, "I feel that our lives have gotten so disposable. The throwaway culture has been ingrained into our everyday lives. The average American throws away 4.4 lbs. of garbage a day! We've learned to value things more than experiences and relationships. Well, I've had it! I deserve better, you deserve better, future generations deserve better!"
One Green Planet was founded by Preeta Sinha and focuses on creating  "a world where we eat delicious food and use amazing products that provide us with maximum benefit and have minimum impact on the planet." Preeta's love for animals and eco-conscious living began when she was a child and has continued into adulthood. She is passionate about body positivity, plant-based nutrition, and women and minority empowerment. 
Ecohabitude is an online marketplace where you can buy, sell, and source eco-friendly products & materials. Ecohabitude aims to change communities and rebalance relationships with the environment through reimagining eco-friendly commerce. The marketplace trusts people to choose to make the world greener with every purchase and supports entrepreneurship, creativity, and businesses, small and large--that are committed to being socially responsible & green. 
Less Waste World follows the waste reduction efforts of ESL teacher, Carlyn. She began her journey in early 2017 on a shoestring budget, while working and pursuing her masters degree in an upstate New York college town. Her passion for reducing waste takes a more balanced approach to zero waste and highlights how anyone can take on waste reduction.
Treehugger is a leading media outlet that is dedicated to bring sustainability to mainstream conversations by serving as a one-stop outlet for green news, solutions, and product information. Part of Narrative Content Group, Treehugger publishes an up to the minute blog, weekly and daily newsletters, and regularly updated Twitter and Facebook pages. 
The Johnson family has become an inspiration for waste-free families. This blog, turned bestselling book, aims to show how you can live a waste-free life that is not depriving, time consuming or costly. Join "hundreds of thousands of others in enjoying a richer life based on experiences instead of stuff!"
As an Environmental Studies major in College, Lauren Singer was always passionate about sustainability but decided to transition to a zero-waste lifestyle in 2012. "This is when I really decided that I not only needed to claim to love the environment, but actually live like I love the environment," Singer said. Her blog documents her zero-waste lifestyle and shows how it can be simple, cost-effective, timely, fun, and achievable for everyone. 
The FSU Sustainable Campus program seeks to have our campus serve as a living model of sustainability by providing learning experiences that students, faculty, and staff may develop, apply, and practice at FSU and in their extended communities. Stay up to date with FSU Sustainable Campus and the programs on Facebook, Twitter and Instagram. Sign up for the newsletter here.
Write for us! If you're interested in sustainability and wish to submit content to our blog, please email your idea to Michelle Presley at mpresley2@fsu.edu.