Sustainable Campus Staff Picks: 10 Sustainability-Focused YouTube Channels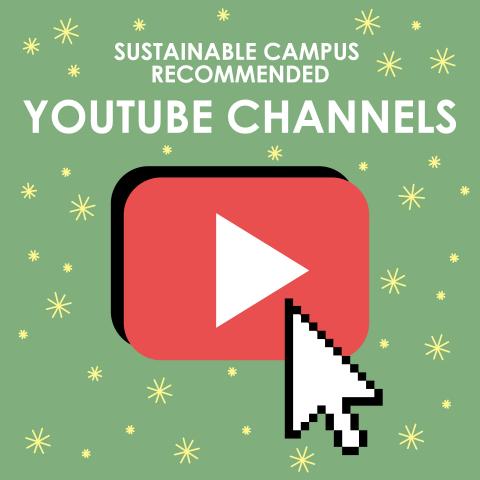 At Sustainable Campus, our mission is to promote a culture of sustainable living at FSU. To achieve that mission, we share resources to help you live your best sustainable life. Recently, the Sustainable Campus team got together to compile a list of our favorite YouTube Channels, books, podcasts, blogs, and documentaries about sustainable topics. We hope our "staff picks" will inspire you to start your sustainable journey or learn more about topics that interest you. 
Our first installment of the Sustainable Campus Recommended series highlights our current favorite sustainable YouTubers. YouTube videos are an awesome resource to quickly learn about a topic in a fun and entertaining way. If you're interested in sustainability and are looking for more information, we have scoured the internet for the best YouTube channels to pass along to you!

Goodful produces videos and other content with the motto: "Live well without obsessing about wellness." The Youtube channel provides a variety of playlists dedicated to vegan recipes, living eco-friendly, fitness and self-care. 

As an Environmental Studies major in College, Lauren Singer was always passionate about sustainability but decided to transition to a zero-waste lifestyle in 2012. "This is when I really decided that I not only needed to claim to love the environment, but actually live like I love the environment," Singer said. Her YouTube channel documents her zero-waste lifestyle and shows how it can be simple, cost-effective, timely, fun, and achievable for everyone. 

Sustainably Vegan is a YouTube channel that focuses on ways to live a low-impact life, money saving tips, minimalism and other topics surrounding sustainability. The channel was started by Low Impact Movement founder Immy Lucas who started Low Impact Movement in 2018 because she felt guilty for not living waste free. "Being plant based, low waste, minimalist and ethical, I wanted a movement that encompassed all of those values and merged them into one," Lucas said. 

Vox is a media company that creates podcasts, written pieces and videos that aim to help "you cut through the noise and understand what's driving events in the headlines and in our lives." One of their playlists, Climate Lab, offers nine videos on a variety of topics including: food waste, nuclear power, and waste. 

Shelbizleee is a YouTube channel run by passionate about sustainability Shelbi. She states that her mission for her channel is "to create a community where the average person can come and feel like they can make a difference. Living a sustainable lifestyle can be a daunting task, but my videos can help you break it down step by step." She discusses popular sustainability topics such as zero-waste, minimalism, and dumpster diving. 

Jenny is currently living in Colorado and runs the Wear I Live YouTube and Tumblr channels. She lives in Colorado and likes puppies and creating content regarding topics such as lookbooks, thrift hauls, plant based recipes, and cruelty free beauty. She is focused on navigating the fashion world in a more ethical and sustainable way.

Rob Greenfield is a self-described adventurer, activist, humanitarian, and content producer. His YouTube channel focuses on urban gardening, living off the grid, and sustainable living. He currently lives in Orlando, Florida in a tiny house he built near zero waste, with 99% repurposed materials and is currently working to grow and forage 100% of the food he eats for an entire year. He is the host of Free Ride on Discovery Channel, the author of Dude Making a Difference, and has spoken at over 130 events in 13 countries. Rob donates 100% of his media income to grassroots nonprofits.

Although not every video in Try Living With Lucie series is sustainably-minded, there are a few videos we love, such as when she tries going plastic-free. Her videos are hosted by Refinery 29, a female-focused lifestyle destination dedicated to delivering the latest in cult beauty and trending fashion topics as well as social experiments and docu-style story-telling on a global level. 

TED (Technology, Entertainment & Design) has become a powerhouse in creating and promoting thought provoking online content, such as YouTube videos, taken from annual conferences held in many cities all over the world. While TED does not put out exclusively sustainability related content, many of the topics focus on sustainability and are a great place to go for information. TEDx features talks hosted by TED partners, many of which are universities and conferences held in non-traditional TED cities.

The minimalists, Joshua Fields Millburn and Ryan Nicodemus, are known for their documentary Minimalism, which you can find on Netflix. Minimalism is a movement that focuses on living with less stuff to provide greater freedom of movement and finances. They have written books and have been featured in the New York Times, Wall Street Journal, Boston Globe, Forbes, TIME, ABC, CBS, NBC, FOX, BBC, and NPR. Learn more about minimalism in their YouTube videos on topics such as minimalistic travel and minimalistic living.
The FSU Sustainable Campus program seeks to have our campus serve as a living model of sustainability by providing learning experiences that students, faculty, and staff may develop, apply, and practice at FSU and in their extended communities. Stay up to date with FSU Sustainable Campus and the programs on Facebook, Twitter and Instagram. Sign up for the newsletter here.
Write for us! If you're interested in sustainability and wish to submit content to our blog, please email your idea to sustainablecampus@fsu.edu with "Blog Pitch" in your email subject line.