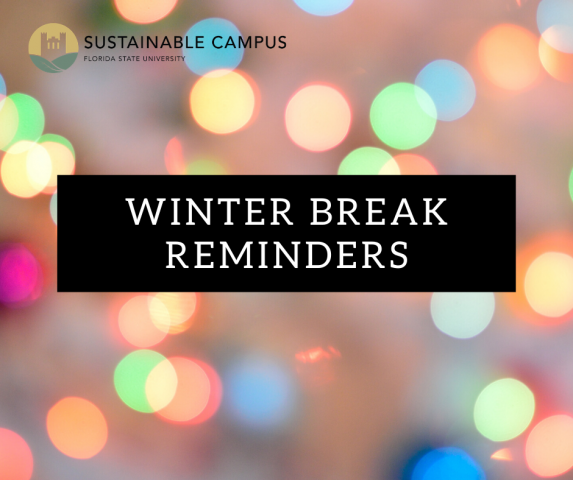 Whether you're traveling or staying local for the winter holiday, here are a few reminders to consider:
Pack up your shorts and t-shirts: If you're going home, bring your warm weather clothes with you since it will be pretty chilly in Tallahassee for the next several months. Pick them all up again and swap out your winter clothes during spring break when the weather warms up again.
Donate: Holiday breaks are a great time to gather up any items you no longer use or need and donate them at a local thrift shop or drop-off location. Wondering if it's something you should keep or donate? If you haven't used it at all this semester, it's probably time to pass it on to someone who needs it. 
Try the one suitcase challenge: If you're going home, try packing a suitcase full of things you won't need during the spring semester and leaving it at home. This might include fall/holiday decorations, books, shoes, etc. Anything you take home now is less you'll have to pack up at the end of the spring semester! 
Power down: unplug all of your appliances except for your refrigerator and turn off any power strips. Turn off your AC/heat and shut off all of the lights.
Reduce food waste: if you're traveling, eat any perishable food you have in your fridge before you leave. If you have excess non-perishable food, donate it to the Food for Thought Food Pantry on campus.
Trash & recycling: take any trash and/or recycling in your room or office to the proper disposal spot.
Lock up: if you're traveling, make sure all windows and doors are shut and locked before you leave. Secure your bicycle or car.
Share: share these reminders so your friends and coworkers are prepared for the break!
Enjoy: have a safe and restful break!