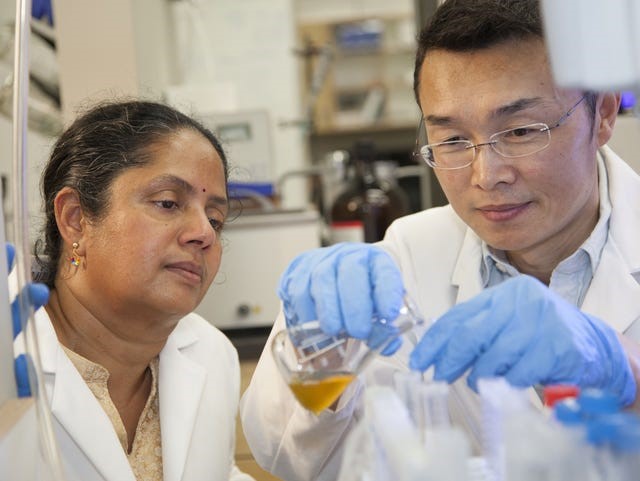 FSU leads the way in sustainability research, ranking #1 in 2019. Over 250 FSU faculty from 50+ departments are engaged in sustainability research.
In 2019, FSU was identified as a Top Performer in the field of sustainability research, ranking #1 in the research category of the AASHE Sustainable Campus Index. By researching sustainability issues and refining theories and concepts, higher education institutions can continue to help the world understand sustainability challenges and develop new technologies, strategies, and approaches to address those challenges.
How is sustainability research identified?
The Office of Faculty Development and Advancement maintains the Faculty Expertise and Advancement System (FEAS) application with information on faculty such as: teaching activities, scholarly or creative activities, grants received, and service.
FEAS is used to gather research information on research faculty that receive a research grant or published a refereed journal article within the year timeframe. The FEAS keyword search tool identifies sustainability research utilizing the following key words:
Sustainable/ sustainability
Green
Eco
Global
Conservation
Remediation
Systems
Design
Environment/environmental
Water
Resource(s)
Energy
Ecology
Natural
Contaminant/contamination
Coastal
Marine
Geography
Chemistry
Hydraulic
Social/issues
Population
Leadership
Planning
Development
Health
Collective
Community
Food
Urban
Ethics
Development
Policy
Economics
Politics
Transportation
sustainability research centers
Center for Advanced Power Systems (CAPS)

The Center for Advanced Power Systems (CAPS) is a multidisciplinary research center organized to perform basic and applied research to advance the field of power systems technology. The CAPS emphasis is on application to electric utility, defense, and transportation, as well as developing an education program to train the next generation of power systems engineers.

 

Center for Economic Forecasting and Analysis

The FSU Center for Economic Forecasting and Analysis (CEFA) specializes in conducting economic research and performing economic analyses to examine public policy issues across a spectrum of research areas. CEFA provides advanced research and training in energy, aerospace, environmental economics, and economic development, among other areas.

Center for Ocean-Atmospheric Predictions Studies (COAPS)

The mission of the Center for Ocean-Atmospheric Prediction Studies (COAPS) is to promote interdisciplinary research in air-sea interaction, the coupled ocean-atmosphere-land-ice earth system, and climate prediction on scales of weeks to decades in order to increase our understanding of the physical, social, and economical consequences of coupled ocean-atmospheric variations.

The Coastal & Marine Laboratory aims to become a leader in conducting and supporting exceptional research that advances marine ecosystem science and conservation, addressing questions that are local to global in scope, range from the molecular to the ecosystem in scale, and involve the human communities within which the marine laboratory is embedded.

Energy and Sustainability Center

The Energy and Sustainability Center is focused on pushing forward technologies that are essential to solving the major problems our society will face in the coming years. ESC is driven to find solutions that are sustainable and cost effective. 

 

 

The Florida Climate Institute (FCI) is a multi-disciplinary network of national and international research and public organizations, scientists, and individuals concerned with achieving a better understanding of climate variability and change. The FCI has ten member universities, including Florida State University.

 

Florida Energy Systems Consortium

The Florida Energy Systems Consortium (FESC) was created by the Florida State government to promote collaboration among the energy experts at its 12 supported universities to share energy-related expertise. The consortium assists the state in the development and implementation of an environmentally compatible, sustainable, and efficient energy strategic plan.

Public Utility Research Center

The Public Utility Research Center (PURC) is an internationally recognized academic center dedicated to research and to providing training in utility regulation and strategy, as well as the development of leadership in infrastructure policy.

Florida State University's Robert K. Godfrey Herbarium is a museum-quality collection of over 220,000 plant and microalgae specimens. These document the distribution and natural variation of the 2,400 species of flowering plants, ferns, conifers, and cycads found in northern Florida - one of North America's biodiversity hotspots - and the microalgae of Florida's Gulf and Atlantic coasts.
title-inside title-centered
2