Fall 2020 Sustainability Fellows: Sarah Calzada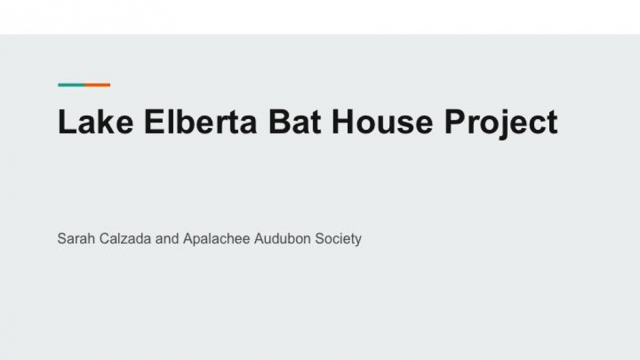 Project: Create Bat Habitats at Lake Elberta
Partner: Apalachee Audubon Society
Program: Third Year Undergraduate in Geography
---
Sarah is a junior studying Geography with a minor in Environment and Society, and her sustainability journey started when she volunteered in the Atlantic Rainforest, Brazil for two months. Working in rainforest restoration helped her realize that sustainability is a lifelong practice that she wants to live by.
Sarah's Fall 2020 project involved the design, funding, and construction of a large bat house at Lake Elberta Park. Bats are important pollinators and provide other ecosystem services such as natural pesticides, fertilizers, and stable habitats. Her partnering organization was the Apalachee Audubon Society, which strives to protect the environment through education, appreciation, and conservation.
In her semester as a Fellow, Sarah was challenged to network with community stakeholders, organize the logistics of the bat house installation, and help the Apalachee Audubon Society with fundraising $1,222 to complete the project. Sarah served as the project manager and was the lynchpin for all bat house communications.
 "I've never had to communicate with so many people in such a small amount of time," said Sarah. "I made a lot of new professional connections, which I think will help me pursue an environmental job in the future."
With the project fully funded, Sarah and the Apalachee Audubon Society will host an in-person and online bat house installation event, which will be the culmination of the Apalachee Audubon Society, Lubee Bat Conservancy, and the community's collective efforts to make the bat house a reality. The four-chamber bat house will be able to hold up to 400 bats.
"Sarah knocked this out of the park," said Peter Kleinhenz, Apalachee Audubon Society board member. "This project has been a tremendous benefit to Apalachee Audubon, the community, and bats! We did not give Sarah a lot of hand holding, and most of the success can be laid at her door."
---
To learn more about the bat house project, visit the Apalachee Audubon Society's website.
To learn more about the Sustainability Fellows program, visit sustainablecampus.fsu.edu/sustainability-fellows. 
---
Image of the four-chamber bat house, which will be installed in Lake Elberta Park
Sarah's summary of why a bat house matters