Spring 2022 Sustainability Fellow: Zachary Wigodner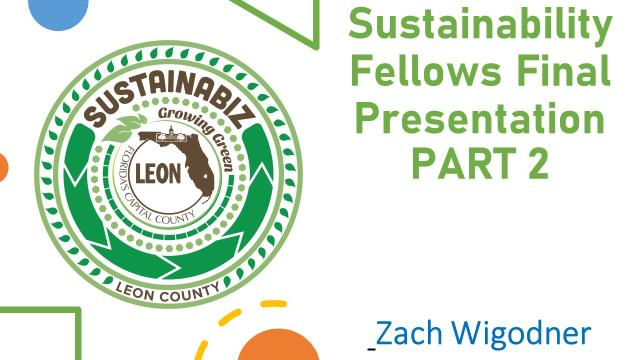 Partner: Leon County Office of Sustainability and Resource Stewardship
Project: Sustainable Business Recognition Program Implementation Specialist
Student: Zachary Wigodner, Third Year Undergraduate in Commercial Entrepreneurship
---
In Spring 2022, Zach worked with the Leon County Office of Sustainability and Resource Stewardship to develop two new application templates for SustainaBiz, the county's sustainable business recognition program. SustainaBiz aims to recognize local businesses for their sustainability efforts in the areas of energy, water, waste, and community and employee engagement.
Zach worked with Chloe McCrary, Sustainability Programs Coordinator, and other members of the Leon County team. Over the course of the semester, Zach promoted innovation through an inclusive application process. He shifted his focus from onboarding traditional businesses to understanding the business landscape of Leon County and providing value for different types of entrepreneurs.
Specifically, Zach focused on creating application templates for food trucks and non-brick and mortar businesses, which have different sustainability challenges than traditional businesses. For example, Zach identified unique ways that that food truck vendors could reduce their waste, including:
Eliminating single-use paper menus (leveraging QR codes or using one large menu)
Leveraging social media marketing (eliminating the use of paper pamphlets and flyers for marketing purposes)
Designing an efficient menu (most ingredients can be used for multiple dishes and offerings)
Offer incentives for customers to bring their own cups and/or too-go containers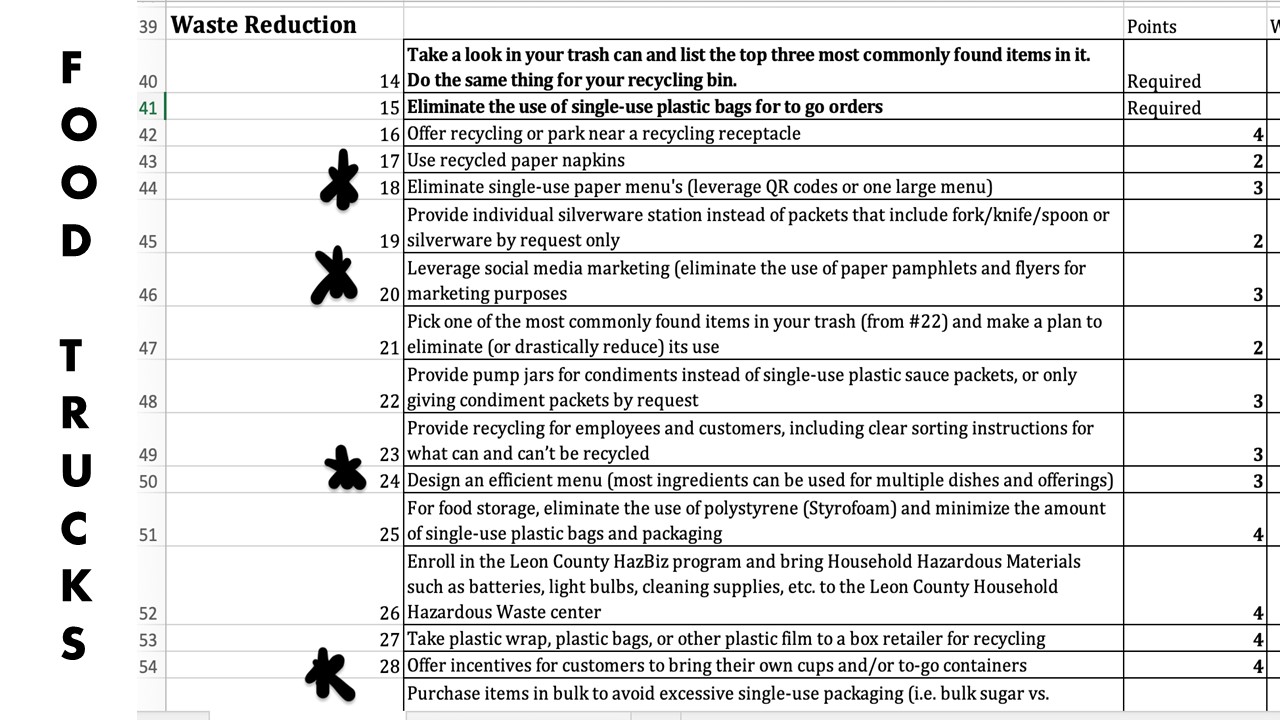 The Waste Reduction section of the SustainaBiz application for food trucks
In addition, Zach noted that non-brick and mortar businesses like local artists, farmers, and secondhand clothing sellers should be recognized for their sustainability achievements in the areas of shipping, marketing, raw materials, and packaging.
If he had more time to continue with the project, Zach said he would be interested in exploring how the SustainaBiz application could be extended to tech companies. He also recommended working with local business leaders to get them involved in the program as advisors.
"This semester has been really well suited to Zach's needs, wants, and passions," said McCrary. "I've been really impressed with the work he's been able to turn out. It's been really nice to have someone who knows a lot about entrepreneurship and business to come to the table and share ideas with."
After participating in the Sustainability Fellows program for two semesters, Zach is excited to use what he's learned to continue helping businesses grow and implement sustainable practices.
"My dream is to be in venture capital and invest in the companies and technologies of our future," said Zach. "I really did learn a lot about the metrics that can be used to determine if a business is sustainable, and I'm excited to bring this knowledge with me and use it in my career."
---
To read about Zach's first semester in the Sustainability Fellows program, visit sustainablecampus.fsu.edu/blog.
To learn more about the Leon County Office of Sustainability and their SustainaBiz efforts, visit cms.leoncountyfl.gov.
To learn more about the Sustainability Fellows program, visit sustainablecampus.fsu.edu/sustainability-fellows.