Summer 2021 Sustainability Fellow: Corbin Nall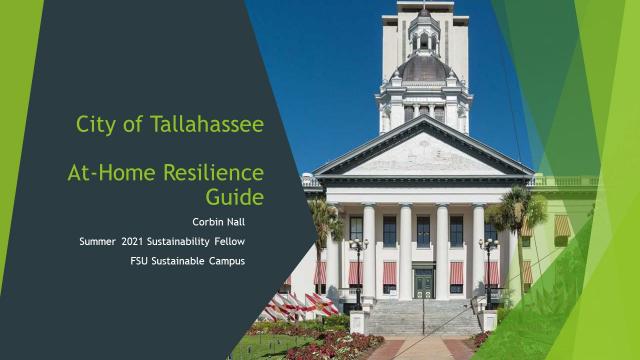 Partner: City of Tallahassee, Department of Sustainability & Community Preservation
Project:  Tallahassee At Home Resilience Guide
Student: Corbin Nall, Graduate Student in Public Health and Urban & Regional Planning
---
In Summer 2021, Corbin worked with the City of Tallahassee's Department of Sustainability & Community Preservation to create a Tallahassee At-Home Resilience Guide. Corbin was interested in the Sustainability Fellows program because it allowed him to explore community health and food systems planning in a professional setting. 
Corbin worked with Bruce Strouble, Sustainability Program Coordinator, and other members of the City of Tallahassee team to compile a guide for best practices and local resources to increase resilience of Tallahassee and Leon County residents. Corbin used his knowledge of local resources to create a colorful 5-page poster that is accessible and printable.
Over the course of the summer semester, Corbin worked to align the Community Resilience Plan goals with individual actions in the following categories: 
Building Safe & Healthy Spaces
Preparing for Disasters & Emergencies
Strengthening Your Social Network
Increasing Economic Stability 
Corbin focused on helping residents learn what they can do and where they can learn more by highlighting 36 actions and 38 local resources. Corbin also created draft graphics to create visual interest throughout the report. 
"The idea we had going in was that Corbin was going to come in as a consultant and give us a roadmap for how to move this document forward," said Bruce. "He exceeded my expectations by far and was very professional throughout the whole experience. We're really excited because Corbin gave us a great base to move forward." 
As a future urban and regional planner, Corbin felt that the experience gave him valuable experience in community engagement. 
"Community engagement is a huge aspect of planning," said Corbin. "There's a certain power in connecting people to resources, and the more I delved into the project, the more I realized how much was out there and the importance of having an accessible and compiled list of services." 
The City of Tallahassee team plans to work with their graphics department to publish a version of Corbin's guide. After his experience as a Fellow, Corbin plans to begin volunteering more and get involved in local community gardening.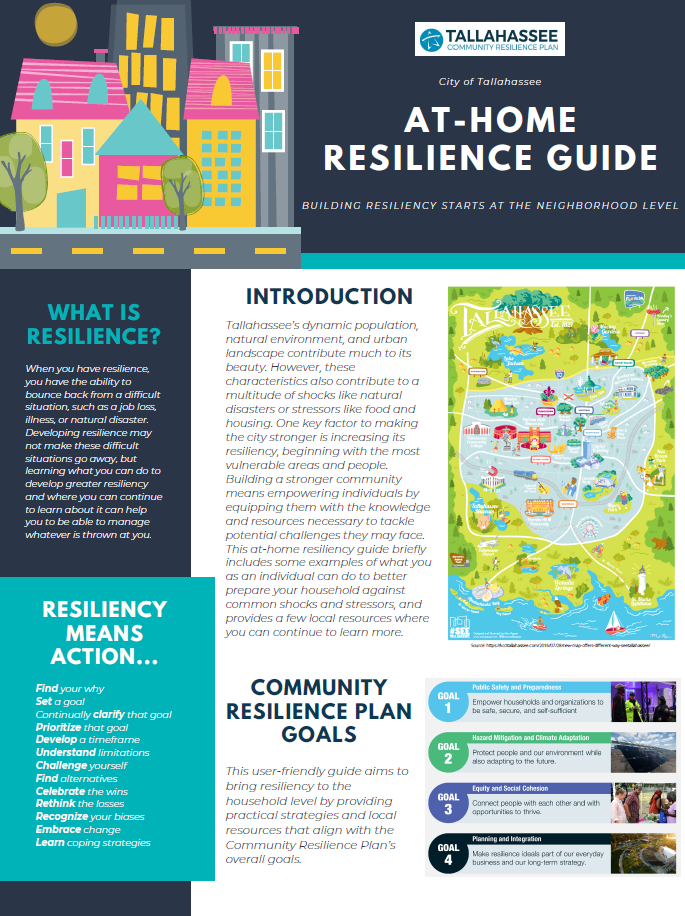 ---
To learn more about the City of Tallahassee Department of Sustainability & Community Preservation, visit talgov.com.
To learn more about the Sustainability Fellows program, visit sustainablecampus.fsu.edu/sustainability-fellows.