Summer 2021 Sustainability Fellow: Peter Woodley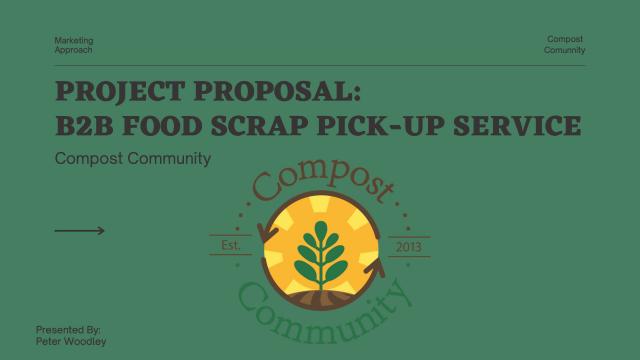 Partner: Compost Community 
Project: Tallahassee Business Environment Analysis
Student: Peter Woodley, Second Year Graduate Student in Product Development
---
In Summer 2021, Peter worked with Compost Community to develop a go-to-market strategy for local restaurants to subscribe to Compost Community's pick-up services. Peter was interested in the Sustainability Fellows program because he hoped to build communication, business strategy, and leadership skills in the commercial sustainability sector. 
Peter worked with Sundiata Ameh El, the owner of Compost Community. Compost Community is a business that helps individuals engage in, contribute to, and learn about the compost cycle. Over the course of the semester, Peter engaged in market research and surveyed local businesses to develop a proposal to expand business compost collection. 
The main campaign points of Peter's analysis include a food scrap analysis, food scrap pick-up, and prize rewards. Peter targeted office spaces, restaurants, and schools and/or universities in his proposal. He also developed a market research plan, a SWOT analysis, proposed marketing channels, and a target timeline. 
During his research, Peter got hands-on experience in composting and learned about the anaerobic process. He believes getting involved in the "dirty work" is very important and brings a lot of value. He also surveyed local businesses and restaurants to gauge their interest in composting services.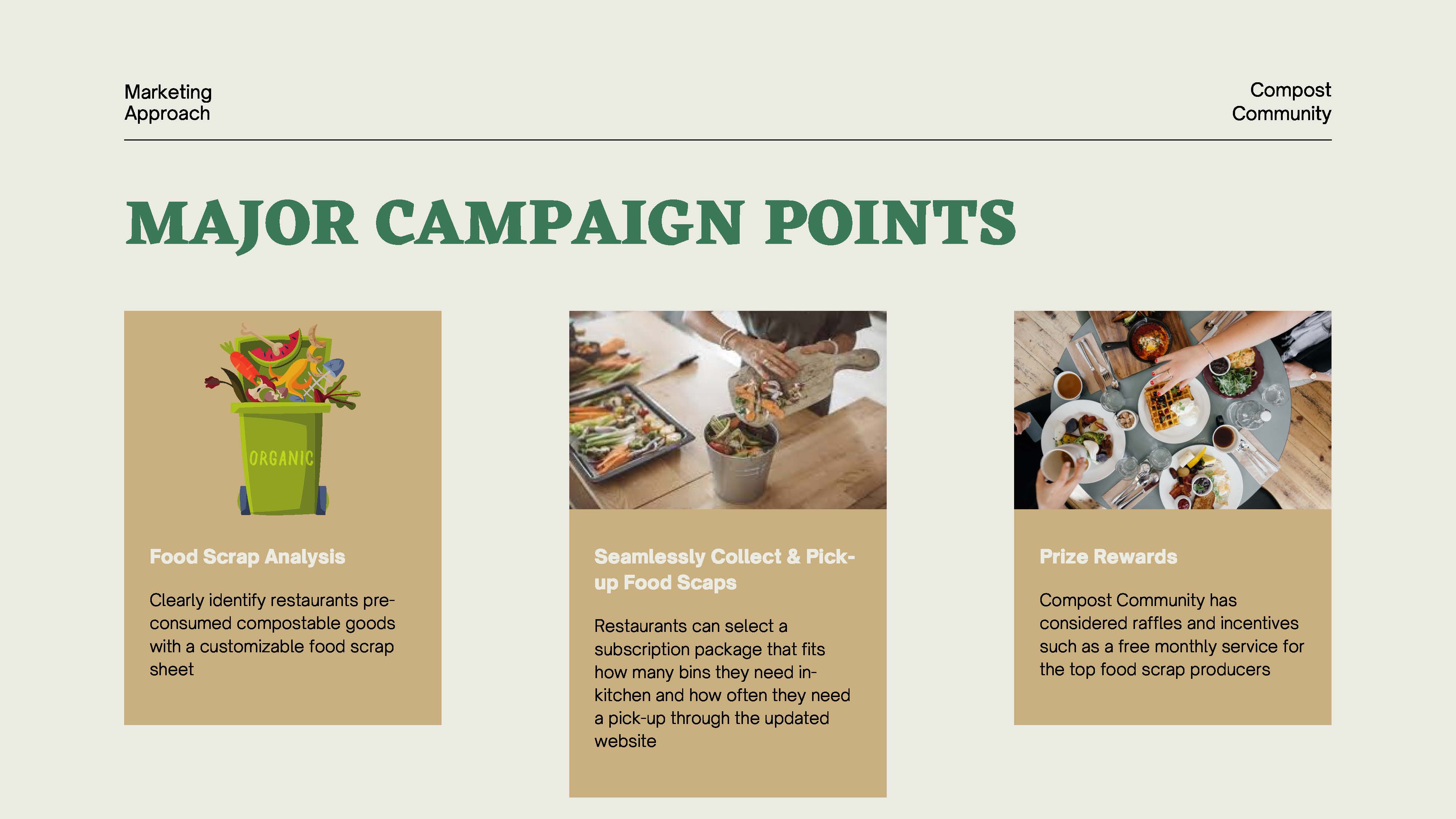 ​
"One of the restaurant owners was totally open to having a sign that shows how much weight in food scraps they collected over the past week or month because it would bring more customers to the door," said Peter. "Finding those value propositions and improving upon them is definitely the key." 
The information Peter provided helped clarify Compost Community's strengths, weaknesses, opportunities, and threats. Peter's plan also provided steps to engage with the commercial community in Tallahassee. 
"I appreciated all the hard work Peter put into taking the information from our conversations and putting it into an effective and powerful presentation," said Sundiata. "There was a lot of clarity  there, and the SWOT analysis really caught my eye. It's something that my organization will take into consideration, and if there's any pivoting that needs to happen, we'll be able to stay ahead of the curve." 
Compost Community plans to continue to engage with more restaurants in the future. The organization also hopes to become a true provider of a great service and product for the region.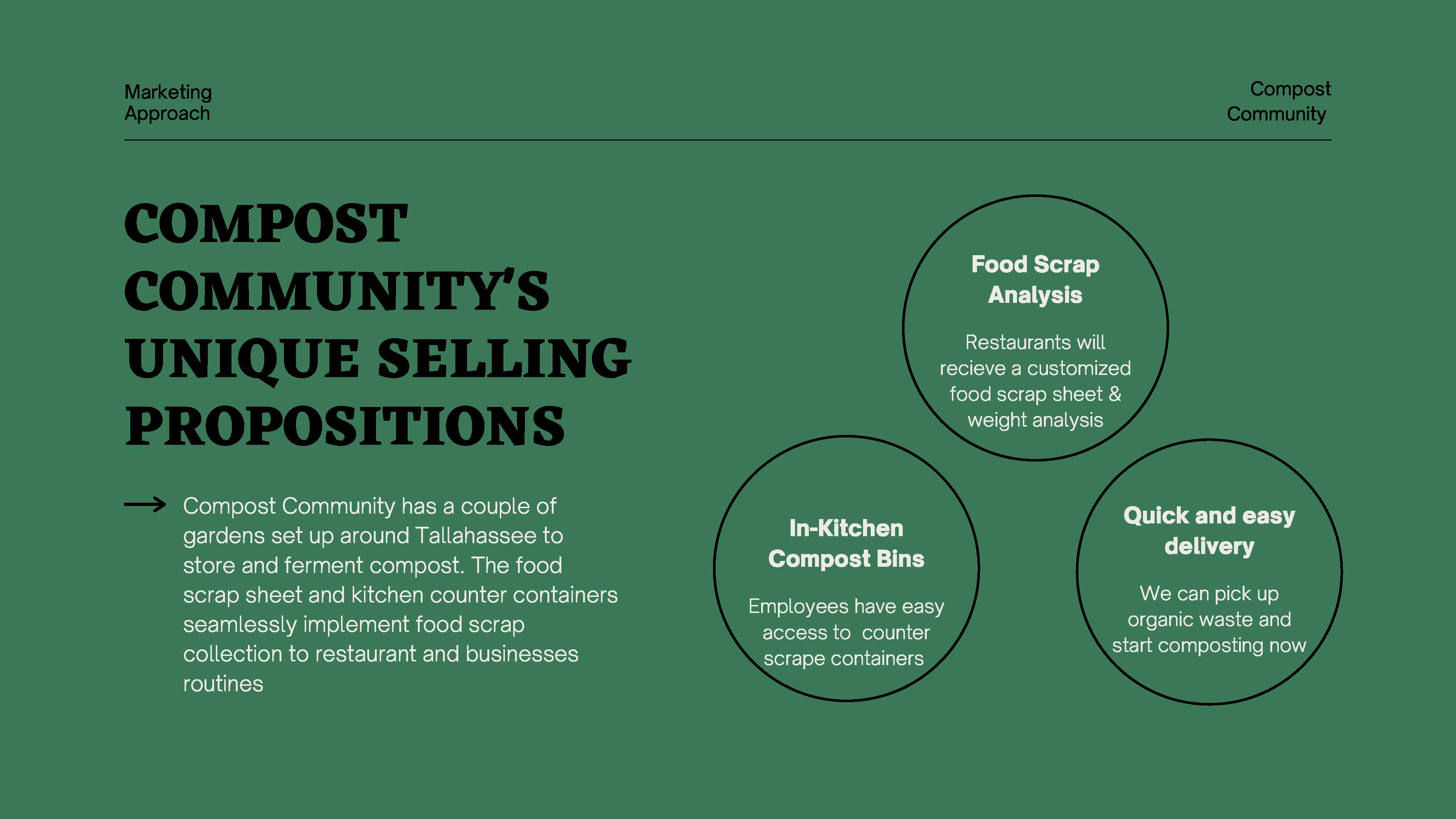 ​
---
To learn more about Compost Community visit compostcommunity.org. 
To learn more about the Sustainability Fellows program, visit sustainablecampus.fsu.edu/sustainability-fellows.