Summer 2021 Sustainability Fellows: Jessica Meeker and Kaleb Hobson-Garcia
Partner: Florida Department of Environmental Protection (FDEP)
Project: Away from Home Recycling Analysis
Students: Jessica Meeker, Second Year Graduate Student in Public Administration; Kaleb Hobson-Garcia, Third Year Undergraduate in Environmental Science
---
In Summer 2021, Jessica and Kaleb worked with the Florida Department of Environmental Protection (FDEP) to collect recycling and contamination data for two City of Tallahassee parks. Jessica was interested in the Sustainability Fellows program because of the opportunity to help the local community. Kaleb joined the program to give back to the Tallahassee community while gaining professional experience.
Jessica and Kaleb worked with Chris Perry and other members of the FDEP's Division of Waste Management. The group partnered with City of Tallahassee Parks and Recreation leadership, who selected two parks for analysis. Jessica studied Meridian Park and Kaleb focused on Messer Park. The goal of the project was to present City partners with an opportunity to boost their infrastructure in terms of recycling and waste management services.
Over the course of the semester, Jessica surveyed 12 recycling bins and 12 trash bins in Meridian Park. She collected data on six separate dates and compiled observations for each bin on her visits. Jessica noted that more consistent bin color, labeling and logo placement would help increase recycling participation. She also recommended that bins without lids be replaced and that bins without indicators have their labels restored.
Throughout the semester, Kaleb surveyed 13 recycling bins and 23 trash bins in Messer Park. He collected data on several occasions and recorded his observations for both the north and south fields. Kaleb observed that the most common items in both recycling and trash bins were plastic water bottles, and that no recycling education was present in the park. As a result, Kaleb suggested that recycling and trash bins be co-located and that consistency among trash and recycling bins should be increased to create recognition among park goers.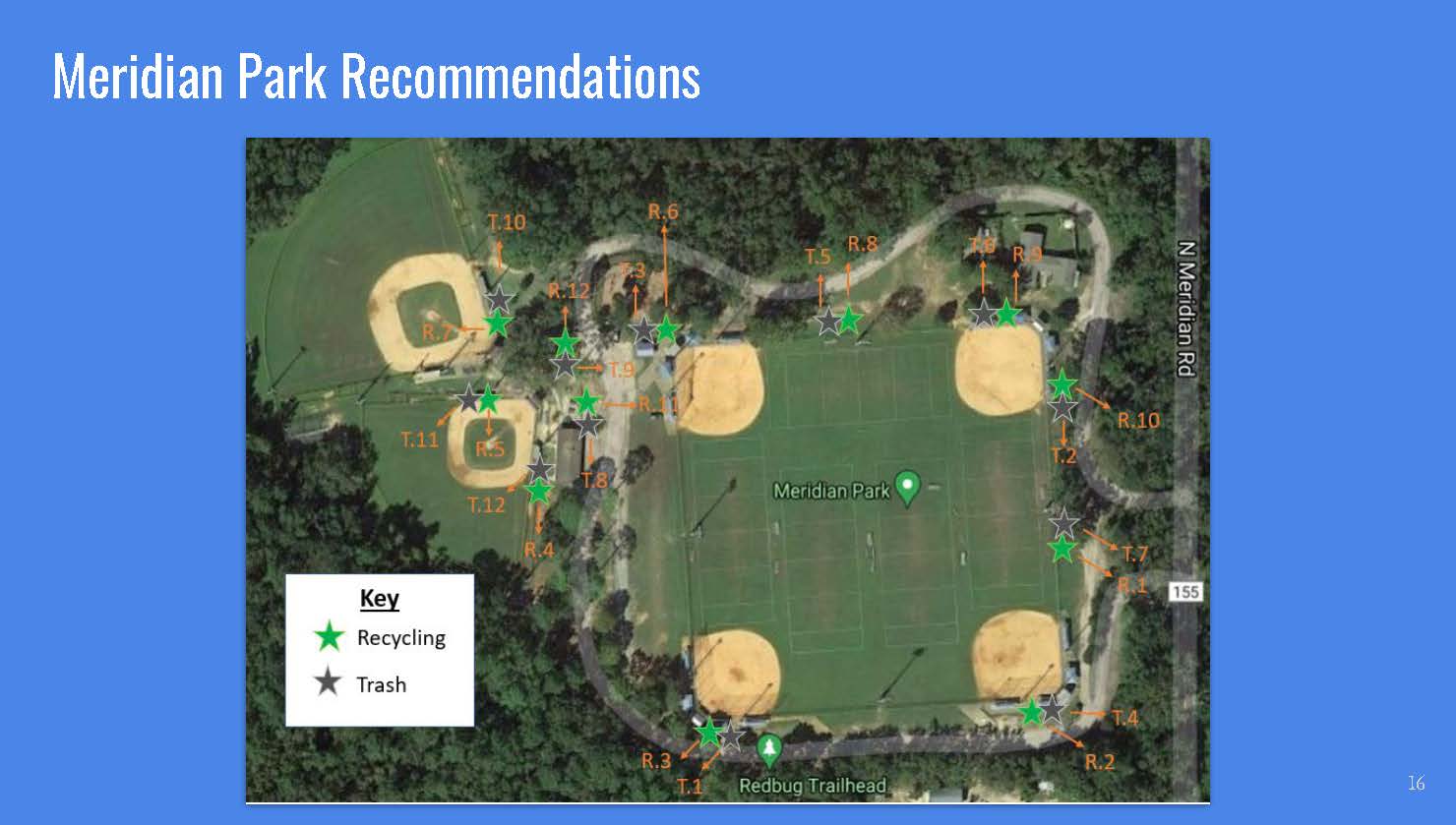 ​
The team noted that this semester had several challenges related to the shortened time period. However, the FDEP team felt that both Fellows stepped up in many ways to accept those challenges with the limited time window for data collection.
"Jessica and Kaleb both really applied themselves to the project," said Chris. "They really dug into the particulars and were really thoughtful in many of the suggestions they had made with regards to observations that went over and above."
During their Fellowship, both Kaleb and Jessica had the opportunity to present their findings in a professional setting.
"The biggest challenge for me was saying things in a way that was nonconfrontational," said Jessica. "I didn't want to tell anyone that they were doing a bad job, and Chris helped me frame things in a better way for a professional presentation."
Similarly, Kaleb felt that it was important to keep their results factual and neutral.
Kaleb added, "I also have an issue where I speed through presentations, so Chris helped give me pointers on how to slow down. It's been nice to get a chance to work on that, as well."
The Fellows will present their work to the Tallahassee Parks and Recreation leadership team where they will suggest opportunities for signage and other improvements. The FDEP team noted that even simple suggestions are critical for the infrastructure of the park to be properly utilized.
The FDEP team has also been working on a similar initiative in Florida state parks, and Chris has been able to use many of the templates that the Fellows have developed to work with park service members who are doing similar analyses.
"This is valuable, valuable data, and it kind of encapsulates everything we represent at DEP," said Jennifer Simmons. "We want to make the environment better, and we want to make these parks more enjoyable for everybody."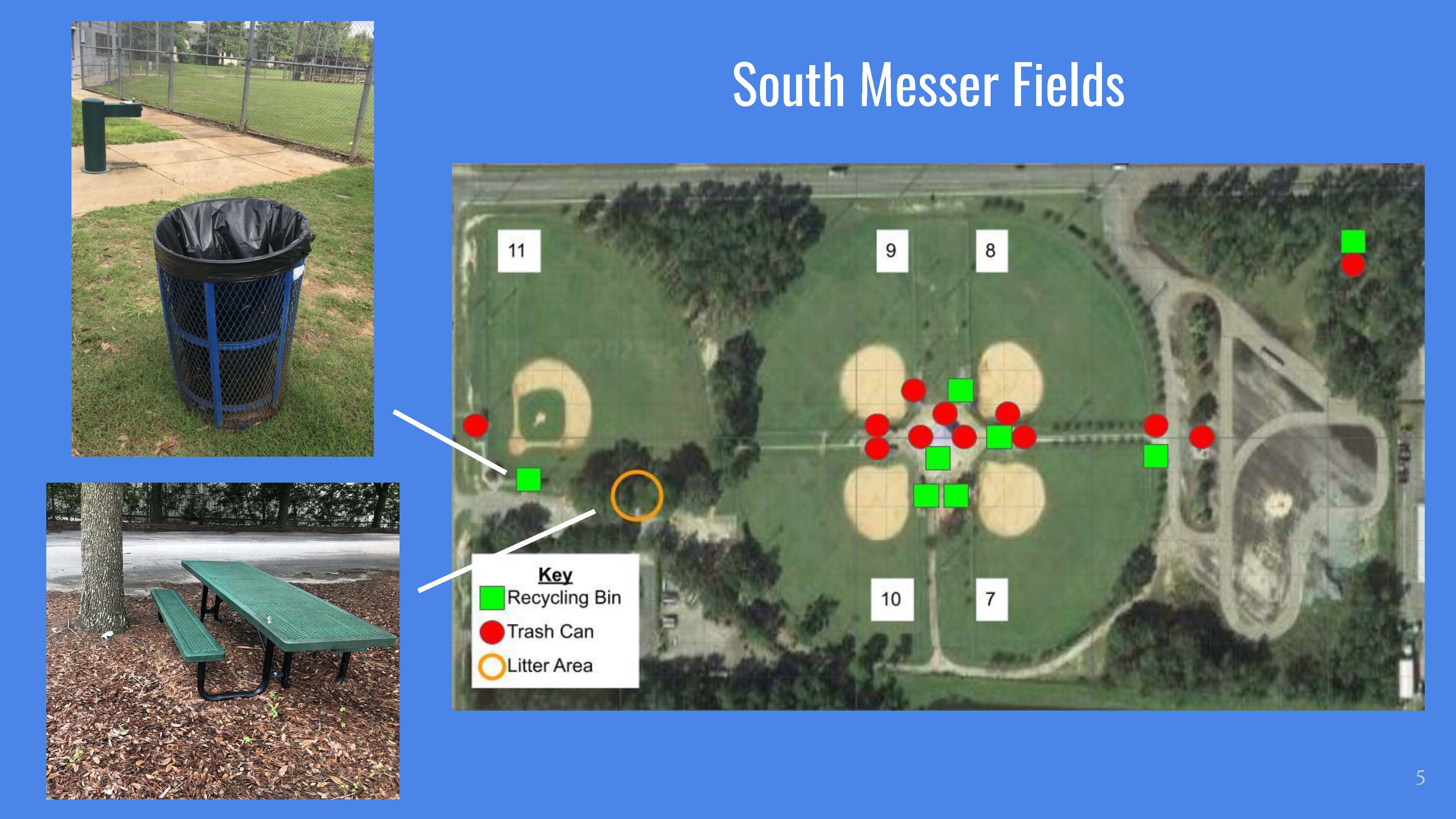 ​
---
To learn more about the FDEP's Division of Waste Management, visit floridadep.gov/waste.
To read more about the first Away from Home Recycling Analysis project, visit sustainablecampus.fsu.edu/blog.
To learn more about the Sustainability Fellows program, visit sustainablecampus.fsu.edu/sustainability-fellows.
---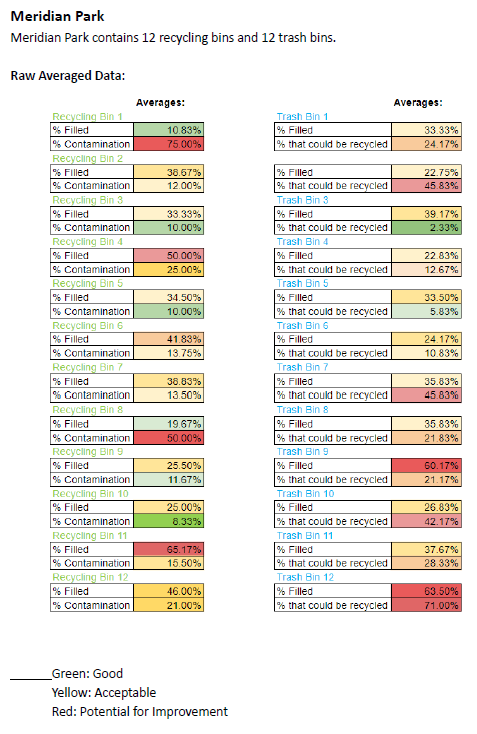 Observations from Meridian Park