Summer 2022 Sustainability Fellow: Sabrina Matura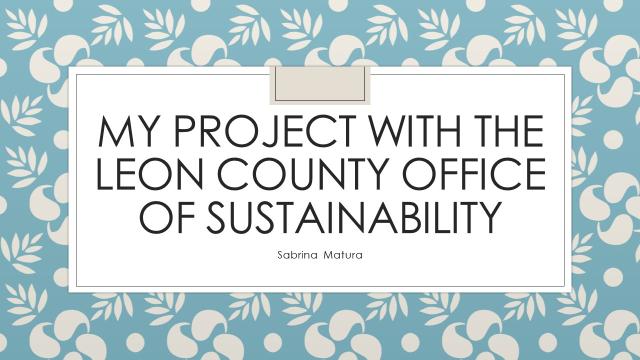 Partner: Leon County Office of Sustainability
Project: Leon County EV Charger Mapping and EV Readiness Guide Development
Student: Sabrina Matura, Third Year Undergraduate in Environmental Science and Policy
---
In Summer 2022, Sabrina worked with the Leon County Office of Sustainability team to create content for their Sustainability Ambassadors program and identify potential locations for two new EV chargers in Leon County. Sabrina was interested in the Fellows Program because she wanted to make an impact on her community and wanted to gain experience in the field.
Sabrina collaborated with Chloe McCrary, Sustainability Programs Coordinator, and other members of the Office of Sustainability team on two initiatives.
As a Sustainability Fellow, Sabrina was charged with creating educational PowerPoint presentations to support the Sustainability Ambassadors program. The Sustainability Ambassadors initiative is a Leon County program that aims to train citizens in sustainability topics.
Before creating the educational materials, Sabrina conducted research into similar educational programs in eight other Florida counties. Sabrina also networked with six sustainability professionals, scheduling meetings to ask them in-depth questions about their educational programs.
After completing her research, Sabrina created the following educational modules for the program: Sustainability Crash Course, Sustainable Gardening 101, Recycling Myth Busting, and How to Get Involved with the Community.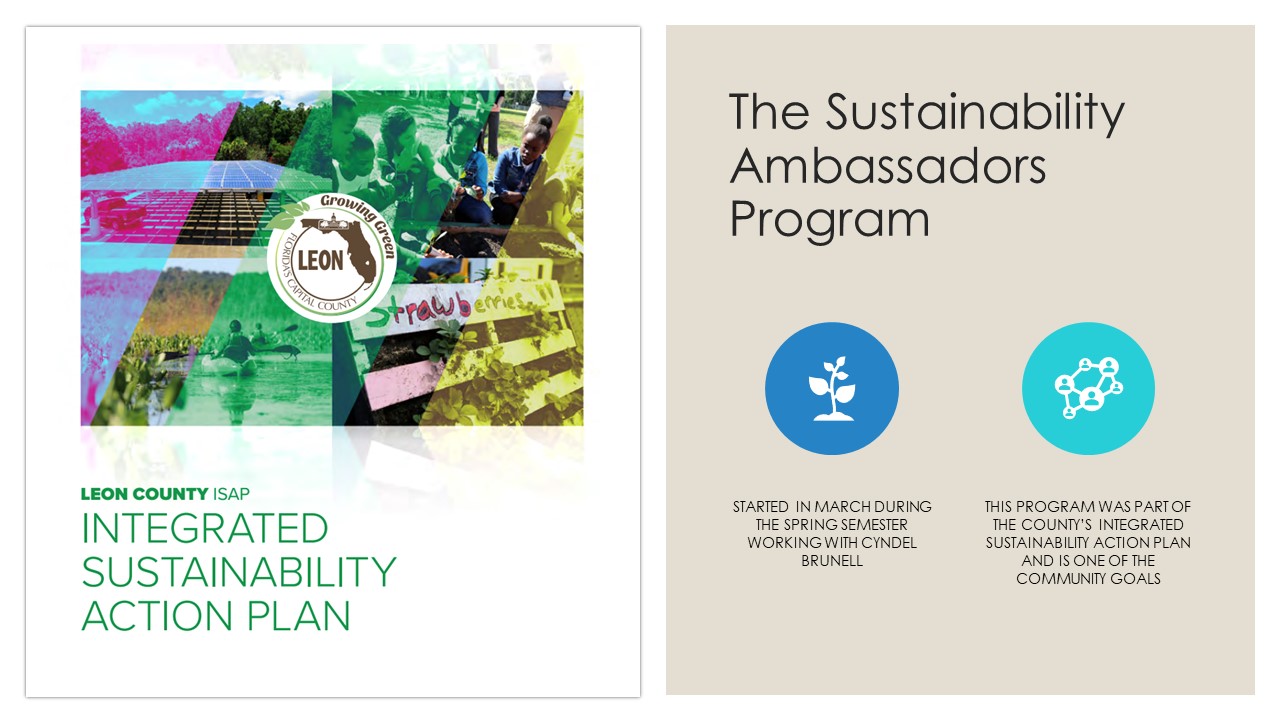 Sabrina's second project, EV mapping, supported the county's push for electric vehicle readiness, which addresses the need for electric vehicle charging station infrastructure. To complete her project, Sabrina was given a list of Leon County parks and libraries and was asked to determine the two best locations for EV charging stations based on the following criteria:
Proximity to I-10 E and W and/or West Tennessee Street (a desirable location for grant funding)
Equity (proximity to neighborhoods of with marginalized populations)
Ease of use for both county employees and the public
Using her assigned criteria, Sabrina was able to narrow down her list all parks and libraries to seven top contenders, which she mapped using Google Maps.
"It's been fantastic working with Sabrina," said Chloe McCrary. "She's so good at being a self-starter, and she's so passionate about the work! Everything that she's turned in has been so high quality, and I can tell that she takes pride in what she does. I really enjoyed working with her on both of these projects."
Overall, Sabrina felt that one of the benefits of the Fellowship was being able to meet new people. She especially enjoyed her Wednesdays working in the office with the Leon County team.
"I loved being in the office setting," said Sabrina, "and I learned that the spreading of environmental awareness is something I'm very passionate about and something that I want to continue to do in the future – maybe helping companies become more aware of how they can become more sustainable and reach the targets they're setting."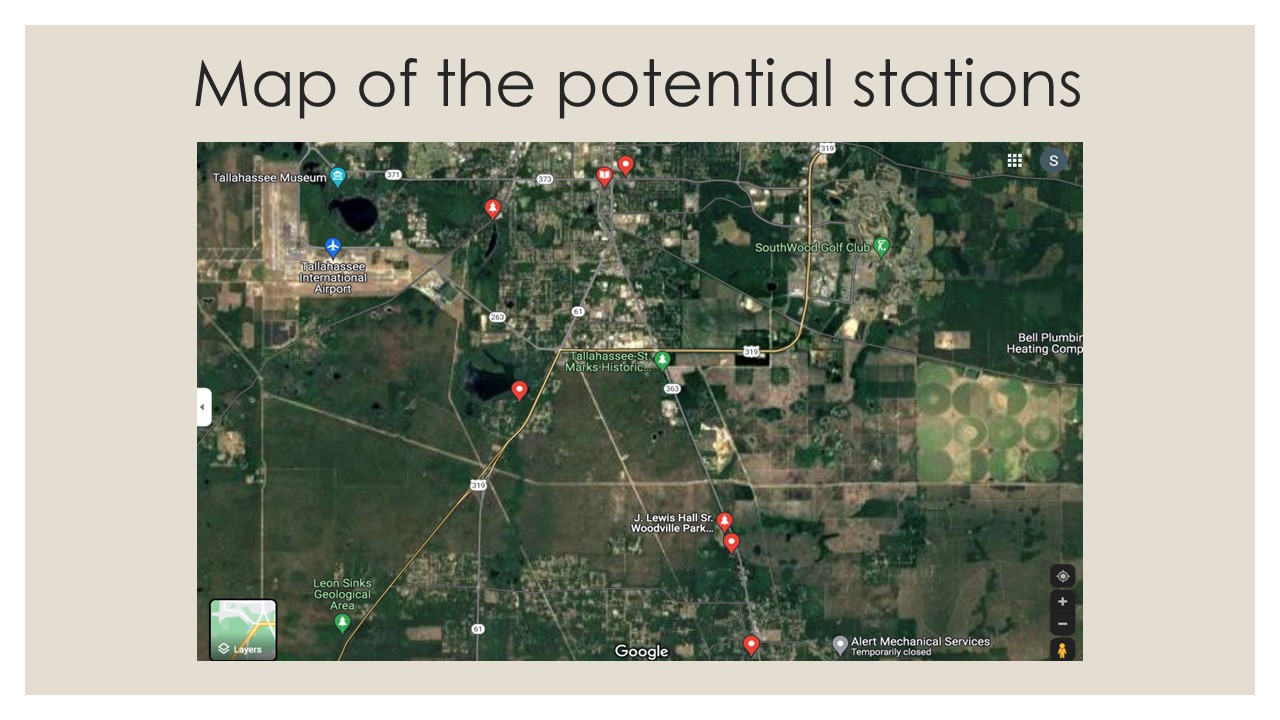 ---
For more information about ongoing Leon County sustainability initiatives, visit the Leon County Office of Sustainability website at http://cms.leoncountyfl.gov/growinggreen/. 
To learn more about the Sustainability Fellows program, visit sustainablecampus.fsu.edu/sustainability-fellows.