Fall 2021 Sustainability Fellow: Heather Zdyb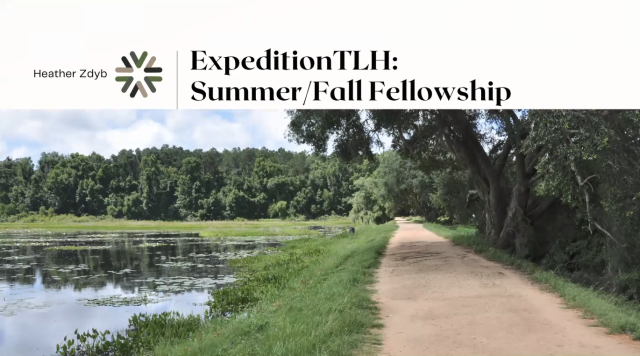 Partner: ExpeditionTLH
Project: ExpeditionTLH Content Creator
Student: Heather Zdyb, Third Year Undergraduate in Environment and Society and Geography
---
In Fall 2021, Heather worked with ExpeditionTLH to expand her initial scavenger hunt project to a wider audience. ExpeditionTLH is a local nonprofit that aims to offer opportunities to experience the local Tallahassee environment and provide online educational support.
Heather worked with Caleb Crow, Dr. Emily Powell, and other members of the ExpeditionTLH team to create outdoor content to promote education and physical activity. In Summer 2021, Heather created the first draft of a scavenger hunt for the Lafayette Heritage Trail Park, which featured seven points of interest.
Over the course of the fall semester, Heather created two host documents, which aimed to better inform those leading the scavenger hunt of the activity's learning concepts. The host documents included a day hiking checklist, an answer key with images, a glossary of key terms, in-depth maps, and Florida state education standards. Heather gained technical skills in Canva, Excel, and Adobe Illustrator, and she also deepened her knowledge of the Tallahassee trail system and geography.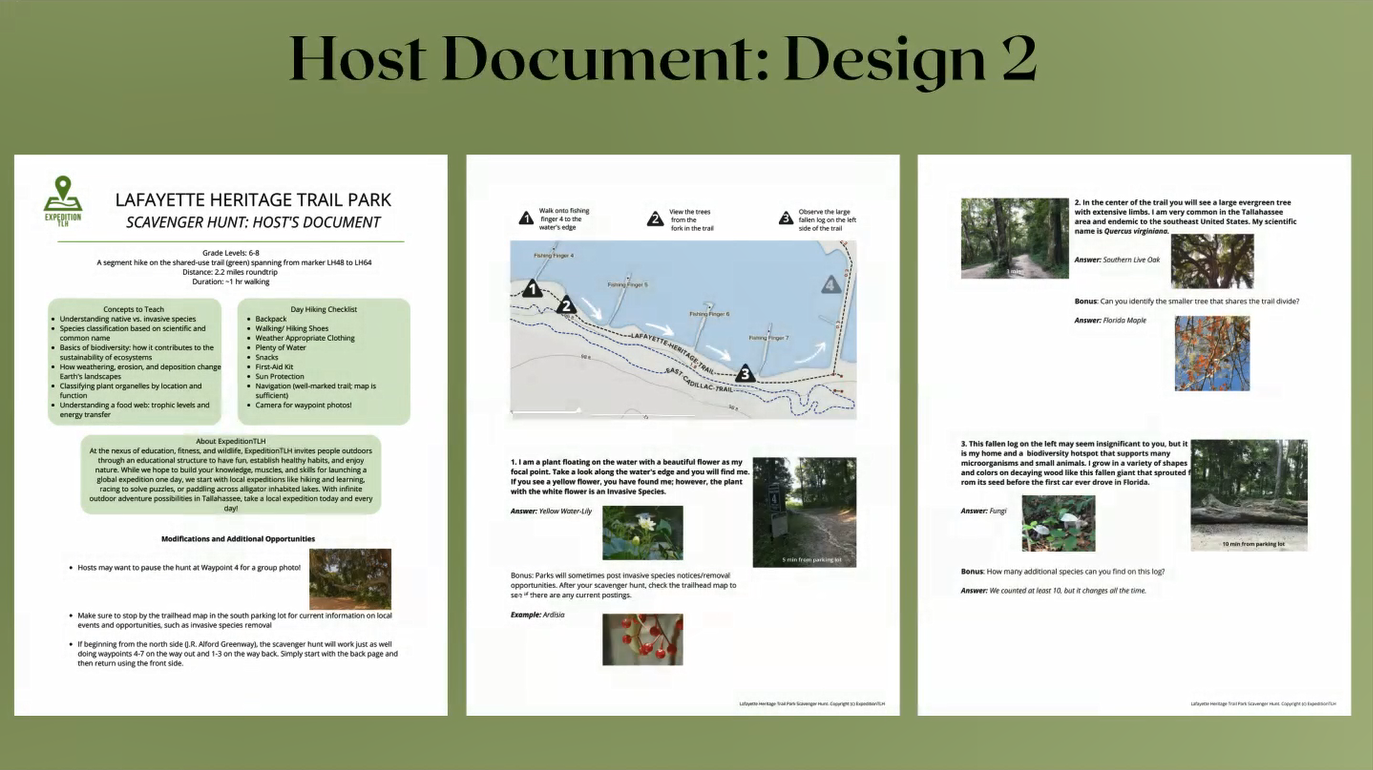 ​
Example of the Scavenger Hunt Host Document
To make the scavenger hunt content more engaging for online users, Heather also filmed a seven short videos, which showed the locations of the scavenger hunt points of interest in more detail. Finally, Heather contacted a local middle school teacher, who will pilot the scavenger hunt with students and provide ExpeditionTLH with feedback from users.
ExpeditionTLH plans to continue working with the City of Tallahassee to utilize the existing scavenger hunt in a variety of ways.
"Heather excels in the field with hands-on work," said Crow, "and I think there are a lot of possibilities to replicate this type of content creation in other parts of the city."
As a two-semester Fellow, Heather felt that she had gained valuable experience communication and problem solving in a team, and she believes that her work defining waypoints and creating the scavenger hunt template were her biggest achievements.
"I learned that in a project like this, it's not always just going to move forward the whole time," said Heather. "When there are setbacks, you just have to figure things out along the way."
---
To read about Heather's first semester in the Sustainability Fellows program, visit sustainablecampus.fsu.edu/blog.
To learn more about ExpeditionTLH, visit expeditiontlh.org.
To learn more about the Sustainability Fellows program, visit sustainablecampus.fsu.edu/sustainability-fellows.